In my most recent article on Altria Group (NYSE:MO), I called it "a great buy." At that time, it was trading at $34.71, with a dividend yield of 5.53%. This was just over four months ago, and a lot has changed. The stock has gone up by 22.7%, outperforming the S&P 500 by a wide margin. At the current price of $41.38 per share, the dividend yield has dropped to only 4.64%.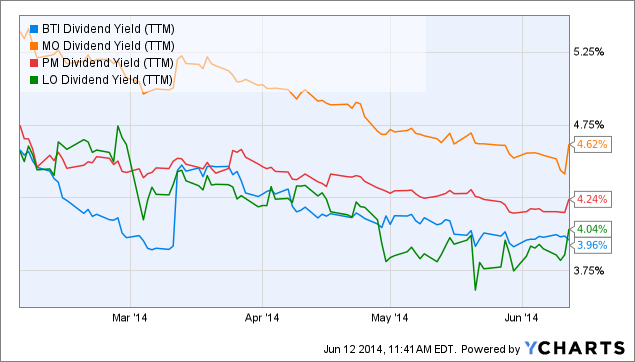 BTI Dividend Yield (TTM) data by YCharts
The graph above shows the decline in Altria's dividend yield. I've also added the dividend yield for Philip Morris (NYSE:PM), British American Tobacco (NYSEMKT:BTI) and Lorillard (NYSE:LO). All four have seen their dividend yields drop since February.
The drop in dividend yield is due to the fact p/e ratios have gone up for all four of the examined companies. All four are trading well above the level they were trading at five years ago. Low interest rates on saving accounts and dropping yields on bonds have pushed investors toward stocks with high dividends, which has increased the share price, causing the yield to drop.
I see this as an extra threat to high yielding stocks like the tobacco stocks in today's article. A lot of people own shares in companies like Altria for the dividend income it generates. If and when interest rates go up, a lot of investors may choose to sell their shares in search of better returns. Keep in mind, Altria has had dividend yields of over 7% as recently as five years ago. At the current dividend rate of $0.48/quarter, a dividend yield of 7% would require a drop in share price to $27.43 per share.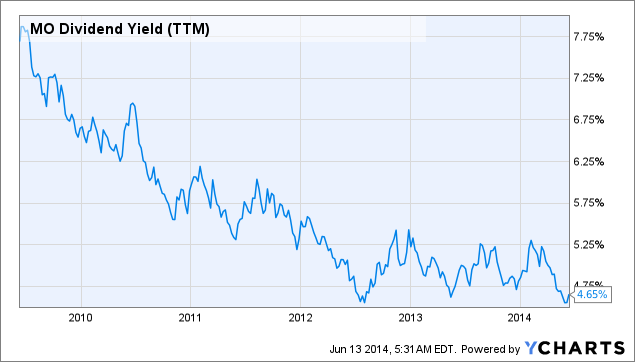 MO Dividend Yield (TTM) data by YCharts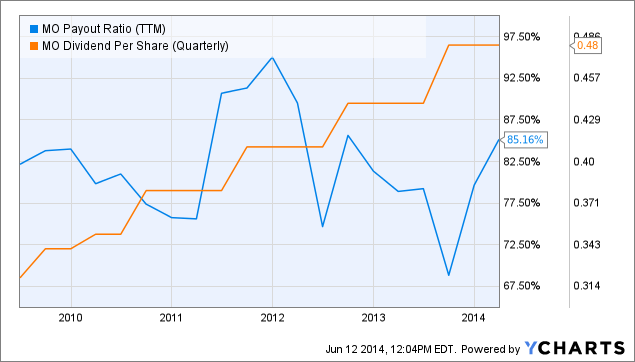 MO Payout Ratio (TTM) data by YCharts
Over the past five years Altria has increased its dividend every year. The dividend increase announcement usually comes in August, with the increased dividend paid in September, which means investors getting in now will see their yield on cost rise after just two months. Altria's EPS is expected to grow to $2.57 in the current fiscal year, which means a dividend increase to $0.52 would lead to a payout ratio of 80.9%. Seeing as the last two dividend increases were $0.04 last year and $0.03 the year before that, I consider $0.52 to be a reasonable expectation. At the current price per share, a $0.52 quarterly dividend would yield 5.0%.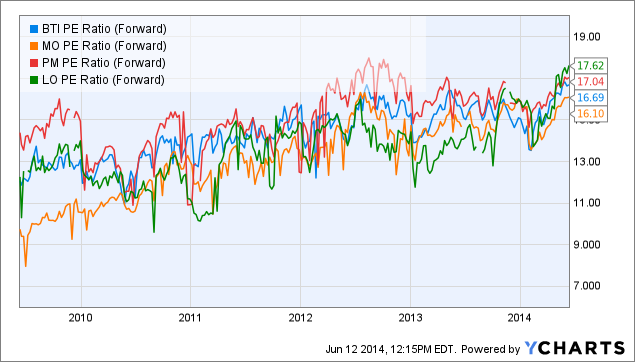 BTI PE Ratio (Forward) data by YCharts
Altria is cheaper than its peers when we compare their forward price to earnings ratios. Still, the company is a lot more expensive than it used to be, as can be clearly seen from the graph above. Altria's trailing twelve month p/e ratio stands at 19.12, which is not only a bit above PM's 17.22, and BTI's 18.42, but also quite a bit higher than its five-year average p/e ratio, which stands at 15.2. The industry average p/e is 18.2.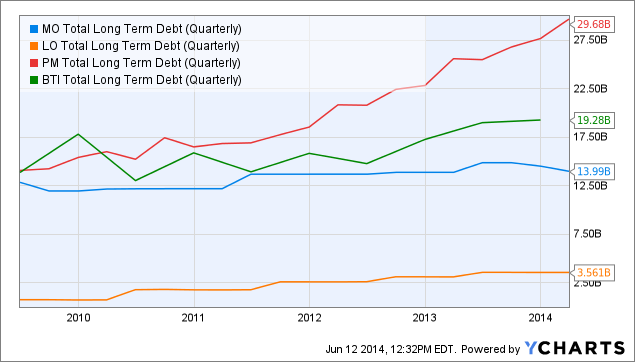 MO Total Long Term Debt (Quarterly) data by YCharts
Altria's long-term debt is growing, but at a reasonably slow pace, unlike Philip Morris and British American Tobacco, which have both seen their long-term debt levels go up at a high pace in recent years. Lorillard's long-term debt may seem extremely low compared to its peers, but keep in mind LO is much smaller than MO, PM or BTI in terms of market cap and revenue.
Conclusion:
I really like Altria, and if the price hadn't gone up so incredibly much, I would've kept my shares. However, despite being cheaper than its peers on a forward p/e basis, I feel Altria is currently overvalued. The dividend yield has dropped down quite a bit, and although I'm convinced Altria will continue rewarding its shareholders with increasing dividends, I believe there may be better places to invest right now.
Disclaimer: I am not a registered investment advisor and do not provide specific investment advice. The information contained herein is for informational purposes only. Nothing in this article should be taken as a solicitation to purchase or sell securities. Before buying or selling any stock you should do your own research and reach your own conclusion. It is up to investors to make the correct decision after necessary research. Investing includes risks, including loss of principal.
Disclosure: The author has no positions in any stocks mentioned, and no plans to initiate any positions within the next 72 hours. The author wrote this article themselves, and it expresses their own opinions. The author is not receiving compensation for it (other than from Seeking Alpha). The author has no business relationship with any company whose stock is mentioned in this article.