By Steven Carroll
The bargain chains have initiated a damaging price war, forcing Tesco (OTCPK:TSCDF) (TSCO.L), Sainsbury (OTCQX:JSNSF) (SBRY.L) and peers to respond and driving down margins for everyone.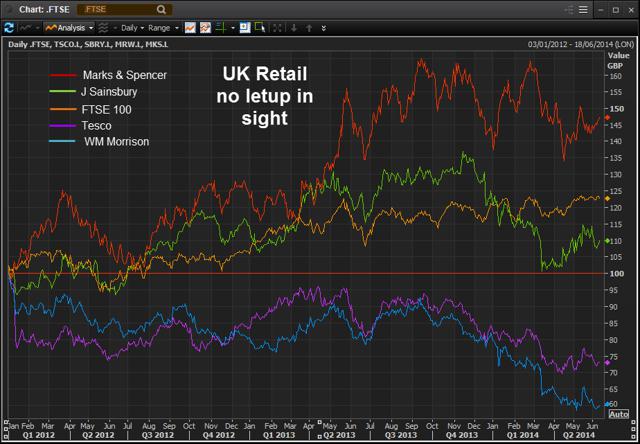 Bargains galore - but not profits
Marks and Spencer is also a major player in the U.K. food market, but has a more diverse revenue stream due to its clothing and other merchandise. For the others - Tesco, WM Morrison, Sainsbury, Asda (a subsidiary of Wal-Mart) - the outlook is grim. While a price war plays into the hands of the discounters - Asda and Germany's Aldi - the U.K. retailers continue to underperform relative to the benchmark and the price war only seems to be getting started.
Circling back to Tesco - the short term indicators won't please their shareholder, Berkshire Hathaway (though Warren Buffett is a man with a notoriously long investment horizon). Analysts continue to cut EPS forecasts, with the FY1 numbers down from just over 33p 12 months ago to just above 26p today (a fall of approximately 20%). The sell side seems to be assuming a short, sharp decline as EPS estimates for FY2 are slightly higher at 26.67p using the I/B/E/S mean.

Wilted lettuce
So how much of the decline has been due to reduced EPS, and how much due to margin compression? Chart 2 shows you that the valuation has remained stagnant for about the last 12 months at just over 10 - currently 11.2. Interestingly, Food & Drug retail has actually had an expanding multiple over the same period - with a current valuation of 17 versus the five-year median of 12.7. Were they an exceptional five years? Perhaps, but a 15-year view puts the median valuation at 13.1 and the industry at 13.6.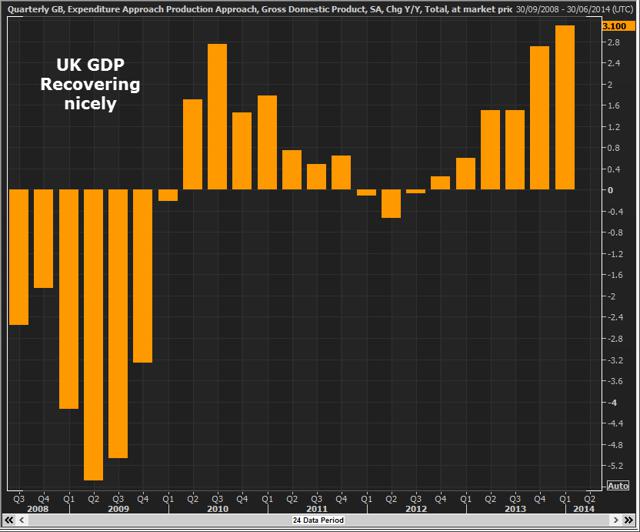 Fresh economy, stale grocery stores
The U.K. economy continues to approach 'escape velocity' - the level at which its central bank can unwind quantitative easing - though its governor remains tight-lipped about the timing of such a move and recent employment data points looks equally supportive.
Unfortunately, none of that supports the supermarket industry and until the scale of such a price war is fully understood, the market is going to continue to assume some fairly negative outcomes. According to StarMine data, both Tesco and Sainsbury are already implying negative EPS growth for a full 10 years (Tesco -1.1% CAGR, Sainsbury -0.6%) and a great opportunity to buy solid businesses will emerge sometime soon.

However, until prices stabilize and investors can get a better sense about medium-term margins and profitability, it seems a little early for bottom fishing. Positive price performance and an end to negative analyst revisions would be a good starting point. Of course, if the industry price war ends, then perhaps Buffett will have some company on the shareholders' list.
Disclosure: The author has no positions in any stocks mentioned, and no plans to initiate any positions within the next 72 hours.
Business relationship disclosure: Alpha Now at Thomson Reuters is a team of expert analysts that are constantly looking at the financial landscape in order to keep you up to date on the latest movements. This article was written by Steven Carroll, independent commentator and analyst. We did not receive compensation for this article, and we have no business relationship with any company whose stock is mentioned in this article.
Editor's Note: This article discusses one or more securities that do not trade on a major U.S. exchange. Please be aware of the risks associated with these stocks.