Background: Kroger Co. (NYSE:KR) is a $24 billion company and one of the larger grocery retailers in the United States. The company also manufactures and processes food for sale by its supermarkets. With 3.4 million shares traded on an average day, its stock is easy to enter and exit.
52-week Range: $32.83 to $48.56
Price To Book: 4.6
Kroger is anticipated to report good first-quarter earnings before the market opens on June 19, 2014.
The consensus estimate is currently $1.05 a share, an improvement of 13 cents (12.4%) from 92 cents during the corresponding period last year.
Analysts' estimates this quarter range from $1.00, to a high of $1.09 per share. If Kroger meets or exceeds in the upcoming report, the earnings will also surpass last quarter's 78 cents. Last quarter was a beat by 6 cents.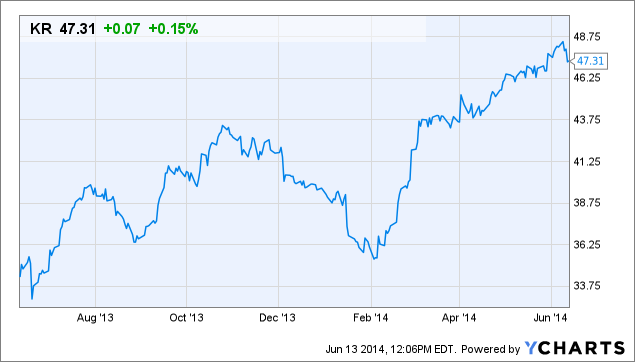 Analysts are far from a consensus. All else being equal; it's generally a bearish indication when the majority of analysts don't get behind a stock. 8 out of 20 rate this hold. 10 recommend buying and 2 recommend selling. The stock has appreciated 40% in the last year, and the average analyst target price for Kroger is $46.00.
Recent analyst's actions include Oppenheimer initiating coverage with an outperform rating and price target of $55 on June 2nd. It's the only analyst action this month so far.
I like to look at call and put option pricing to get an idea of what the market is expecting. The higher the premium, the more investors are bracing for a major price move.
Option premium tells us that the market is pricing in a 5%, or about $2.54 move in the next 9 days.
That means, as a shareholder or potential investor, you should anticipate the stock to trade as low as $45.47, or jump higher to $50.55, and still remain within one standard deviation.
If you're not already prepared for such a wide move (and there's no guarantee it won't move beyond the expected range), you want to be. That's a jump compared to last quarter's move. After solidly beating, shares closed 3.2% higher than the previous close. Not before trading as low as $43.10 though.
Kroger competes against Whole Foods Market (WFM), Safeway (NYSE:SWY), Wal-Mart (NYSE:WMT), and Target (NYSE:TGT).
Safeway came back from the dead and shares have doubled in the last 12 months. Kroger had an opportunity to purchase Safeway, but let it go. Instead, Safeway will become part of private Cerberus Capital.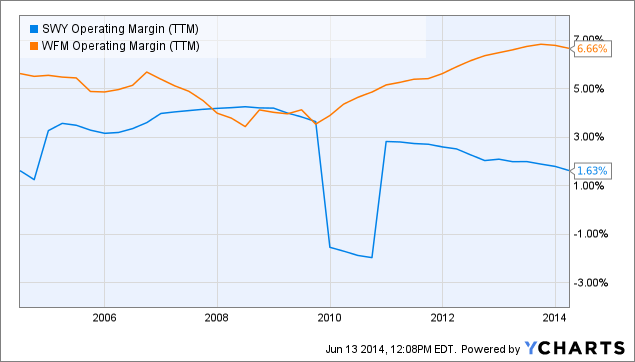 SWY Operating Margin (TTM) data by YCharts
Safeway has over 1200 stores, and its revenue is relatively flat, but a Kroger purchase would have put Kroger on par with the number of Wal-Mart locations. In the last reported quarter, Safeway generated $8.2 billion in revenue.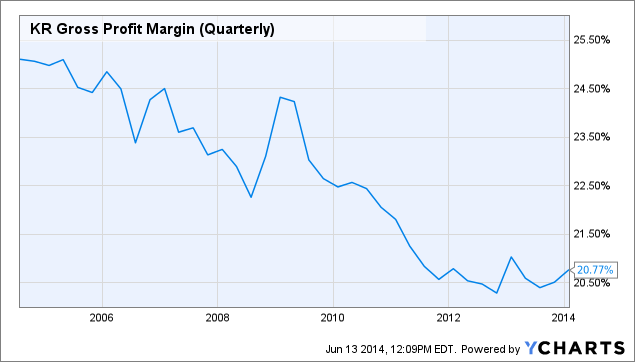 KR Gross Profit Margin (Quarterly) data by YCharts
Before Kroger unseated Whole Foods Market as the Wall Street darling of grocery, natural and organic foods retailer Whole Foods Market, it was the only positive news food retailer I would regularly read about. 2014 hasn't been kind to Whole Foods Market shareholders.
Whole Foods Market is facing significant margin pressure, and so is Kroger. Kroger may have missed an opportunity to purchase Safeway, however, I believe Wal-Mart and Target is a bigger concern.
Whole Foods Market's shares have dropped almost in half since 2013 highs. The shares were hit especially hard in April after Wal-Mart expanded its organic foods selection. Kroger's apparent Teflon coating has so far enabled it to brush off investor concerns, and the stock isn't far from the new 52 week high from just a few days ago.
Considering the 1.4% dividend yield and nearly zero premium for growth, fundamentally the shares have legs to continue higher. From a technical analysis view, they appear frothy.
Guidance and margins will be the focus of this upcoming release and pay particular attention to see if margins continue to decline.
Disclosure: The author has no positions in any stocks mentioned, and no plans to initiate any positions within the next 72 hours. The author wrote this article themselves, and it expresses their own opinions. The author is not receiving compensation for it (other than from Seeking Alpha). The author has no business relationship with any company whose stock is mentioned in this article.