Overview
"The past is always tense, the future perfect." ~ Zadie Smith
Yesterday at the gym, I was talking to a friend of mine about retirement planning. My friend Bill, who is an extremely spry 93-years-old, brought up an extremely prescient point I had not considered previously. Bill stated he is currently between a rock and a hard place due to the fact he feels trapped by the equity markets currently.
The Rock
Bill explained to me that if he sells out of his positions, he will be hit with a huge capital gains tax so he is essentially locked in to his positions at this point.
The Hard Place
Even if Bill wasn't locked in, he relies on the cash flow from dividends to support himself and his wife. Due to the extremely low interest rates paid by bonds and CDs currently, there are no decent alternatives for him currently outside of equities at this time. Yet, he is concerned with how the market has run up so much recently. And therein lies the issue at hand.
Take Away
This made me immediately think of General Electric (NYSE:GE). I feel the company has the type of forward thinking that will keep it fresh and relevant for many years to come. This is exactly the type of dividend paying equity people entering retirement now should consider. In the following sections I will lay out my case as to why.
Recent breaking event bodes well for GE
New EPA Rule
According to a breaking news report by the Wall Street Journal, the EPA has set a new draft rule to cut carbon emissions by 30% by 2030. The EPA recently announced a plan to cut carbon dioxide emissions by 30% by 2030. The EPA released the draft rule regarding regulation of carbon emissions from coal power plants in the U.S. The proposed rule mandates that power plants cut U.S. carbon-dioxide emissions 30% by 2030. This is the first try to limit such pollution. Previously, any bills of this nature were dead on arrival in Congress. President Obama sidestepped Congress achieving his goal through regulation rather than legislation.
The news bodes extremely well for GE
General Electric is no doubt one of the clear winners in the EPA's new carbon framework. The engineering giant's top of the line gas-fueled power turbines may be just what the doctor has ordered, so to speak. Every utility that moves to overhaul a gas plant with more efficient turbines, or makes the bigger switch to natural gas from coal, could represent a customer for GE's high-efficiency turbines. GE only sold a few of its gas-fueled power turbines in the U.S. last year, continuing a streak going back more than a decade. Yet the new regulations on carbon emissions could eventually mean better results. This is huge news for GE. Although GE has yet to make a statement, Siemens (OTCPK:SIEGY) Chief Executive Joe Kaeser told an investors' conference last week in New York City:
"We believe that all the roads lead to gas in the United States."
I expect a statement from GE in short order which could boost the stock even higher. GE's forward thinking has once again propelled the company ahead of the competition. This type of planning for the future will keep the company relevant for years to come. This is exactly the type of investment current baby boomers need to be in. Let me elaborate.
My dividend investing approach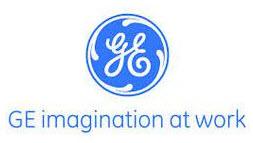 My dividend investing approach is based on constructing a portfolio of stocks with exceptional dividend yields that generate money throughout the year like GE which sports a yield of 3.26%.
Characteristically, dividend investing is popular among retirees and those who wish to live on their savings and are no longer able to work. One reason to invest in dividend-paying stocks now is they will be the investment of choice to fund the retirement of many Baby Boomers. This may create enormous demand for these stocks, underpinning the share price.
Furthermore, with this recent news, GE has the potential for both capital gains and income production. Boomers will be looking for stocks like GE that have a track record of increasing dividends, giving them yet another hedge against inflation. This combination will be necessary to fund the lengthening retirement that comes with a greater life expectancy, like Bill's.
General Electric is fundamentally sound
GE's key fundamental metrics are trending higher on a long-term basis.

(Source: Ge.com)
Significant improvements to current key fundamental metrics.

(Source: Ge.com)
Cash hoard intact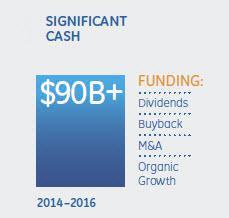 General Electric has done a tremendous job of managing its finances and has a substantial cash hoard of approximately $90 billion. This money can be used to facilitate organic growth, pay dividends, buy back shares and perform merger and acquisition activities. One key point is a majority of the massive stockpile is located offshore. This may be the reason GE is pursuing the French company Alstom's (OTCPK:ALSMY) assets.
Strong Projected EPS growth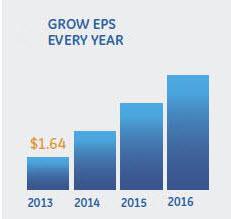 The earnings per share of a company, or EPS, is conceivably the most important statistic to understand before investing in a company's stock. Each time you consider starting a position in a stock, you should prudently scrutinize its earnings information. The reason earnings are so vital to investors is because they tell you about the relative profitability of a company. Whatever is not paid out in the form of dividends is placed into the retained earnings, which then become a source of capital that can be used to help support the growth of a company.
Lowest forward P/E ratio of the competition
General Electric has the lowest forward P/E ratio of five of the largest conglomerates at 14.68.

(Source: Finviz.com)
The stock is exceptionally sound from a technical basis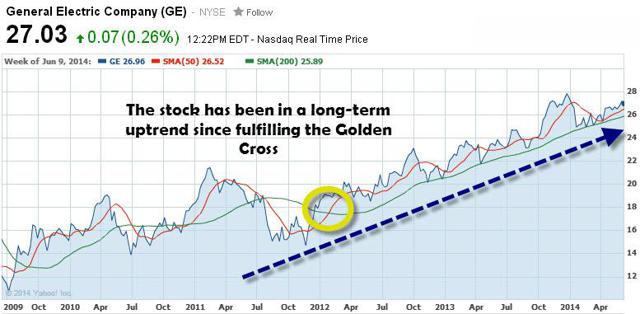 (Source: Yaho.com)
Downside Risks
The Alstom acquisition
General Electric's bid for Alstom has many facets. This can cause the acquiring company to overpay based on perceived cost savings that do not materialize. A famous quote from Wells Fargo CFO Timothy Sloan regarding major acquisitions comes to mind. Sloan states:
"When you look at a deal and its structure looks like an octopus or spider, just don't do it."
Alstom has a ton of debt and is currently a tangled web of jumbled joint ventures and partnerships. The current state of affairs allows for substantial risk of massive unknown unknowns. Once General Electric starts digging into the company, General Electric may find the Alstom acquisition wasn't such a great deal after all.
Geopolitical Risks
Geopolitical uncertainty remains on the rise. Even as the Russia/Ukraine conflict appears to be deescalating, we now have a new flare up in the Middle East.
Europe is not out of the woods yet
The global recovery is in its infancy and will require constant nurturing from central bankers. Nevertheless, the ECB has been reluctant to embark on a similar plan as the Fed's QE program. Furthermore, the Fed can't keep rates at zero forever. The green shoots we see now may turn brown once the support of the Fed evaporates.
The market is at all-time highs
The market is currently sitting at all-time highs just as we enter the summer doldrums. This is an extremely precarious position to be in. You could even say the market is priced for perfection right now. Any hiccup in projected GDP growth or other macroeconomic indicators could bring the markets tumbling down in an instant, not to mention the potential downside created by a negative geopolitical event. It may be time to tread lightly.
Conclusion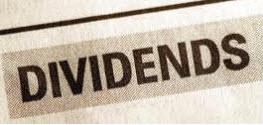 Combining these factors with the Fed's recent announcement that rates will remain at ultra-low levels for the foreseeable future, we can see that fixed income instruments such as bonds and CDs provide little protection against inflation. Factor this in with the fact that historically, dividend-paying stocks have outperformed non-dividend-paying stocks, and you have a recipe for outstanding returns. Nevertheless, always layer in to positions over time to reduce risk.
Disclosure: The author has no positions in any stocks mentioned, and no plans to initiate any positions within the next 72 hours. The author wrote this article themselves, and it expresses their own opinions. The author is not receiving compensation for it (other than from Seeking Alpha). The author has no business relationship with any company whose stock is mentioned in this article.
Editor's Note: This article discusses one or more securities that do not trade on a major U.S. exchange. Please be aware of the risks associated with these stocks.