LeapFrog Enterprises (NYSE:LF) is a leader in educational entertainment for children. LeapFrog, based in Emeryville, CA, has a strong 20 year history of bringing learning experiences to children.
They have a strong brand in a competitive space, and are continuing to bring out new innovative products.
The stock price has taken a big hit over the past year, falling over 40% from a high of $11.95 to the current price of $6.99.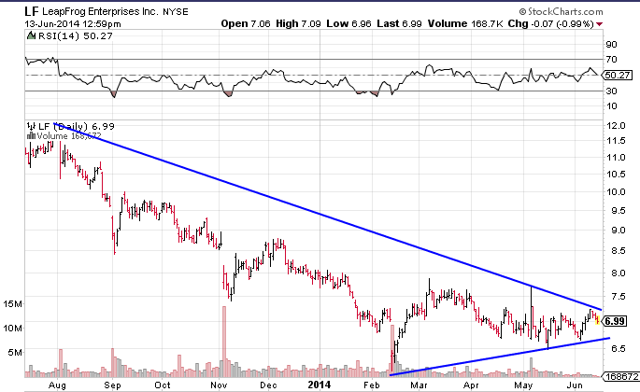 LF has now steadied itself and is trending back up in a consolidating range.
So what happened and what does the future hold for LF?
In July of 2013, a steady supply of weak news began to be delivered quarter after quarter, with decent sales growth, but consistently guiding lower. The stock price started falling and rightly so. Competition has been growing in tablet space, with Amazon (NASDAQ:AMZN) and Samsung (OTC:SSNLF) making splashes in this area.
The good or bad news is that it isn't just LF that has suffered over the past year and the recent weak holiday season. Mattel (NASDAQ:MAT) and VTech (OTCPK:VTKLY) are also down significantly while the S&P 500 is up 20%. Interestingly, MAT and VTKLY have started to move up while LF is still trading down.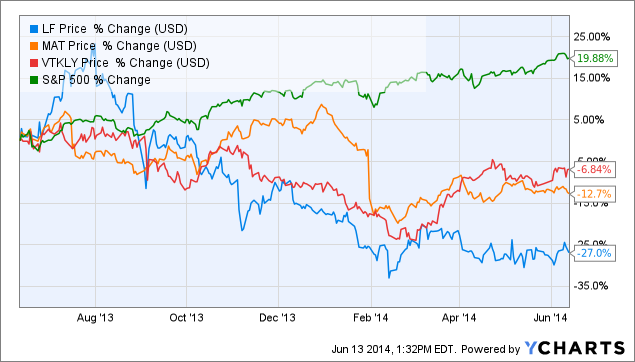 Does this make under $7/share an attractive entry point for LF?
Let's look at the numbers:
Quarterly EPS over the past 5 years have been perfectly choppy as they move from season to season. Smoothing it out over an annual basis shows an upward trend, but a decreasing EPS over the past year.
Sales show a similar story. Choppy quarter by quarter, and a weak past 6 months.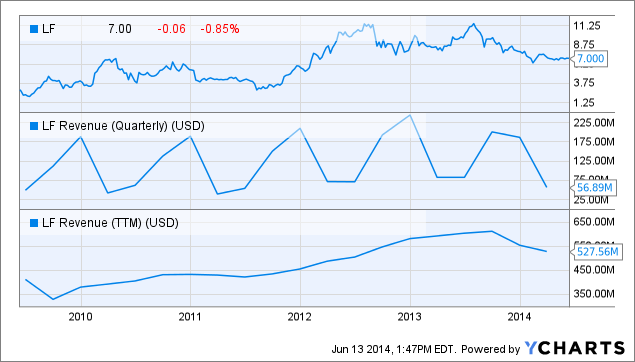 Margins: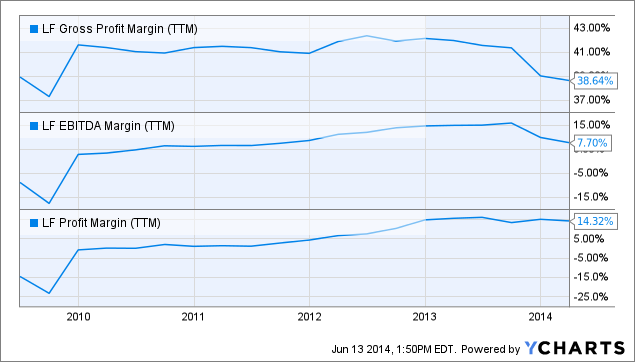 LF Gross Profit Margin (TTM) data by YCharts
Margins have remained good enough, so it looks like the issue is: can this company continue to grow sales, or is this the beginning of the end for LF? This is a sales story.
LF has long been a leader in the electronic learning for children space. This is their strength and their brand. Their products are award winning and highly regarded. But now, there are thousands of apps that can be downloaded on tablets and phones for a very low cost or even free. Everywhere I go I see small children using a tablet or smartphone to play games. I assume there is an educational content, and even if there isn't, it is taking the place of LeapFrog content they could be using.
A quick search on my phone for "educational games for children" resulted in 2196 games, most of them free. A search for "Leap Frog" resulted in 103, but only 4 were actually associated with LeapFrog Enterprises.
LeapFrog is making a considerable push in this area, but most users still need the LeapPad or Leapster for the content. This worries me. LeapFrog and others would argue their content is much better and worthy of a premium, and unable to be delivered on a typical smartphone. But it is just too easy to get non-LeapFrog educational content on a smartphone.
The good news is, all of this information is known and a reason the stock is now 40% lower than where it was less than a year ago. Despite the competitive landscape, this area of the market is growing substantially, so there is room for all to grow.
Recent inventory changes don't seem too out of the ordinary based on past experience, and is certainly seasonal.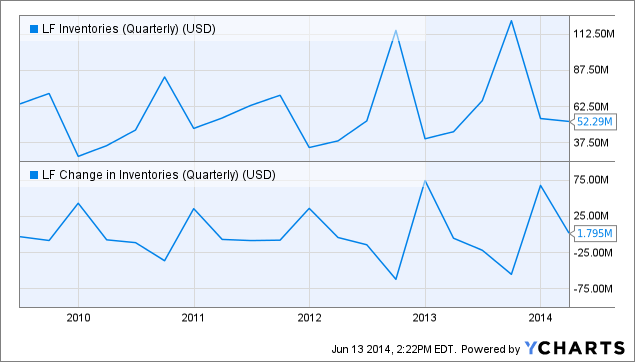 LF Inventories (Quarterly) data by YCharts
LF does not pay a dividend, but did recently announce a share repurchase program of $30M through 2014.Whether they do or not will signal management confidence in the future.
LeapFrog has $232M in cash, no debt, and revenue of $528M. The market cap is $492M.
Analysts are projecting Forward EPS growth of 15% per year. They are expecting a net loss of $.21/share in Q2 2014 and a net gain of $.36/share in Q3 2014.
LeapFrog has beaten the earnings estimates 16 quarters in a row, as they consistently guide lower, and it sure seems the bad news is baked into the current stock price.
The new wearables for children is a nice niche that has the potential to be huge. The LeapBand would be the first of its kind in a fast growing wearables industry. They continue to develop and sell new content.
LeapFrog still has a very strong brand name in the educational entertainment for children space. Despite the recent challenges, they still have no debt and a lot of cash. They still have earnings that are expected to grow at a rate higher than the market and are now authorized to repurchase shares. The fact that competition is increasing means they are in a good space. They can lose market share but still increase earnings and sales.
At the current price of $7/share, this looks like a good entry point for the balance sheet, brand, and potential. Even with no growth, much of the risk has been taken out, and there is still over $3/share in cash. With downside support in the $6.50 area, a meaningful breakout above the $7.25 area should be good news to investors.
Disclosure: The author has no positions in any stocks mentioned, but may initiate a long position in LF over the next 72 hours. The author wrote this article themselves, and it expresses their own opinions. The author is not receiving compensation for it (other than from Seeking Alpha). The author has no business relationship with any company whose stock is mentioned in this article.
Editor's Note: This article discusses one or more securities that do not trade on a major U.S. exchange. Please be aware of the risks associated with these stocks.