During the last quarter, Crocs, Inc. (NASDAQ: CROX) earned $32.3 million, or 37 cents a share, compared with a loss of $30.3 million, or 36 cents a share, a year ago - a substantial improvement in operating income. Analysts following the company were surprised too with the 68% better than expected profit (Consensus estimates were for $0.22/share).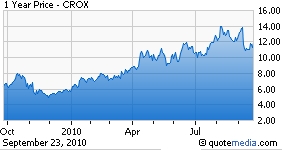 Revenue increased 31% to $228 million, beating analysts' forecast of $220.6 million. Now, with analysts' attention firmly in hand, Crocs projects third-quarter earnings of $0.22 to $0.24 a share, with revenue increasing 24% fromthe third quarter, 2009 to $205 million. It appears that CROX is executing on its turnaround plan by cutting SG&A by 26 percent in the second quarter, reducing inventory and updating product designs. The company saw quarterly same-store sales increased 8 percent--an all important indicator of the internal strength of any retailer. With tight cost controls and higher average prices on its shoes/footwear, CROX is enjoying Gross Profit Margins of 57.8 percent, up 11.7% from the previous quarters' 51 % GPM, as of June 30, 2010. As of June 30, Company's cash and cash equivalents were at $96.9 million ( 25% increase) compared to $77.5 million at June 30, 2009 and had no bank debt as of June 30, 2010. The second quarter results have all the hallmarks of a successful turnaround in place.
Not content with last quarter's success, CROX has pushed into expanding its internet presence for both increasing sales and building investor awareness. CROX is launching new consumer websites in Canada and Australia, along with a recently launched a mobile site focused on consumer that are increasingly utilizing mobile devices for purchases. And this past summer, launched its new corporate website to assist consumers, research analysts, media and investors in obtaining timely information on the company.
Now, going into the Christmas season, CROX is well-positioned to take advantage of its impressive decrease in its long criticized reliance on its classic models (down to 11.9% of revenue from 62.2% of revenue in 2006). New, creative designs are now driving sales growth with new 2010 footwear designs accounting for 23.7% of sales in the second quarter. If the company continues to surprise and beat forecasts, analyst recommendations of Hold will most likely shift to Buy. To be sure, not everyone is expecting CROX to outperform. With 14% of the 86.63 Million shares outstanding sold short (12.127 Million shares), there is obviously some doubt out there. But CROX has clearly performed well in both stock price appreciation and operations so far this year. The third quarter report, due out by November 15, will give investors insight into this Christmas retailing season.
Disclosure: No positions