Apple's (NASDAQ:AAPL) leadership role in the tablet market may come under fire sooner than many expected. Samsung (OTC:SSNLF), Apple's most formidable competitor in the smartphone segment, is about to launch its new Galaxy Tab S, a high-end tablet model set to compete with Apple's iPads with Retina displays.
Samsung has already proven that it is the competitor that needs to be feared the most. After Apple introduced the iPhone and captured significant market share in 2007 and beyond, Samsung fought back and caught up; and it caught up nicely. A large part of Samsung's success in the smartphone business can be attributed to the exploding popularity of the Android operating system over the last few years (see below):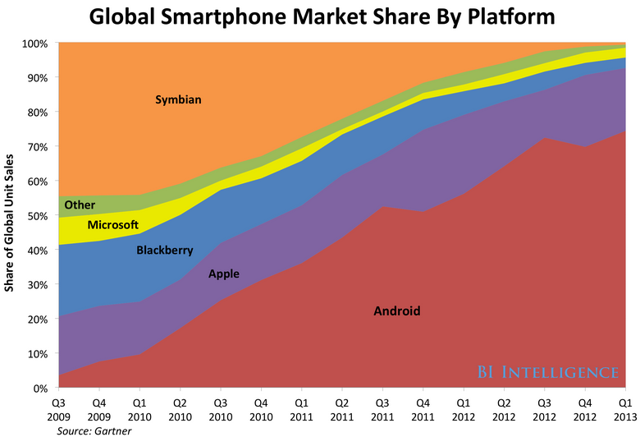 (Source: BusinessInsider, Gartner)
Samsung itself increased its smartphone share materially since 2008. Depending on which research institution you ask, Samsung had a smartphone market share of approximately 10% in 2008. With Samsung's hugely popular Samsung Galaxy S smartphone series, the South Korean conglomerate has more than tripled its market share over the last five years. According to information from market research firm Strategy Analytics, Samsung had a smartphone market share of 31% in the first quarter of 2014 which compares against a market share of 15% for Apple.
The bottom line is, Samsung has demonstrated that it is technologically capable of eating into Apple's moat. Apple's products have been the standard in the industry in terms of innovation and product sexiness. Samsung, on the other hand, has achieved remarkable success by tripling its market share over the last five years and has succeeded in position itself as a vibrant Apple competitor.
Now, with Samsung's new flagship tablet, the Samsung Galaxy Tab S, launching in July, can Samsung repeat its success and threaten Apple's tablet market share?
The Galaxy Tab S will be the most respectable tablet launched by Samsung yet. The Galaxy Tab S will come as a 8.4" and 10.5" version with Super AMOLED screens with 2560×1600 resolutions. The 10.5-inch version will weigh 465g and will be 0.26 inches thick whereas Apple's comparable iPad Air version weighs 469g and is 0.29 inches thick. Samsung's 8.4-inch version will weigh 294g and will be 0.26 inches thick as well. Apple's iPad Mini with Retina Display weighs 331g and is 0.29 inches thick. Further specifications for Samsung's new tablet models can be found here.
The new Galaxy Tab S models are expected to retail at $399 for the 8.4-inch Wi-Fi version and at $499 for the 10.5-inch Wi-Fi-version in July and I would expect the price to drop rather quickly in the first couple of months. Apple' iPad mini with Retina display currently retails for $399 and the larger iPad Air at $499. With better specifications, Samsung's new high-end tablet appears to be a very attractive deal for consumers.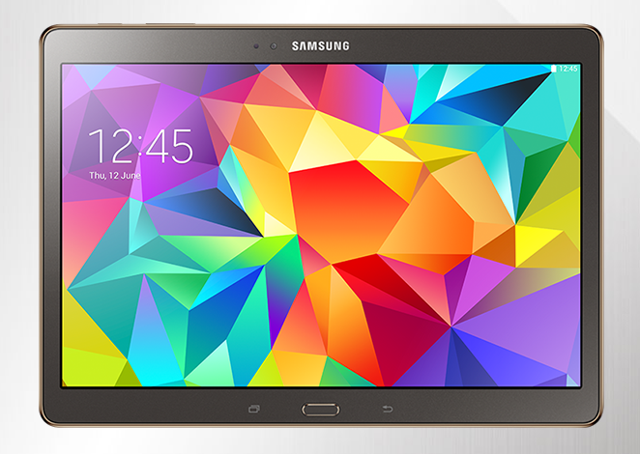 (Source: Samsung Website, Samsung Galaxy Tab S 10.5-inch version)
Bottom line: Samsung has produced a tablet that is not only thinner and slightly lighter than comparable tablets from Apple, but they also have larger screens while being competitive in terms of screen resolutions and price. My intuition tells me, that Samsung's new tablet launch will be a major success and I expect Samsung to capture increasing amounts of market share with the Samsung Galaxy Tab S -- just as it did in the smartphone market with the Samsung Galaxy S series.
Just like in the smartphone market, Apple had a massive first-starter advantage in the tablet business, because, well, Apple pretty much invented the tablet and competition didn't really exist as Apple pulled off its flagship product in 2010. But things changed quickly with a variety of manufacturers coming up with their own tablet models; Samsung, ASUS, Sony and others also wanted a piece of the cake. Even though competitors were eager to develop their own tablet products, no company and no product even came close to the iPad which had been established as 'the original' and been cleverly branded as a lifestyle product. Especially Apple's Retina display tablets have been untouchable so far.
However, with tablet market growth slowing, an increasing Android presence and faltering iPad sales, the launch of a serious iPad competitor is likely to cause some serious worries at Apple's headquarters.
As indicated below, Apple's iPad sales took a substantial hit in the most recent quarter as unit sales plunged 16% y-o-y. Slowing tablet market growth and increasing competition might even tempt Apple to lower its iPad prices in the wake of Samsung's tablet launch. In any case, the trend points toward serious challenges for the Apple's iPad cash cow.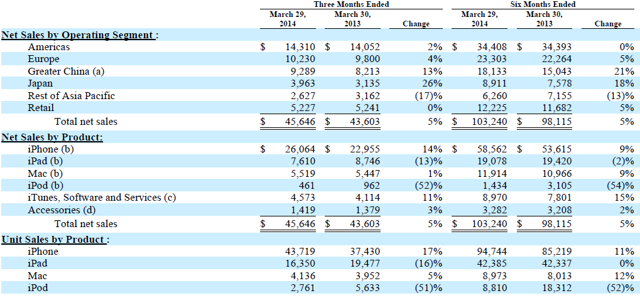 (Source: Apple, Inc. most recent 10-Q filing)
Conclusion
As Samsung showcased its new flagship tablet last week, it has become clear that the Galaxy Tab S, which builds on its successful Samsung Galaxy S smartphone series, is set to become the most serious competitor for Apple's high-resolution, high-end tablets. Leveraging the market recognition for the Galaxy S smartphones is definitely a savvy marketing move on the part of Samsung.
Given the specifications and software features of the new Samsung Galaxy Tab S, I think Samsung has a very competitive high-end tablet at hand which will be a serious threat to Apple's market share in the tablet market. So far, Apple has been quite insulated from competition in the high-end tablet segment due to its differentiating high-resolution displays. But this is clearly going to change.
Samsung's past success in grabbing market share in the phone business certainly does not bode well for Apple's position in the global tablet market. The fight is on!
Disclosure: The author is long AAPL. The author wrote this article themselves, and it expresses their own opinions. The author is not receiving compensation for it (other than from Seeking Alpha). The author has no business relationship with any company whose stock is mentioned in this article.
Editor's Note: This article discusses one or more securities that do not trade on a major U.S. exchange. Please be aware of the risks associated with these stocks.