I have not written much about a core position in my income portfolio for quite some time, January in fact. However, it is time to revisit one of what I feel is in the top echelon of yield plays within the energy partnership space. The entity has been such a consistent performer I rarely think about it even as it increases production and distribution payouts. However, I saw that an insider made additional purchases recently and it seemed a good time to revisit its investment case.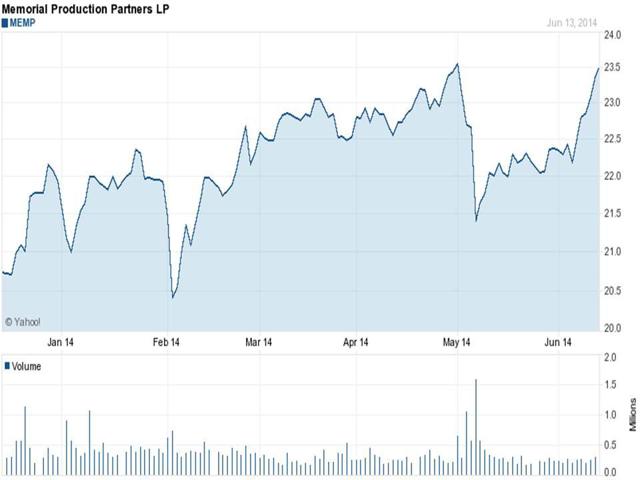 Company Overview:
Memorial Production Partners LP (NASDAQ:MEMP) is an upstream Master Limited Partnership (MLP) focused on the acquisition, production and development of oil and gas properties in the United States. Their diverse properties consist of mature, legacy oil and natural gas fields. Memorial has grown consistently via strategic acquisitions. The entity's primary business objective is to generate stable cash flows, allowing Memorial to make quarterly cash distributions to their unit holders and, over time, to increase those quarterly payouts.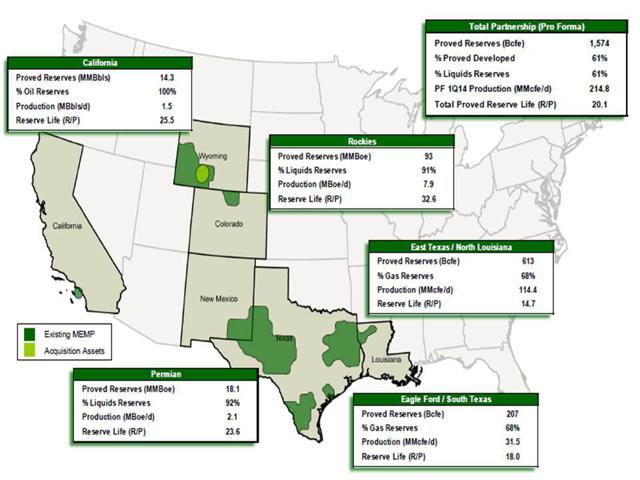 Consistent Resource Growth:
The company has done a stellar job managing its resource base since coming public late in 2011. Not only has Memorial grown production via acquisition, it has done so in a way that has diversified its resource base and increased the amount of production coming from higher priced oil.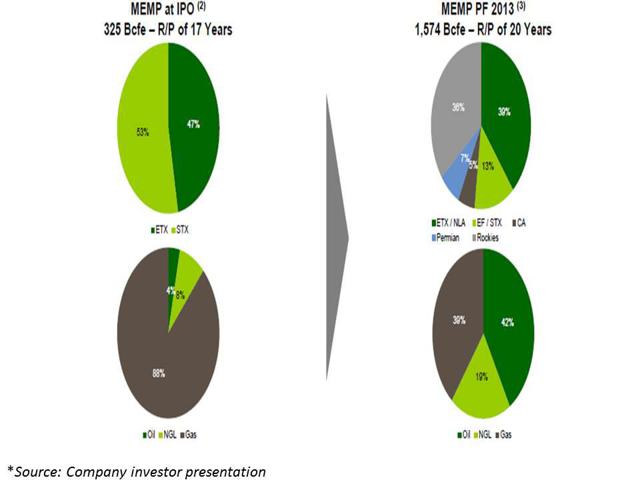 Outstanding Performance:
The company's well executed acquisition plan has delivered impressive performance as the company has seamlessly integrated new acreage into its production capabilities. As can be seen from the chart below, this has resulted in impressive growth in production, reserves and EBITDA since its IPO in December 2011.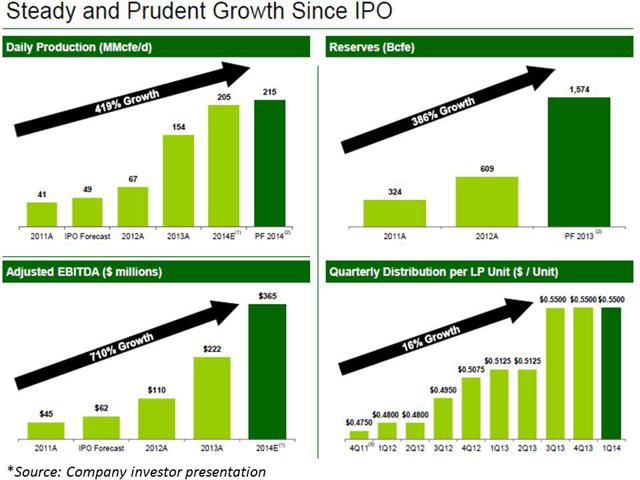 This has also resulted in an average annual distribution payout growth of 16% a year over that time span. The entity currently pays near a ten percent yield (9.9%). The company has a strong hedging program in place to help ensure consistent cash flow and distribution growth.
Insider Buying & Valuation:
A director bought over $450K in new shares via three transactions in early June. Finally, the entity is very reasonable valued given its payouts and consistent growth of production. Memorial made $1.37 a share in FY2013 but is tracking to posting better than $2.00 in EPS in FY2014. Analysts current project a 15% year-over-year earnings gain in FY2015. MEMP is priced at ~10 times 2015's projected earnings and provides a ~10% yield as well. A good value regardless of how one slices it.
Disclosure: The author is long MEMP. The author wrote this article themselves, and it expresses their own opinions. The author is not receiving compensation for it (other than from Seeking Alpha). The author has no business relationship with any company whose stock is mentioned in this article.