Brazil is the key driver
Last year, The Mosaic Company (NYSE:MOS) generated around a quarter of its revenue from the Brazilian agricultural market. Brazil is the fourth largest fertilizer user globally, and it is expected to grow faster than the other three largest fertilizer-using countries (India, China, and the U.S.) through 2016. To take advantage of the opportunity in this growing market, Mosaic initiated the five-year growth plan and plans to invest $300 million to develop new facilities along with the expansion of its current facilities in Brazil. Under this plan, the company will increase its blending capacity and warehousing facility, and optimize its logistics, to strengthen its presence.
Why Brazil?
Brazilian soil is nutrient-deficient and the fertilizers needed for the country's huge annual crops of corn, soybeans, and sugarcane are largely met through imports. This makes Brazil good bet among the fertilizer producing companies.
Seeing this opportunity, the company is continuously increasing its distribution business in Brazil. Plant nutrient use in Brazil has increased nearly 7% per year during the last five years and shipments are off to another good start this year. During its first-quarter earnings for 2014, its total shipments rose 11% year over year and Phosphate and Potash imports rose 77% and 48%, respectively.
Currently, Mosaic operates nine facilities in Brazil, and in February it completed the expansion of its Candeias, Bahia facility by almost twice the original size. With this expansion, the plant will be processing 300,000 tons of crop nutrients annually. In addition, the company has also constructed a warehouse with storage capacity of around 61,000 tons.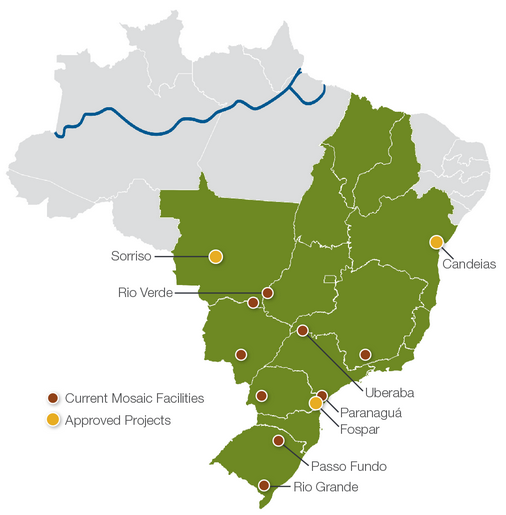 Source: Company Data
This expansion increased Mosaic's blending capacity and improved its transportation capabilities. This will help the company to cope with the rising demand of fertilizers in Brazil, as Potash and Phosphate shipment in Brazil is expected to increase to 8.8 million and 6.8 million tons, respectively, by the end of this year.

Source: Company Data
To further strengthen its network in Brazil the company plans to construct an additional 50,000-ton-capacity warehouse, which will store production from its Sorriso facility. This will help to deepen its footprint in Brazil and play an important role in the company's five year growth plan in Brazil. Additionally, the expansion of its Fospar facility will help the company to improve logistics, which will provide an opportunity to enhance the shipment of its fertilizer production.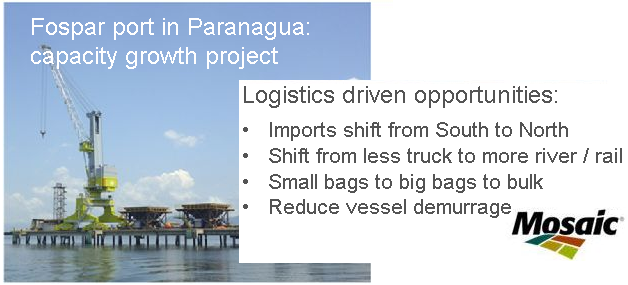 Source: Company Data
With its investments in Brazil, Mosaic will enhance its blending capacity by more than three million tons by 2018. The expansion of its facilities near the Fospar port will provide an opportunity to the company to grow globally. Further, increasing warehouse capacity and port accessibility will also increase market share in this key territory.
Focusing on inorganic growth to strengthen its footprint in Brazil
In April 2014, Mosaic signed an agreement with Archer Daniels Midland Company (NYSE:ADM) to acquire its fertilizer distribution business network in Brazil and Paraguay for $350 million. Per this agreement, Mosaic will purchase four of Archer's blending and warehousing facilities in Brazil and one in Paraguay. The company will finance this deal with cash from operations without affecting the shareholders' distribution plans. This acquisition will increase Mosaic's annual distribution capacity in these regions by 60%, that is from four to six million tons of crop nutrients, and will also expand Mosaic's market accessibility in the region. Further, the recent run-up in global fertilizer prices after a two-year continuous decline due to weak demand will generate additional revenue growth opportunity to Mosaic. Due to higher demand from buyers to replenish fertilizer inventory levels, Phosphate price has increased by more than 25% year to date.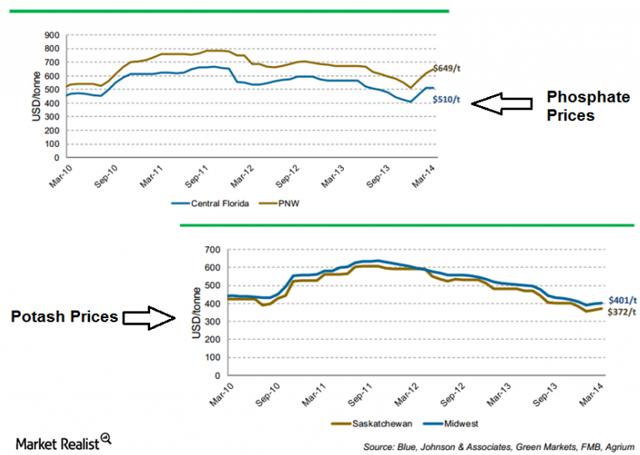 Source: Market Realist
This acquisition is expected to significantly support Mosaic's long-term growth plan in Brazil. Additionally, the company is also in the process of completing around $100 million in projects including expansion of its port terminals, plants and production capabilities. This expansion will also complement Mosaic's strategic initiatives, which include acquisition of CF Industries' (NYSE:CF) Phosphate business, and a joint venture with Ma'aden and SABIC in Saudi Arabia.
These strategies adopted by Mosaic will enhance the company's global growth strategy and expand its overall market access. The commencement of the Saudi Arabia facility is expected to reduce Mosaic's cost of sales by around $50 per ton, and the rise in Phosphate prices will strengthen its financial position. Further, the acquisition of CF's Phosphate business will help Mosaic to enhance its 2015 EBITDA by $230 million, which will increase its 2015 EPS by more than $0.30, assuming no change in the outstanding share count, which is 398.85 million shares, and ignoring the debt-related cost.
Conclusion
Mosaic's expansion strategies to take advantage of opportunities in Brazil will enable it to strengthen its financial position in the long run. Further, the acquisition of Archer's crop nutrient distribution business network in Brazil and Paraguay will support growth plans. The upsurge in crop nutrient prices - especially Phosphate and Potash will also help the company. Its venture with Saudi companies along with the acquisition of CF's Phosphate segment also looks positive for the company. Considering all these points, I believe this agriculture stock has strong growth prospective.
Disclosure: The author has no positions in any stocks mentioned, and no plans to initiate any positions within the next 72 hours. The author wrote this article themselves, and it expresses their own opinions. The author is not receiving compensation for it (other than from Seeking Alpha). The author has no business relationship with any company whose stock is mentioned in this article.