Gold and silver rebounded sharply last week on a number of bullish developments and the metals turned in their best two-week performance since February after a sell-off late last month that pushed prices to a four-month low. Developments in Iraq were the most important catalyst in recent days as fresh geopolitical concerns revived safe haven demand for precious metals as oil prices surged.
The prospect of more easy money policies by central banks in both Europe and China were also positive factors and these measures seem warranted after the World Bank downgraded its forecast for global growth on Tuesday. This curbed some of the enthusiasm about a faster economic expansion and was clearly a factor in U.S. equity markets faltering late in the week, a development that also boosted precious metals.
A surge in the trade-weighted dollar that abruptly reversed course added to the strength in precious metals while demand in both China and India remains strong. With technical factors changing from negative to less-negative and now half-way through the worst month of the year for gold and silver, we are quickly approaching the best three-month stretch for precious metals and at least a few gold bears have turned less bearish.
For the week, the gold price rose 1.9 percent, from $1,252.30 an ounce to $1,275.90, and silver jumped 3.5 percent, from $19.01 an ounce to $19.67. Gold is now up 5.8 percent for the year, still 34 percent below its record high of over $1,920 an ounce in 2011, and silver moved back into positive territory for the year, now up 1.2 percent in 2014 but still 60 percent below its all-time high near $50 an ounce reached over three years ago.
Short-covering was credited with some of last week's move higher as traders closed out winning bets after gold and silver prices broke out of narrowing trading ranges late last month to move sharply lower. As shown below via Kitco, the recent move higher for gold could lead to a bullish reverse head-and-shoulders pattern going back a full year to lows around $1,200 an ounce that were first seen last summer.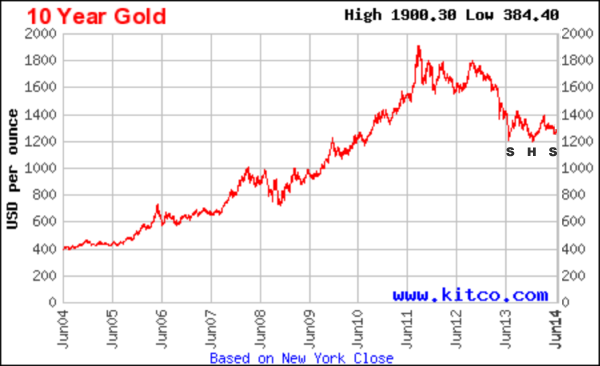 The gold price has now risen five straight days, something it hasn't done since March, and silver saw its biggest weekly gain since February.
Based on data from the CFTC as of a week ago as reported by Bloomberg, hedge funds had reduced their bullish bets in gold to the lowest level since January, however, that is likely to have already changed after the recent gains.
As noted here last month, June has been the worst month of the year for gold prices over the last decade, but the July-to-September period has been the best three month stretch by a wide margin, so, recent price action could be the start of a sustained rally.
To be sure, events in Iraq played a key role in boosting gold and silver prices last week as Islamist militants overran a number of cities in Iraq and closed to within 50 miles of Baghdad.
Oil prices rose to a nine-month high and, though most analysts think the advance will be limited to Sunni-dominated parts of Iraq where there is little oil, it's worth pointing out that none of these analysts expected the Islamic State in Iraq and Syria to have advanced as far and as fast as they already have.
The situation is likely to remain very "fluid" and this should continue to boost safe haven demand for precious metals.
The People's Bank of China followed the European Central Bank action from a week earlier in announcing new monetary policy easing aimed at spurring a sluggish recovery. After easing rules to make it easier for banks to lend to small businesses, China's central bank lowered reserve requirements for the second time since April as policymakers have made a decided turn toward targeted stimulus in recent months. This comes as inflation jumped from an annual rate of 1.8 percent in April to 2.5 percent in May and other economic indicators have turned up, so, further easing steps now seem less likely.
Nonetheless, central bank actions in both Europe and Asia have contributed to the recent rally in precious metals as the Federal Reserve prepares to meet in Washington this week to deliberate over monetary policy in the U.S. Few expect anything other than a continued tapering of the Fed's money printing effort here, though comments about a disappointing spring surge for the U.S. economy could move markets.
Slower growth was what the World Bank predicted in its updated forecast last week and this slowed some of the momentum in equity markets after U.S. stock indexes notched new record highs. Estimates for global growth in 2014 were revised down from 3.2 percent to 2.8 percent and this compelled many stock investors to take profits. Since precious metals sometimes move opposite of broad equity markets, this contributed to the rally in gold and silver, as did a weaker trade-weighted dollar where the inverse correlation with metals is much stronger.
Based on metal flows, investors in precious metal ETFs took little notice of recent price action as holdings for the SPDR Gold Shares ETF (NYSEARCA:GLD) have held steady at 787 tonnes for nine straight days, now down 11 tonnes for the year. Similarly, iShares Silver Trust ETF (NYSEARCA:SLV) holdings were unchanged at 10,322 tonnes last week, up 363 tonnes year-to-date.
In China, gold demand as measured by withdrawals from the Shanghai Gold Exchange remains steady at an average weekly rate of 37 tonnes so far in 2014 based on data from Koos Jansen. This amounts to an impressive total of 823 tonnes thru May and an annual rate of over 1,800 tonnes. More and more gold is being imported to mainland China via routes other than Hong Kong as detailed in this report at Reuters and this will make estimating demand increasingly difficult, so, look for some perhaps wildly diverging and very confusing estimates of gold consumption in China this year.
Gold imports to India rose from 32 tonnes in February to 60 tonnes in March according to this Mineweb story and, here too, assessing demand has become increasingly difficult, in this case, due to smuggling. The new Indian government is expected to continue to relax gold import curbs enacted last year that will boost "official" gold imports and it is now widely believed that Indian and Chinese demand exceeds global gold production.
At some point, record gold demand in Asia will positively affect futures prices that are set in the West, but when that happens is anyone's guess.
As for the short term, precious metals markets look a lot better than they've looked since the sharp move lower that began late last month.
Disclosure: The author has no positions in any stocks mentioned, and no plans to initiate any positions within the next 72 hours. The author wrote this article themselves, and it expresses their own opinions. The author is not receiving compensation for it (other than from Seeking Alpha). The author has no business relationship with any company whose stock is mentioned in this article.
Additional disclosure: I own other precious metal ETFs along with gold and silver coins and bars