With a lot of attention on American Realty Capital Properties (ARCP) recently it's been easy to lose sight of a few other Triple Net REITs. Excluding Gramercy Property Trust (NYSE:GPT) - up almost 31% over the last twelve months - the other Triple Net REITs have not managed to claw back the gains that were beaten up when the "taper talk" commenced in May 2013 (the peer group less GPT returned an average of just 1.95%).

Some argue that rising rates will continue to hamper Triple Net REITs, while others (like me) believe that modest rate increases will have little impact on the "bond proxy" REIT class. There will always be demand for income and even with rates on the rise; investors will be seeking stable and predictable dividend income.
Last week I picked up a few more shares in ARCP and although the 8.15% dividend yield is enticing, my main goal in purchasing shares was for share growth. It's clear that Mr. Market has spoken and although ARCP's dividend income is moderately mis-priced, the valuation appears to be extraordinarily discounted as evidenced by the year-to-date total return chart below:

Somewhere National Retail Properties (NYSE:NNN) seems to get lost in the shuffle. With a public history that spans almost 30 years (IPO was October 1984), NNN has stayed clear of the M&A noise and instead has focused on a more conservative investment strategy of producing safe and growing dividends.

With a market cap of around $4.5 billion, NNN has maintained a disciplined strategy of growth through internal portfolio management and well underwritten acquisitions.

A Differentiated Investment Approach
NNN focuses on purchasing and financing its growth strategy with facilities leased to many of the "best in class" retailers, convenience store operators, and restaurants. NNN was established in 1984 as Golden Corral Realty, Corp. and later organized as a REIT in 1998. Subsequently, the company acquired Captec Net Lease Realty (a public REIT) allowing total assets to exceed $1 billion. Currently NNN owns 1,903 properties (20.6 million SF) located in 47 states.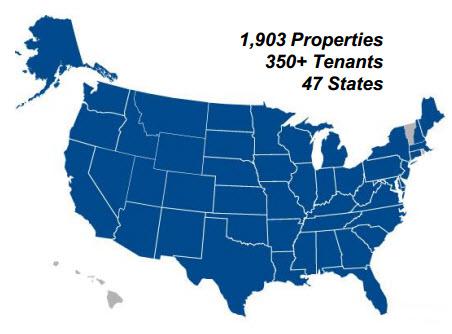 Unlike several of the larger net lease REITs, NNN focuses exclusively on "small-box retail" and the company maintains a consistent strategy of owning relatively smaller (around $2-$4 million investments) transactions.
The universe of freestanding retail properties is enormous and their historical return profile has been above average in terms of amount and consistency. However, the sector lacks the depth of institutional investors that can be found in large quantities in most other commercial real estate sectors, such as shopping centers, apartments or office buildings.
That lack of deep institutional competition in the smaller Net Lease sector is primarily a result of the small asset size which many institutional investors do not want to or are unable to effectively deal with. That provides a ripe arena for NNN to capture above average return assets and above average return consistency by virtue of the long-term net lease properties leased to creditworthy tenants. Additionally, the more granular, small asset size provides increased diversification benefits which mitigate risk.
NNN's lease strategy has generated a reliable income stream with low volatility. The company's well selected retail tenants provide stronger performance through various economic cycles and NNN's "main street" locations provide a strong market for replacement tenants and rent growth. NNN has over 350 national and regional tenants and the company's top 20 tenants average more than 1,160 stores each. Here is a snapshot of NNN's Top 20 tenants: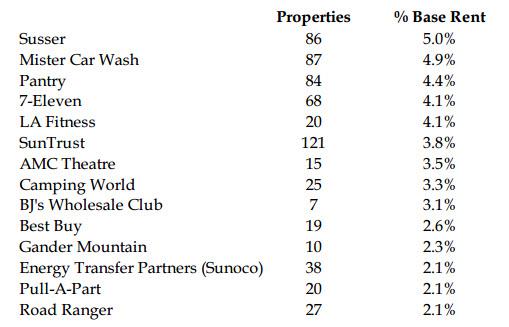 As a result of this unique investment strategy, NNN has produced lower earnings volatility from higher occupancy. From 2003 through Q1-14 NNN's occupancy has never fell below 96.4%, while the REIT industry average never rose above 94%. NNN achieved occupancy of 98.2% as of Q1-14.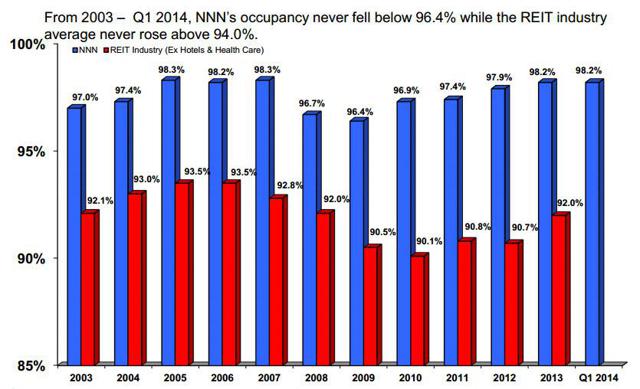 NNN's unique approach towards acquisitions is differentiated by the significant "heavy lifting" that goes into the souring of new deals. Because of the "quality over quantity" focus, NNN is much more selective, disciplined and patient with its underwriting and the initiative of underwriting relationships with strong, growing retail concepts has been successful.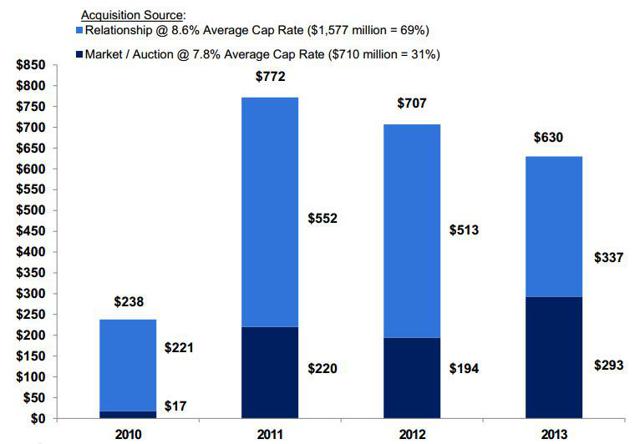 Also part of NNN's differentiated net lease approach is the higher cap rates that the company generates. Less buyer competition results in higher cap rates, and combined with the strong occupancy rates, the small box landlord generates greater per share accretion from lower acquisition volumes. So while NNN flies under the radar of the bigger players, namely Realty Income and American Realty Capital Properties, the higher yielding transactions create strong Funds from Operations (or FFO) growth. Here is a snapshot that illustrates NNN's historical acquisition volume at weighted average initial cap rates: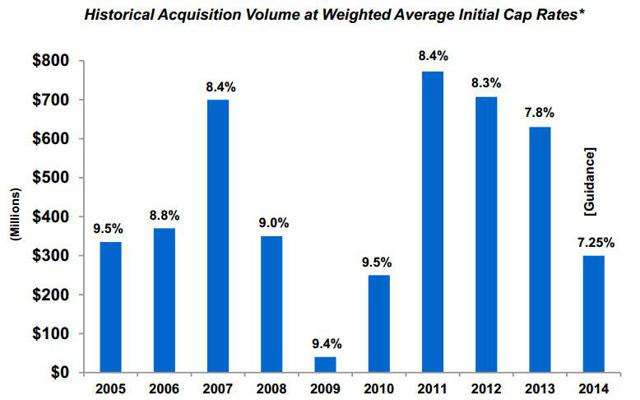 In the first quarter, NNN acquired 47 properties, investing $94 million at an initial cash yield of 7.7% (investing right at $2 million per property). Regarding NNN's differentiated investment approach, Craig MacNab, the company's CEO, commented on the recent earnings call:
We believe that our attractive initial yields, with growth of about 1.5% per annum, is helped by the fact that we participate in a large market which has less competition than many of the other property-type sectors, primarily due to the size of each property that we acquired, as evidenced by the $2 million per property in this quarter.
In regards to the trend for lower cap rates, MacNab explained:
Initial cash cap rates have trended lower in the last 12 months, but the spread that we are deploying capital at remains very wide and well in excess of our cost of capital. At a high level, we do think that cap rates are not likely to go any lower, but will likely remain at this level for a while.
MacNab offered more antidote on the latest Q1-14 acquisitions:
…if we can buy properties at a 7.7% cap rate, with 1.5% or so rent bumps, which means that the straight line yield on those acquisitions is about 8.7% for a 15-year time frame. And you contrast that with buying some Dollar Generals, pick a number, 7.3%, with a very modest bump in the 11th year, there's quite a lot of difference there, which ultimately shareholders will reward us for…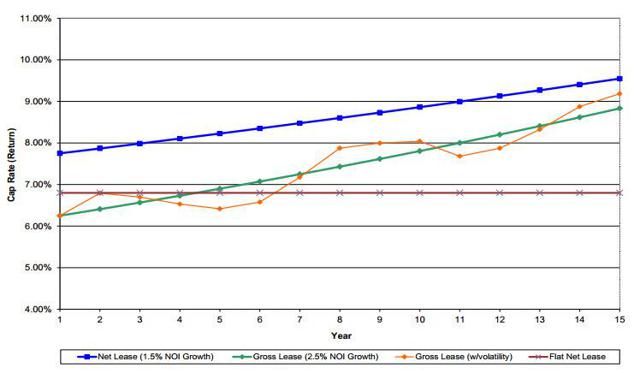 A Differentiated Balance Sheet
NNN's balance sheet remains in a great position to fund future acquisitions. The company has investment-grade rated debt (BBB / Baa1) supported by industry leading leverage ratios - total debt to total gross book assets was 33.3% and only $91 million outstanding on the bank line (over $400 million of availability on the bank credit facility), debt-to-EBITDA is 4.4x, interest coverage is 4.4x, and fixed charge coverage is 3.1x.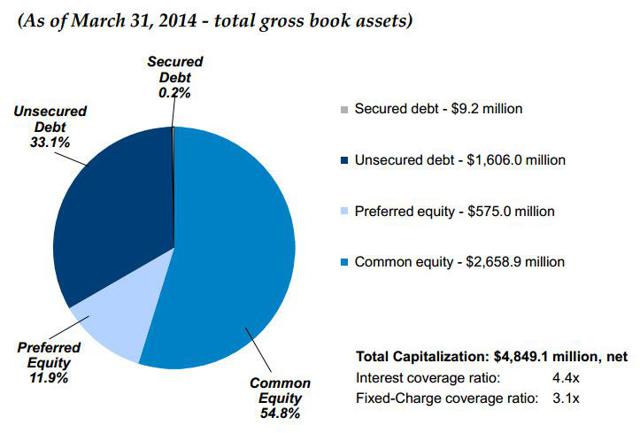 Only 6 of NNN's 1,903 properties, well under 1%, are encumbered by mortgages and those mortgages total $9 million.

NNN's low-leverage balance sheet strategy is enhanced by its well-laddered debt maturities (the $150 million of debt with a 6.25% coupon will get paid off on June 15th).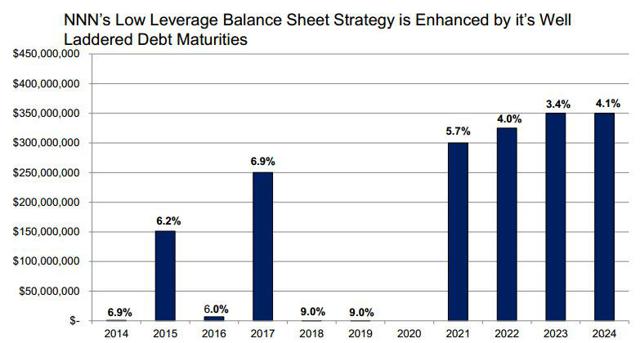 NNN funded 100% of its 2013 acquisitions ($630 million) with equity and over the past 3 years around 80% has been funded with permanent capital while growing AFFO per share by over 25%. (snapshot below: acquisition funding 2011-2013):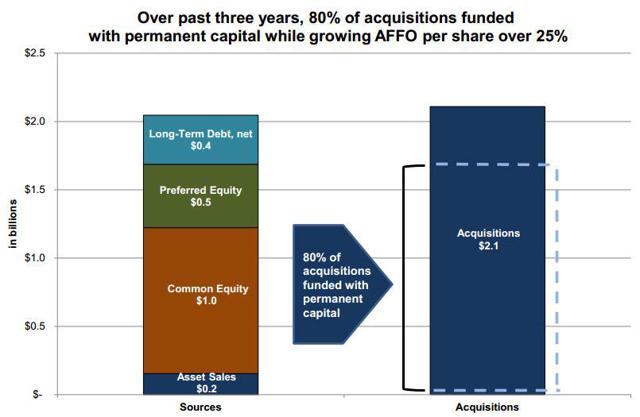 NNN's balance sheet is well prepared for the rising rate environment. The company's historically higher acquisition cap rates (8.3% since 2010; 7.7% recent acquisitions) create much more room for spread compression before acquisitions cease being accretive. NNN also has less exposure to refinancing risk from its low leverage balance sheet.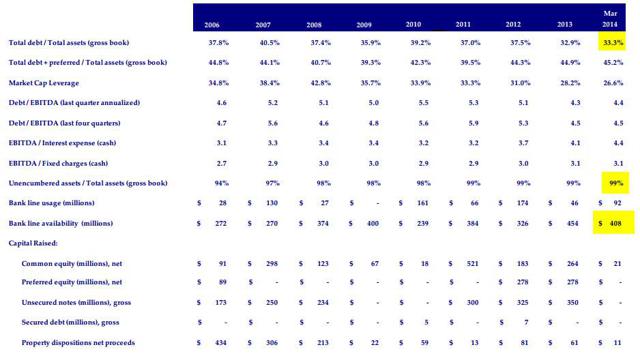 A Differentiated Dividend Model
In the latest quarter NNN reported Funds from Operations (or FFO) of $0.51 per share, as well as recurring FFO and Adjusted Funds from Operations (or AFFO) of $0.51 per share. This represents a 6.3% increase over prior year's recurring FFO first-quarter results, and was largely in line with our expectations.
The dividend payout ratio decreased to 79.4% for the first quarter. This latest quarter's strong results were a combination of maintaining high occupancy and making new accretive investments while keeping the balance sheet more than strong. As noted above, occupancy ended at 98.2% at the end of the first quarter, that's unchanged from the prior quarter, and up 40 basis points from a year ago.
Comparing to 2013's first quarter, NNN's rental revenue increased $10.4 million or 11.7%, primarily due to the acquisitions made over the past 4 quarters.
NNN has steadily increased its FFFO and over the last 24 years the company has successfully managed to increase its dividend payout. Most REITs cut dividends during the Great Recession; however, NNN (as well as O an WPC) were able to continue increase paying dividends.

The Net, Net, Net: Core fundamentals, occupancy, rental revenue, and expenses, are performing well with no material surprises or variances. The first quarter, although predictable, is indicative that NNN should produce another year of solid per-share results growth, including making this the 25th consecutive year of increased dividend per share.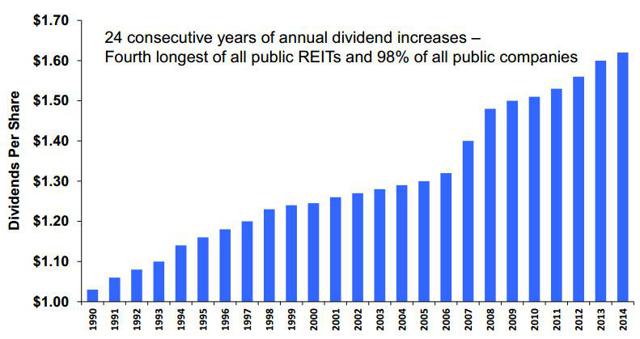 NNN is the fourth longest of all public REITs that has a similar track record of dividend repeatability.

NNN is also included in my 3D portfolio as part of my Intelligent REIT Investor newsletter.

A Differentiated Risk Management Model
As a more nimble Net Lease REIT, NNN acquires most properties directly from tenants that produces more efficient pricing and higher returns. Accordingly, NNN structures each deal based on unique characteristics with a high level of emphasis on the underlying real estate attributes and corporate credit analysis. Here is a snapshot that illustrates NNN's Top 20 lines of trade: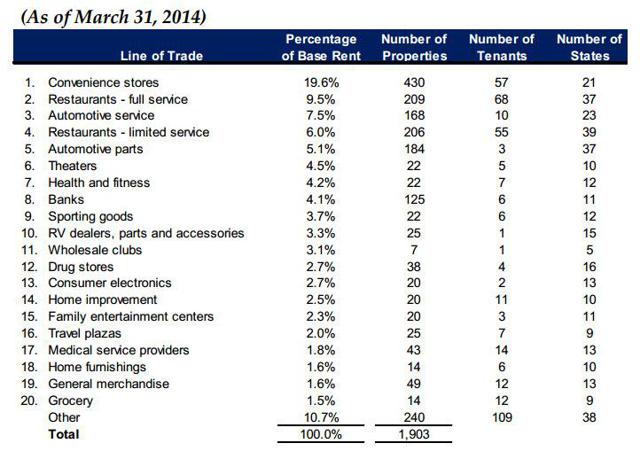 As you can see, convenience stores (19.6% of ABR) and Full Service Restaurants (9.5% of ABR) are the top categories; however, NNN has reduced its exposure to any one category/business considerably since 1996.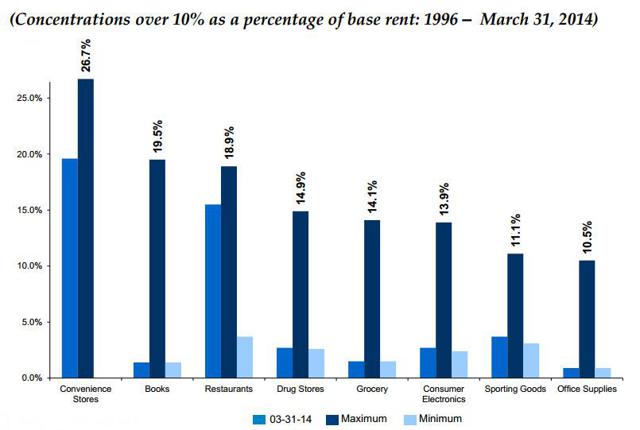 One important differentiator for NNN is the fact that the company's underwriting focuses on alternative uses upon future rollover and current tenant strength. As part of its risk management model, NNN has been extraordinarily successful (not lucky) with multiple credit upgrades after NNN's initial acquisition.
Notably: 7-Eleven, Sunoco, Bloomin' Onion (NASDAQ:BLMN), Lowe's (NYSE:LOW), Susser (NYSE:SUSS), Wanda Group and Advance Auto (NYSE:AAP) are all sources of rent for NNN, and these companies have all moved up the credit curve in 2013 and 2014. The most recent bit of good news for NNN has been the announcement by Susser to merge with Energy Transfer Partners (NYSE:ETP). On the recent earnings call, Craig MacNab explains:
…with 24 years of consecutive same-store merchandise sales growth, the EBITDA growth in our Susser portfolio has been quite significant, which is to say that the rent coverage ratio is super. ETP brings something to the table, in that they are a very, very large company…I think analysts are suggesting better fuel purchasing efficiencies than Susser. So, the rent coverage, as we think about it, is likely to improve. So for us it's just a fabulous outcome. And in terms of the lease duration, we have no near-term Susser lease expirations.
Based on the FAST Graph below, ETP appears to enjoy a consistent earnings model: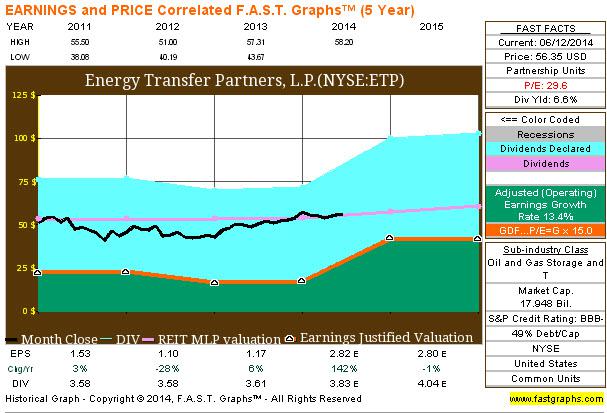 On the recent earnings call, an analyst asked MacNab if "there is something you like about Susser/ETP versus Sunoco" and MacNab replied:
The biggest point of distinction is that Susser has a unique food service offering. They have their own branded concept, Laredo Taco. And I have no doubt, where it makes sense, they will look to take their food service expertise into the Sunoco portfolio. But this deal hasn't closed yet. So there's a lot to go under this bridge.
Another of NNN's top tenants, SunTrust Banks (NYSE:STI), has around 3.8% exposure. In reference to the decrease in "brick and mortar" expansion, one analyst asked MacNab whether the Atlanta-based bank was a concern. MacNab answered:
We feel more than comfortable. And just to be clear, if we had another opportunity to buy those bank branches at the rent embedded in those, we'd do it tomorrow.
As evidenced by the FAST Graph below, SunTrust appears to be performing well with its "neighborhood-centric" model: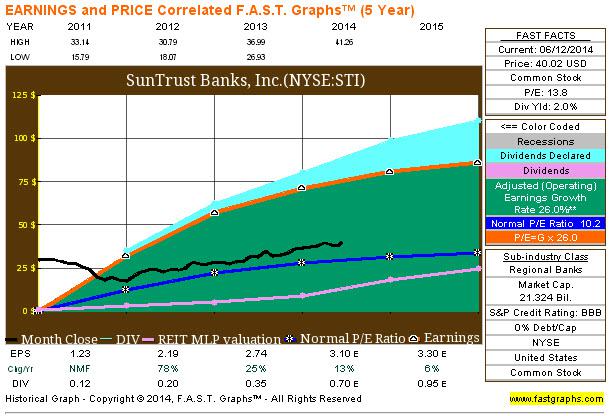 From 2007 through 2013 NNN has renewed 88% of its leases (190 leases out of 2017) and 56% of the leases were above the prior rent and 30% below (14% stayed the same).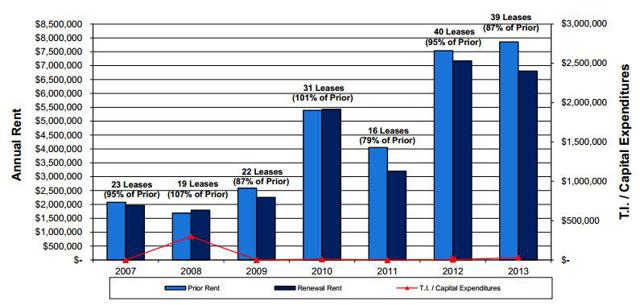 NNN has excellent lease roll-overs: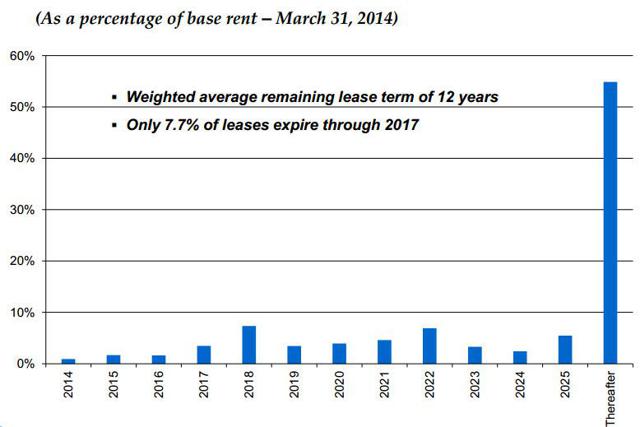 Is This Differentiated Net Lease REIT a Buy?
NNN is trading at $36.36 with a Price to Funds from Operations (P/FFO) multiple of 17.8x. Here is a snapshot of the peer group valuation chart:

Given the broad appeal of NNN's durable dividend history it seems that the market has driven NNN's share price up and the dividend yield down - NNN's current dividend yield is 4.46%.

The FAST Graph below (with no price line shown) illustrates the steady and predictable earnings history for this dividend aristocrat: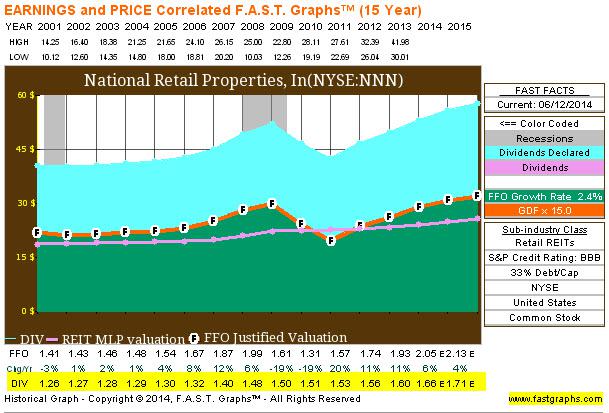 With the black line (price line) included, we can see that NNN would have seen the best "margin of safety" in November 2008 when shares were trading at $13.41.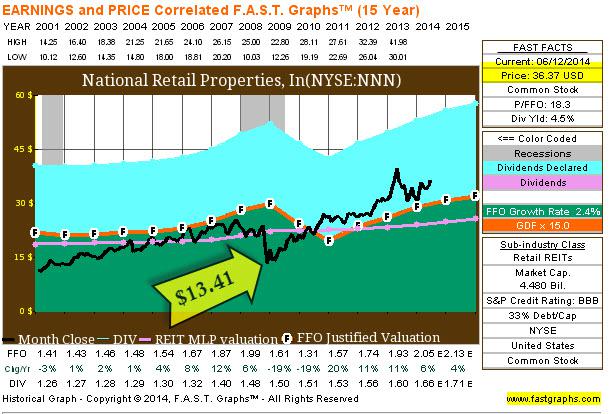 NNN is definitely a "sleep well at night" REIT; however, I 'm not sure that I can sleep at night until I'm able to own shares in this stalwart REIT with a starting dividend yield of 5%. I missed a few opportunities over the last 12 months.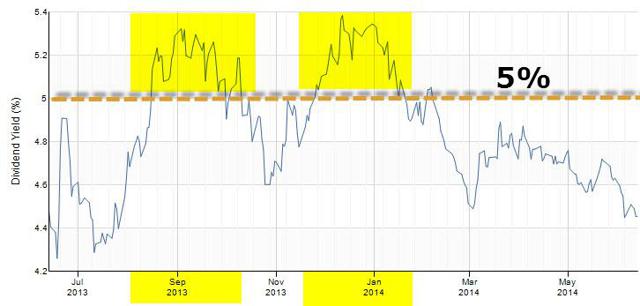 I had plenty of opportunities over the last 5 years: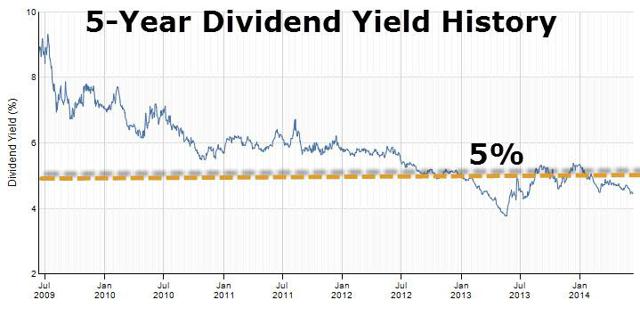 NNN is a bond proxy REIT with growth. I'm not willing to accept the current 4.46% dividend yield and I'll wait until shares drop to $32.40 until I hit the BUY button. I agree with the CEO's (MacNab) comments (below) regarding his company's successful track record for risk control. It's clear, National Retail Properties is a Net Lease REIT differentiated by discipline:
…you're going to find that we consistently are doing a very good job in sourcing off-market properties that have attractive risk-adjusted returns. So maybe you could say we got lucky. But we have done it for so many quarters in a row, that I would like to remind you that I consistently report that we have the best acquisition team in the business.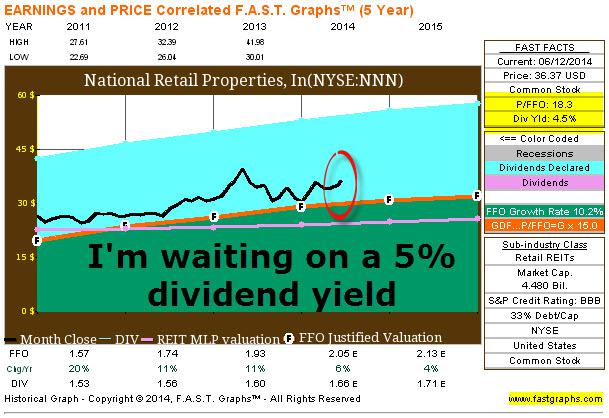 Here is a snapshot of the peer group: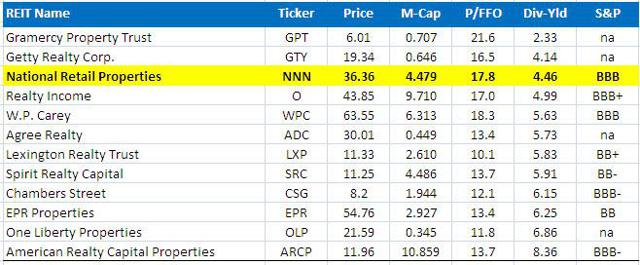 For more information on my REIT portfolio, check out my monthly REIT newsletter HERE.
Sources: SNL Financial, FAST Graph, and NNN Investor Presentation.
Peer Group: (NYSE:GTY), (NYSE:O), (NYSE:WPC), (NYSE:ADC), (NYSE:LXP), (NYSE:SRC), (NYSE:CSG), (NYSE:EPR), and (NYSE:OLP).
Disclaimer: This article is intended to provide information to interested parties. As I have no knowledge of individual investor circumstances, goals, and/or portfolio concentration or diversification, readers are expected to complete their own due diligence before purchasing any stocks mentioned or recommended.
Disclosure: The author is long O, DLR, VTR, HTA, STAG, UMH, CSG, GPT, ARCP, ROIC, HCN, OHI, LXP, KIM, WPC, DOC. The author wrote this article themselves, and it expresses their own opinions. The author is not receiving compensation for it (other than from Seeking Alpha). The author has no business relationship with any company whose stock is mentioned in this article.