There is a common misconception about the technology sector and the stock of some companies that operate within it, especially internet companies. Many investors view this cohort of stocks as erratic and closer to gambling than investing due to the excessive hype bestowed on these companies. Although the inaugural months of trading for internet stocks are exciting and volatile, they are not unpredictable as some may suggest. These stocks follow a different course early on but are eventually judged upon the same thing as all other sectors: earnings.
The Internet Stock Life Cycle
The different track of internet stocks begins the minute the IPO is priced, goes through a few successive stages, and then ends once investors focus on the company's income. All of the hype surrounding these companies tends to cause a big pop in share price immediately, shares then (eventually) plummet once the hype wears off and investors begin to speculate whether the stock has become "too hot" or is overvalued. Following this is a period where investors use the huge sell-off as opportunity to snag shares at what they believe is a bargain price; the stock price is usually range-bound for a little while during this time. Finally, the stock settles and is subsequently traded based on earnings as are companies across almost all other sectors. This point in the volatile early life of internet IPOs is a make or break time where stocks can become market darlings like Facebook (NASDAQ:FB) or become a dejected waste of potential like Glu Mobile (NASDAQ:GLUU).
The Internet IPO Life Cycle can be summarized below:
Pre-IPO buzz
Post-IPO stock surge (often immediate)
Large sell-off
Value investors come creeping back, stock is range-bound
Profit or perish
Facebook and Glu are fantastic illustrations of the course internet IPOs follow and dramatic conclusion to this Life Cycle, both positively and negatively.
Facebook
Facebook's debacle of an IPO in May of 2012 is well documented and provided a major hiccup in the beginning of the company's publicly traded life as well as forcing the aforementioned Life Cycle to be delayed. Once the dust settled, Facebook shares followed the pattern.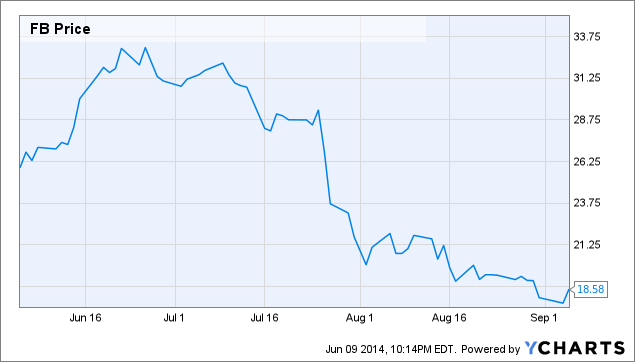 FB data by YCharts
Starting on June 5th 2012, about three weeks after Facebook's IPO, the stock endured steps two and three which resulted in FB shares reaching their all-time low in the high teens. Facebook was range-bound for the next ten months while investors argued whether management would be able to monetize the popular social network or if it would join the long list of failed tech IPOs seen over the last two decades. The turning point in Facebook's short life as a public company was July 26th, 2013 when the company reported a fantastic quarter in which it posted earnings of $0.19/share vs. the expectation of $0.14/share. This earnings report and the outlook provided convinced investors that Facebook was the real deal and will be a very profitable company for years to come. FB's stock has soared and not looked back reaching its all-time high of $72.59 in March.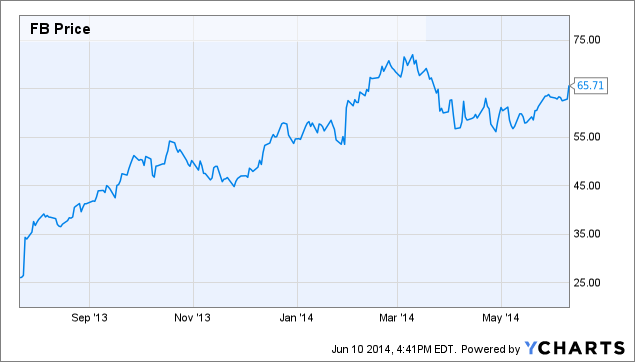 FB data by YCharts
That earnings report in July of 2013 was an inflection point in Facebook's stock chart and there's no coincidence that as the share price continued to increase, so did earnings.
| | |
| --- | --- |
| Quarter | Earnings Per Share |
| Q2 2013 | $0.19 |
| Q3 2013 | $0.25 |
| Q4 2013 | $0.31 |
| Q1 2014 | $0.34 |
| Q2 2014 (projected) | $0.32 |
| Q3 2014 (projected) | $0.34 |
As you can see Facebook is on track to soar above $1 in EPS for 2014, only its second full calendar year on the market. Yahoo! Finance's forward P/E of 35.95 and FB's closing price of $65.78 on June 11th yields an EPS estimate of roughly $1.83 for 2015. The ability of Facebook to monetize its platform and deliver concrete earnings instead of just hype and revenue growth as well as consistent earnings beats earned the company adoration from Wall Street. Facebook currently has 28 "Strong Buy" ratings from analyst firms.
Glu Mobile
Glu Mobile is a publisher of mobile games available on smartphones and tablets similar to Zynga (NASDAQ:ZNGA). GLUU had its IPO back in March of 2007 with shares' opening trading at a price of $11.50. After a slight decline in stock price, Glu followed the path of the Tech Stock Life Cycle but ended in a different place than that of Facebook. Stages two and three began in April 2007 and concluded in November of the same year when shares tumbled from their highs around $15 all the way down to $5.35 in just a few months.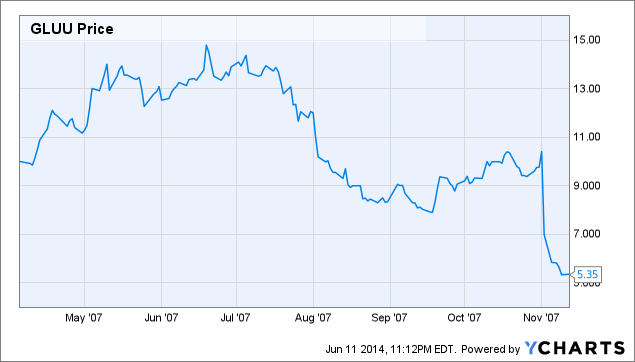 GLUU data by YCharts
The stock was then range-bound until August of the next year when the company reported another quarter of negative income. Despite setting a company record for revenue in Q2 2008, GLUU was still unable to reach profitability. This earnings report was the straw that broke the camel's back for investors. Wall Street was finally fed up with Glu's failure to profit from its mobile games. The stock plundered, becoming a penny stock for a while and not breaching the $2 level attained in November of 2010. Glu was unable to earn a profit in its first 13 quarters as a public company. The path of GLUU's stock was similar to that of Facebook's except in the final stage of its life cycle. At the end of all the hysteria that greets many internet IPOs, it is the bottom line that prevails as the ultimate determinant of the stock's trajectory, just like the rest of Wall Street.
The characteristic that makes internet companies stand out from the rest of the technology sector, and most other sectors as a whole for that matter, is the hype stimulating them from the start. The media, investment firms, and activist investors are captivated by these companies and their stock which creates a certain aura about them and results in self-perpetuating discussion. The buzz surrounding internet IPOs may lay dormant for a period, (usually step four in the Life Cycle) but it does not disintegrate. Rather, the underlying energy combined with the anxious time spent waiting for the decisive distinction between profitability or inability is like a dormant volcano ready to erupt, and eventually it will. The fact that this hyperbolic level of hype is not only still present, but seemingly growing larger in the meantime is why the final move in share price is so drastic. So what does this have to do with Groupon (NASDAQ:GRPN)?
Groupon, Inc. is currently in stage four of the Internet IPO Life Cycle, meaning that is only a matter of time before stage five begins and shareholders either make a bountiful profit or lose half of their investment in about an hour. Both GLUU and FB broke out of stage four within a 1 1/2 years of going public, GRPN had its IPO in late 2011. Groupon has managed to be marginally profitable in most of its quarters and excluding a slight surge in the latter half of 2013 (what stock didn't rally at some point last year?) has been range-bound for almost two years now. That crucial earnings report that determines the fate of internet companies is just around the corner for Groupon, but will it be closer to that of Facebook's Q2 2013 or Glu Mobile's Q2 2008?
This past quarter, reported on May 6th, was almost Judgment Day for Groupon with shares tumbling 7% after a quarter that beat analyst expectations but still reported a loss of 1 cent per share. The stock rebounded in the following days to earn back about half the value lost on May 7th and now hovers around those same levels. The close call after last quarter leads me to believe that this upcoming quarterly report, estimated to be in early August, will be the quarter that determines GRPN's fate.
Growth
Q1 2014 for Groupon was one characterized by growth. Revenue increased 26% and billings 29% year-over-year. The company's Rest of World sector saw billings accelerate 123%, largely due to the closing of its acquisition of Ticket Monster, a Korean ecommerce company, which was finalized on January 2nd. Ticket Monster, or TMON, reportedly has over $800 million in gross billings and "consistently sees year-over-year billings growth in excess of 50%." The problem with the growth generated by Groupon, is that it was not exclusive to revenue and billings. Total operating expenses increased 13.4% year-over-year leading to the company reporting negative EPS for the first time since Q4 2012. CEO Eric Lefkofsky even admitted on the Q1 Conference Call that GRPN has costs almost twice as high as other ecommerce companies.
Major Changes at Groupon
One of Lefkofsky's core goals as CEO of Groupon is to reduce the high cost level of the business, his way of doing this is centered around the restructuring of GRPN's cost structure. He believes that the company has back office operations in far too many small nations and that these should be regionalized to maximize efficiency. The regionalization of these operations will take place over the next two years.
Another one of the transitions underway at Groupon is the increasing shift to mobile, which has been moderately successful. This past quarter marked the first time that over 50% of total transactions completed were done via mobile. That signifies that Groupon is not "becoming a predominantly mobile business", but rather is now a predominantly mobile business, according to Lefkofsky. Groupon's mobile app was downloaded over 10 million times in Q1, bringing the tally to 80 million total downloads.
Groupon is also altering the way it attracts customers. About a year ago, the company announced that it will change its marketing tactics from a "Push" strategy to a "Pull" strategy. The Push strategy is when a company essentially takes the product to the consumer. Groupon did this via e-mail alerts of certain deals and pop-up notifications on mobile devices. The Pull approach is more about letting the consumer come to the product. A large determinant of success for Pull Marketing are forms of buzz marketing. Word-of-mouth and social media interaction are major elements of this relatively young form of marketing. The idea is to make Groupon a part of each user's daily life. The same way many Facebook and Twitter (NYSE:TWTR) users check their news feeds multiple times per day, GRPN's management is attempting to get its user base to check what deals are available before making any purchase. The company's increased mobile leverage should help this vision become a reality.
Arguably most importantly, Groupon officially launched Gnome (Gee-Nome), a tablet-run platform for merchants to seamlessly recognize customers and their Groupons based on data collected, a few weeks ago. The technology will act as a point-of-sale system, a credit card processor, and will soon be compatible with Quickbooks and Xero to make it more favorable for small business owners to use. As further improvements are made, merchants will be able to "run their entire operation" through Gnome by allowing them to establish relationships with all customers as well as customize marketing strategies based on data trends collected by the hardware. Gnome is an integral part of Groupon's long-term goal of allowing merchants to always be connected to the Groupon marketplace. According to reports, GRPN has plans to require that merchants use Gnome in their businesses.
Risks
Whenever a company mandates that changes be made there are always inherent risks. What if the smaller countries whose back office operations are being shut down bloom into large profit driver for the firm in the future? Groupon would have to quickly expand its coverage in that area or face the potential problem of not meeting demand. Also, regionalizing operations could decrease the quality of customer service in that region and result in a loss of customers. Increasing mobile influence is the least risky of the changes being put in place, but there is still the chance that mobile users jump ship for the next big ecommerce app that comes out. The danger of the Pull strategy is pretty obvious: what do you do if users don't get "pulled in"? There is the possibility that the Groupon app falls dramatically in popularity as users aren't inclined to check for deals constantly. The biggest liability, as well as the biggest potential success, is Gnome. If adopted by merchants, the platform could send Groupon to the forefront of small businesses from both the owner and consumer perspectives, a win-win. BUT, the rumored gutsy move of forcing merchants to employ the services of Gnome may not go over so well. If Gnome is not accepted and implemented by small business owners than the hardware, which is the crux of Groupon's long-term plan, will be a disaster and may very well take the company down with it.
Conclusion
Investors considering Groupon as a part of their portfolio should focus on the future (as is commonplace), but not disregard the past. The company is following the Internet IPO Life Cycle same as Facebook and Glu Mobile and is about to break out similarly to one of those two divergent stocks. The potential growth is certainly there for Groupon, but time will be needed for its ventures to play out. The regionalization of its cost structures will not be completed for two years, meaning that the high expenses will continue in the interim and continue to pressure earnings. The Pull strategy is one that will, if successful, gradually work over time, and the Gnome is a borderline revolutionary platform for the company and the way it interacts with merchants but is still in its infancy. Usually, I am advocate for investing in potential if you are confident in the future prospects, but not in the case of Groupon. I don't think GRPN will deliver the earnings that the market has been anxiously awaiting for three years in a quick enough fashion. The hype and excitement created in the Internet IPO Life Cycle will cause Groupon's stock to collapse soon due to market impatience. The stock may be worth revisiting after its descent if the potential for growth is still there and the changes implemented by Lefkofsky start to show signs of progress.
Disclosure: The author has no positions in any stocks mentioned, and no plans to initiate any positions within the next 72 hours. The author wrote this article themselves, and it expresses their own opinions. The author is not receiving compensation for it (other than from Seeking Alpha). The author has no business relationship with any company whose stock is mentioned in this article.