Investors who follow the recent stock market news must feel taken back to the wild dotcom years when small, loss-making companies fetched multi-billion dollar valuations. Stock market indices still are close to their all-time Highs, the Dow Jones currently quotes at 16,731 and the S&P 500 at 1,933 and, equally astounding, IPO activity keeps on surging.
Intelligize, a firm that provides analysts with financial data, recently commented on the IPO boom in the first quarter of 2014 and upbeat IPO momentum for the second quarter [emphasis added]:
Providing additional proof that the national economy is continuing to show signs of progress, the first three months of 2014 saw a substantial amount of initial public offerings, with more expected to be observed within capital markets in the near future.

During the first quarter of this year, IPO volume amounted to 71 public company debuts, which marked a significant year-over-year increase of 109 percent, according to PricewaterhouseCoopers. Within its latest IPO Watch - one of the quarterly reports regarding IPOs listed on U.S.-based stock exchanges - the firm announced that proceeds raised by IPOs during the first quarter totaled $11 billion. This figure represented a 41 percent hike from the same time last year.

According to Forbes, 2013 was the hottest year for IPOs since 2004, as many expectations were exceeded significantly. Of the 226 businesses that went public last year, 183 were considered emerging growth companies. Additionally, the news source suggested that the market's gains were likely due to the participation of "generalist" institutional investors who were interested in capitalizing on the strong performance of large-cap companies.
IPO activity is always a reflection of how businesses see the state of the capital markets. Investor optimism usually leads many companies to raise capital and tap the stock market. Rising IPO volumes, however, are always (I mean always) a sign of an advanced bull market.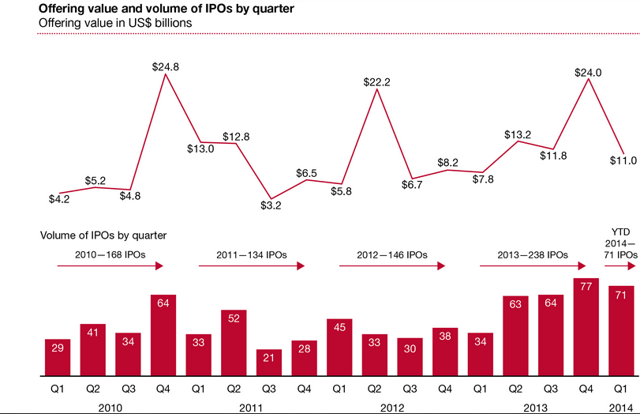 (Source: PricewaterhouseCoopers)
As if that was not enough to convince the critically thinking investor about how far the current bull cycle has already progressed and that we are about to repeat past valuation mistakes, consider this excerpt about surging mergers and acquisitions activity from the same source, Intelligize:
In the year to date, the 13 deals that are worth at least $10 billion account for around $318.6 billion of M&A activity. Aside from this amount being the highest $10 billion-plus value in seven years, the news source noted that it marks an annual rise of 75 percent.

During the first three months of this year alone, priced deals worth a total of $710 billion were announced, Reuters noted, which points toward a 54 percent yearly jump in activity. After declining last year due to economic uncertainty, shareholder activism and regulatory interventions, it is apparent that transaction volumes are once again on the rise.
A recent Ernst & Young report confirms the uptick in mergers and acquisitions deals and the positive outlook for the M&A industry as well.
Lofty valuations another tell-all sign
One particular attention grabbing news headline last Friday relates to the acquisition of OpenTable (NASDAQ:OPEN) by travel agent website Priceline (NASDAQ:PCLN). Bloomberg summarized the deal terms in an article on June 14, 2014:
Priceline Group Inc. is buying OpenTable Inc. in a deal valued at $2.6 billion to add restaurant bookings to its travel business as the industry steps up investments in local listings and mobile services.

The all-cash offer of $103 per share for the popular Internet restaurant reservation company is 46 percent higher than OpenTable's closing price yesterday. The deal is expected to be completed in the third quarter, the companies said in a statement today.
After deal announcement, shares of OpenTable shot up more than 48% and closed at $104.48.
From a financial perspective, I don't think the deal is attractive for Priceline. OpenTable reported full-year earnings of approximately $33 million in 2013 and its equity is now valued at $2.5 billion - after the acquisition offer. Even if investors considered an optimistic OpenTable earnings estimate of $45 million (implying a 35% y-o-y growth rate) for the current fiscal year, the deal would value the restaurant reservation company at 56 times estimated 2014 earnings. A massive premium.
While OpenTable's shareholders certainly love the deal (and the 50% gain in a single day), investors were quickly looking around to see which other company could become a potential acquisition target. Yelp (NYSE:YELP), of course, was one of the beneficiaries of the Priceline/OpenTable deal with shares rising 14% on Friday. Justified? Hardly.
Probably the biggest deterrence to a potential acquisition is that Yelp is still bleeding losses. Though Yelp's net revenues have increased by a factor of nine to $233 million since 2009, continued losses are not likely to improve Yelp's value proposition in the M&A marriage market. The overview below from Yelp's most recent 10-K filing with the SEC highlights the fairly unattractive earnings record of the business review enterprise as net revenues soared.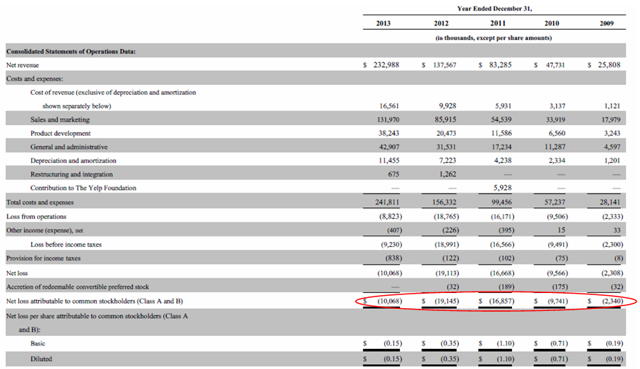 (Source: Yelp 10-K filing)
Yelp's market valuation is out of touch and prices the company for perfection
Investors reacted extremely emotional to Priceline's acquisition offer for OpenTable, which, by the way, was profoundly endorsed by Wall Street, and investors quickly looked for other potential acquisition targets. However, I can hardly see how Yelp's already inflated market valuation will help the company attract a buyer.
Yelp currently has a market capitalization of $5.4 billion and trades at approximately 250 times forward earnings and 19 times sales according to Morningstar. Truly stunning valuation metrics for a company that continues to post sequential losses and which can hardly be justified.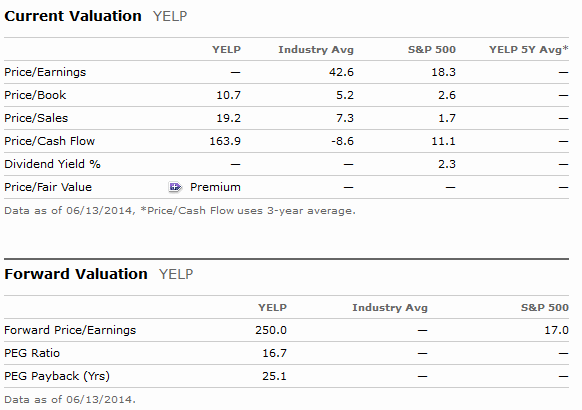 (Source: Morningstar)
Chart situation
Yelp shot up 14% in Friday's emotional trading session after Priceline's acquisition of OpenTable put investors into a collective state of euphoria.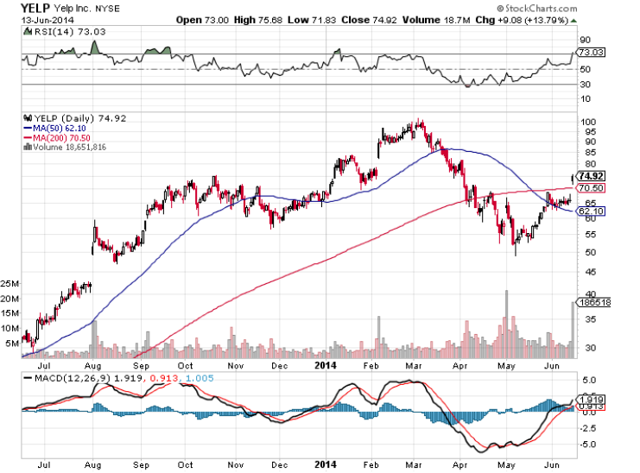 (Source: StockCharts.com)
Conclusion
I think the current excitement over the OpenTable acquisition has little significance for Yelp. While the company has been increasing its user base to over 132 million (a metric analysts focused on during the dotcom years as well), the company also continues to command a nose-bleed valuation and has a very unconvincing earnings record at the same time. Yelp is purely a speculative play that feeds off the current OpenTable speculation.
Taking a step back and looking at the big picture, I want to summarize the three key points I made in this article to make sure the argument really sinks in: IPO activity is surging, mergers and acquisitions are booming and companies, especially in the 'new economy', are conducting acquisitions at mind blowing valuations. Sound familiar? Dotcom 2.0 here we come. Short Yelp.
Disclosure: The author has no positions in any stocks mentioned, and no plans to initiate any positions within the next 72 hours. The author wrote this article themselves, and it expresses their own opinions. The author is not receiving compensation for it (other than from Seeking Alpha). The author has no business relationship with any company whose stock is mentioned in this article.