Editor's note: This report was initially released to the author's subscribers on 6/2/14. All references to specific dates should be read accordingly.
The spread between governments and junk bonds has narrowed to such an extreme extent that it has resulted in the biggest risk seen in 40 years. Furthermore, the quality of bond covenances has deteriorated to what Moody's has reported as one of their weakest scores ever reported. In April of this year, these high-yield "liked" bonds represented almost 42% of total issuances. This compares to only 10% of bonds issued in January 2011.
The chart below, provided by the IMF and Merrill Lynch, illustrates how the number of covenant light loans issued is even higher than the number issued before the 2007 crisis. This month, Larry Fink, the CEO of BlackRock ($4.4 trillion in assets) asserted, "…the US housing market is structurally more unsound today than before the financial crisis." Yet, despite these alarm bells, the majority of investors are failing to heed warnings, and instead, remain complacent.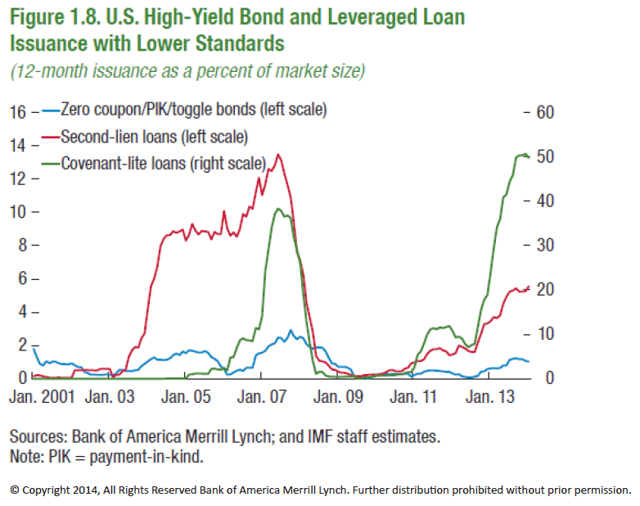 Investment grade spreads are calculated by taking the US corporate rate and subtracting the 10-year treasury yield. The circles seen on this 40-year chart below represent periods of very low credit spreads. Each period preceded a recession of some kind: 1982, 1987-90, 2000-02 and 2004-07. Credit spreads have remained depressed for the last several years, and the cycle is approaching a mature state. Thus, investors should anticipate some distress in the markets in order for a return to a mean in this relationship.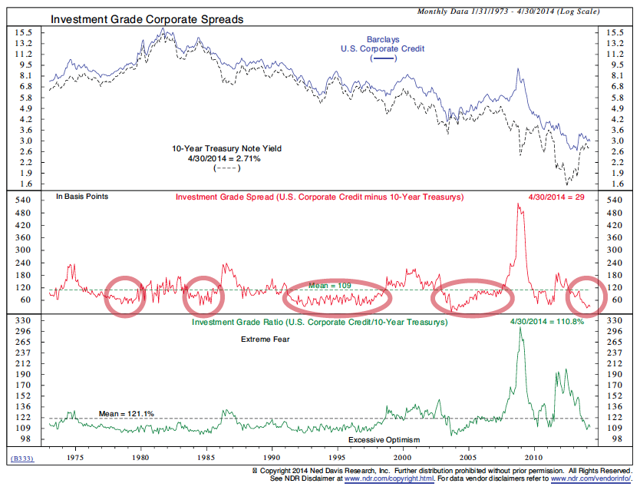 Household financial assets as a percentage of disposable income have increased sharply since 2008. When analyzing the next chart, one can see that current investment levels relative to income are sharply higher than those of 2000 and 2007. Not only are investors taking on more risk, but this data also suggests that the market has become very over-owned. We should be wary, as we all know what occurred in 2000 and 2007.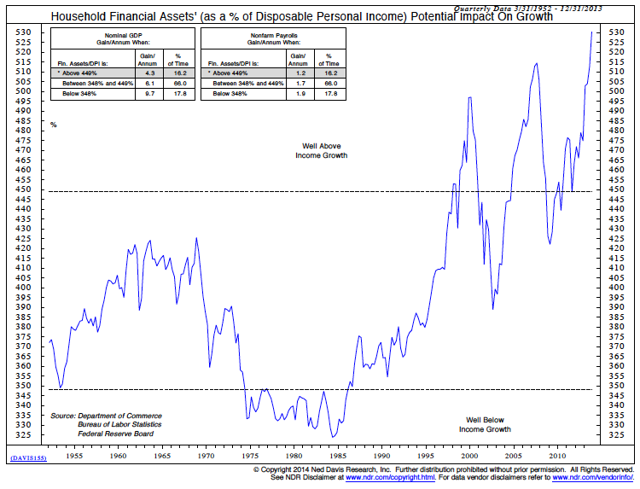 Complacency continues in the marketplace. The VIX Index is one measure of expected volatility. The Brogan Group has produced a useful chart overlaying the VIX and S&P 500. The current low reading is worrisome, because past low readings have preceded significant market corrections. The red circles below denote low periods over the last eight years.
Options are extremely cheap at the moment. This means that traders are pricing in a low probability for a big near-term move either way. This next chart, provided by Jason at SentimenTrader.com, shows the implied volatility of near-term at-the-money VIX options over the past eight years. This is the lowest probability of forward volatility seen in the market in over a decade. In our opinion, this is bearish, because volatility will rarely move substantially higher without some market distress.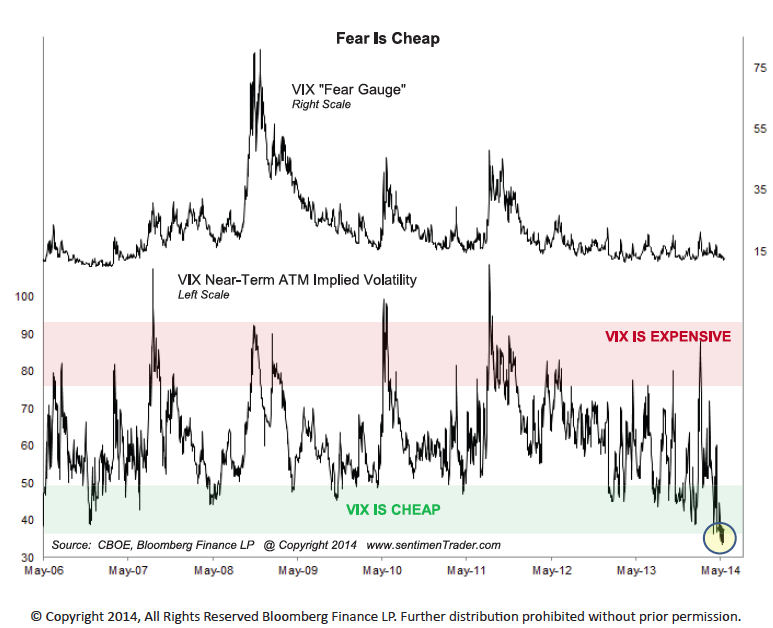 This next chart, produced by Chartcraft and calculated every Wednesday, polls newsletter writers for their current bullish or bearish prognostications. The indicator is currently positioned at a 41, which is extremely bearish from a contrarian point of view. Since such a large percentage of the members polled are bullish, we view this as bearish due to its optimistic reading.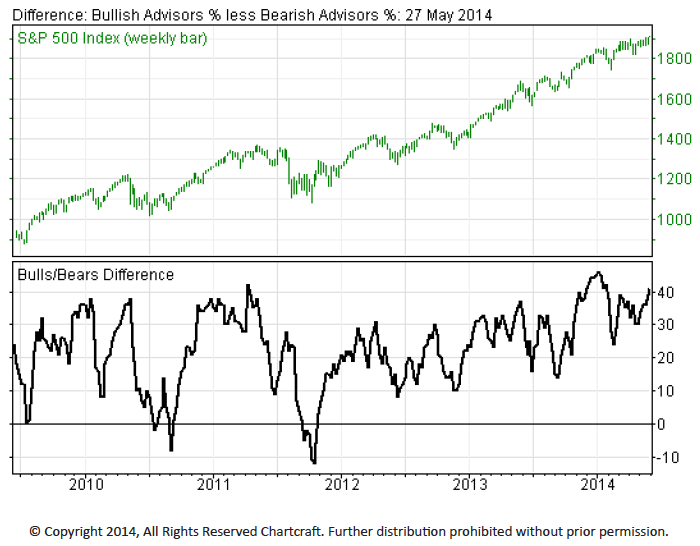 Another useful risk gauge is produced by BlackRock and distributed through SentimenTrader.com and Bloomberg. There are three components to this indicator - enterprise value, EBITDA and the VIX. The present reading is at a multi-year high, which is another red flag in the sentiment arena.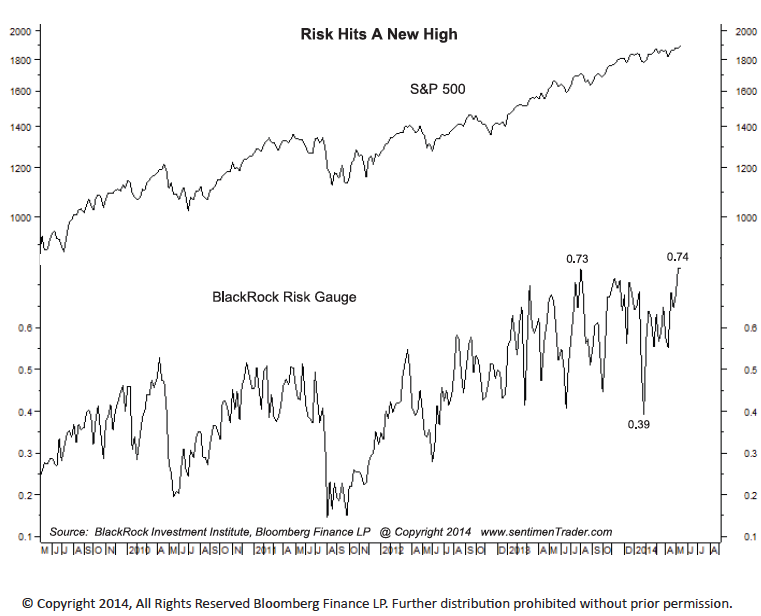 The industry sector sum, produced by Chartcraft, provides an interesting view of the market's health by monitoring individual sectors. For over a year, it has been hitting a series of lower highs and lower lows. Combined with the market hitting all-time highs, this lack of momentum is alarming.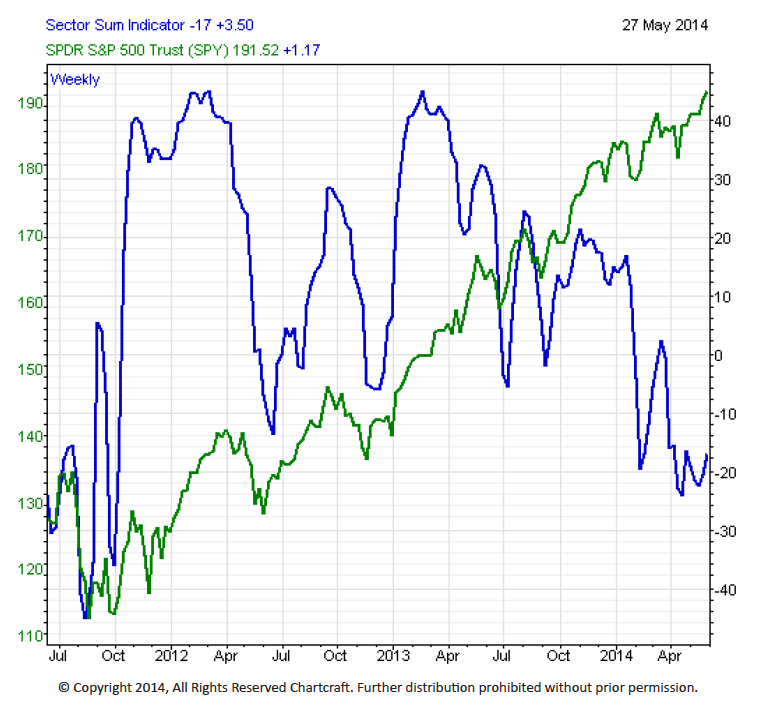 This next chart, produced by Ned Davis, shows the percent of NDR multi-cap stocks above their 200-day moving average. Please note the shift in momentum represented at the right side of the indicator. This negative divergence is another warning sign.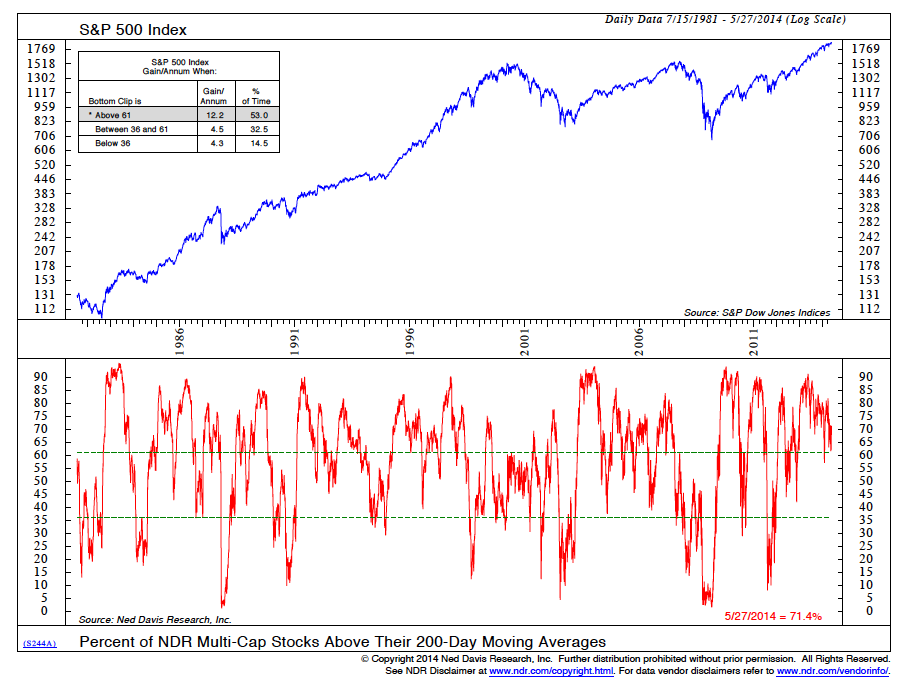 Finally, we look at the Ned Davis Aggregate Insider Rating chart. It currently shows an excessive amount of legal insider selling by corporate executives. This is bearish, as executives tend to have better insight than the public at large about the future prospects of their own companies.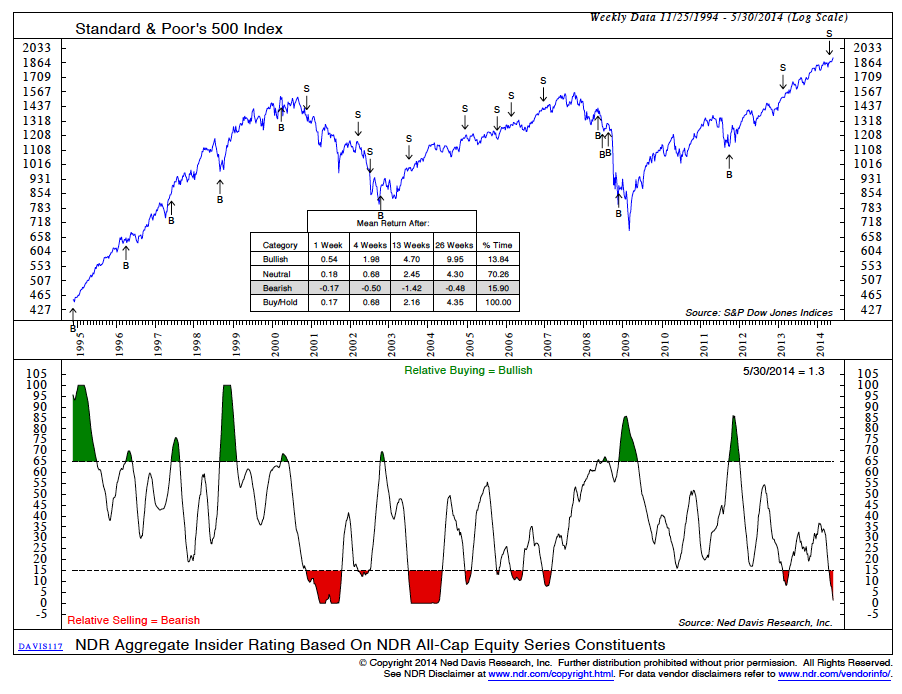 Conclusion
There is extreme risk present in the stock market, and for months, we have been warning of and providing evidence for this. And while corrections in the stock market are always scary, the most serious corrections arrive when the fixed income market is also misbehaving. Periods of significantly tight credit spreads have always been present in times preceding large economic upheavals. We will continue to monitor bond spreads in anticipation of them widening. Our position remains unchanged at 32.5% short.
Disclaimer
Lamensdorf Market Timing Report is a publication intended to give analytical research to the investment community. Lamensdorf Market Timing Report is not rendering investment advice based on investment portfolios and is not registered as an investment advisor in any jurisdiction. Information included in this report is derived from many sources believed to be reliable but no representation is made that it is accurate or complete, or that errors, if discovered, will be corrected. The authors of this report have not audited the financial statements of the companies discussed and do not represent that they are serving as independent public accountants with respect to them. They have not audited the statements and therefore do not express an opinion on them. The authors have also not conducted a thorough review of the financial statements as defined by standards established by the AICPA.
This report is not intended, and shall not constitute, and nothing herein should be construed as, an offer to sell or a solicitation of an offer to buy any securities referred to in this report, or a "buy" or "sell" recommendation. Rather, this research is intended to identify issues portfolio managers should be aware of for them to assess their own opinion of positive or negative potential.