Costco Wholesale Inc. (NASDAQ:COST) continues to deliver a healthy financial performance despite the competitive industry environment. The company continues to deliver a strong performance across all segments. The focus of the company has been on improving traffic in stores, and increasing its market share. Also, the company has been expanding its international presence and operations, which will improve its profitability, as international operations have higher margins, as compared to U.S. operations. However, the company will continue to face competition from the likes of Wal-Mart (NYSE:WMT) and Target (NYSE:TGT), and the growing e-commerce category.
Consumer Traffic Growth in Focus
Rising competition among supermarket retailers in the U.S. requires them to focus on drawing more consumer traffic towards them. With the recent changes in the U.S. macroeconomic environment, customers are now more drawn towards discounted products. COST, the 4th largest U.S. retailer, seems to have realized the changing economic needs very well. With its competitive pricing, a markup of 15% on products as opposed to 25% being opted for by most of its competitors, coupled with its good stores and strong culture, COST drove its total comparable sales figure to 4% year-on-year in 3QFY2014. I believe the pricing benefit is something that customers will be always looking into, which will help COST maintain healthy traffic at stores and increase its market share.
The membership fees are one of COST's major U.S. revenue drivers. Despite a 6% year-on-year increase in membership fee, the company continued to enjoy a good pickup in its membership scale, with the recent quarter's renewal rate of 90.6% due to its strong goodwill among the members. Moreover, the recent quarter's members' addition of 6.8% as compared to 5.25% in 3QFY13 displays a strong momentum for store traffic for COST; the company remains focused on generating strong store traffic, which will help increase its market share.
Strong Growth Potentials in International Market
Most retailers are now shifting their focus on strong growth potential offered by international markets. Over the past few years, COST has been making efforts to expand its international presence and is very well accommodated in international markets due to its large operational scale and solid business model. Other than growth potential, international operations have higher margins as compared to U.S. operations, which is likely to improve the profitability of the company. The following chart shows the EBIT margins for different segments of COST.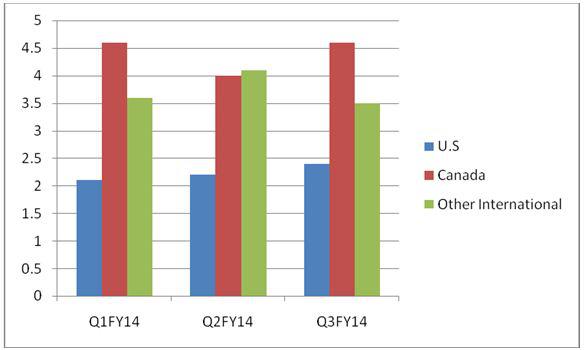 Source: Company's Quarterly Earnings Report
By realizing the strong growth potential in international markets, COST has been continuously opening new locations in the U.K., Mexico and Canada. I believe the expanded international operations will grow the overall profitability scale of the company, with the right marketing and affective pricing techniques.
Moreover, in 3QFY14 the company's new openings in countries with poor economic conditions like Korea, Japan and Spain will drive a large scale low-income population group of these regions towards COST. Therefore, I see these large scale international operations as a major driver for the company's earnings in the long run.
On the flip side, the strengthening of the dollar has resulted in continuous adverse FX-impacts on the company's consolidated earnings. Despite the fact that international operations have better growth potential, foreign currency movements are likely to adversely impact the company's earnings.
E-Commerce
Over the past few years, as the shopping style of retail chain consumers changed, e-commerce has risen up as a threat to store traffic. COST has been expanding its e-commerce presence to keep up with the changing industry trends. The company has effectively improved the recent quarter profitability of its e-commerce business by 16%, with the introduction of many new mobile applications, the re-plat forming of its website, and the launch of new product categories. COST needs to continue its efforts to expand its e-commerce presence, as it faces tough competition in its online business from established market leaders like WMT and TGT. COST's online business is largely threatened by WMT's plans of using its large scale global presence to grow its online business. As the future of the possible success of retail chains revolves around e-commerce, I believe the company needs to further ramp up its e-commerce efforts at a much larger pace to secure its long term growth prospects.
Conclusion
I reaffirm my bullish stance on COST. The company has been doing well to register a healthy performance despite the competitive industry conditions. The focus on generating strong store traffic and expand market share will help the company consolidate its position in the industry. And its efforts to expand internationally will fuel growth in the long term and improve profitability. COST needs consistent efforts to grow its e-commerce business to keep up with changing consumer trends.
Disclosure: The author has no positions in any stocks mentioned, and no plans to initiate any positions within the next 72 hours. The author wrote this article themselves, and it expresses their own opinions. The author is not receiving compensation for it (other than from Seeking Alpha). The author has no business relationship with any company whose stock is mentioned in this article.