Let's forget about ideology for a few minutes and focus on facts. Photovoltaic panels can only produce power for six hours a day and wind turbines can only produce power when the wind is blowing. Even with good conditions the electric current from wind and solar power facilities fluctuates wildly. When the sun doesn't shine or the wind doesn't blow, those facilities are little more than landscape art. The only way renewable power technologies can be truly useful to a society that can't function without clean electricity is if backup facilities are waiting on standby to fill the gaps.
Historically, gas fired peaking plants were used to fill the gaps and maintain a clean and reliable flow of electric current through the grid. As battery technologies mature and become more affordable, they will play an increasingly important role in abating the intermittency of wind and solar power and maintaining the clean and reliable electric current we all take for granted. The reason is simple. While gas fired peaking plants can respond in 5 to 10 minutes and fill the gaps for hours, energy storage is the only technology that can fill the gaps instantaneously while traditional generating assets come up to full power.
Much has changed since I penned my first article on stationary energy storage in the summer of 2008 and my author s archive on Seeking Alpha includes dozens of articles that focus primarily on the opportunities and challenges in an evolving class of energy storage applications that's expected to grow from $221.8 million a year in 2014 to $17.8 billion a year in 2023.
Several classes of battery technologies are well suited to stationary energy storage applications and will experience explosive growth in the coming decade. Leading contenders include lithium-ion batteries, flow batteries, high and low temperature sodium-based batteries and advanced lead-carbon batteries. Each class of batteries has unique capabilities, strengths and weaknesses. The only common trait is that they're all manufactured by companies that want to position their product as "The Silver Bullet."
The good and bad news for investors is there are no silver bullets, but there is silver buckshot. Over the next decade, every battery manufacturer that brings a cost-effective product to market will enjoy more demand than it can possibly satisfy. There is no reasonable chance that any battery technology will attain "killer app" status and walk away with the lion's share of the prize, although battery promoters will make that claim ad nauseum. Instead, the battery industry of the future will include a large and diverse group of thriving companies that focus on multi-billion dollar niche markets.
The last six years have been an extraordinarily brutal time for investors in the energy storage sector. At the end of 2008 my tracking list of pure play public energy storage stocks included sixteen companies. Five focused on portable and transportation applications; three focused on stationary applications; and eight manufactured products with broader appeal. Today only nine companies from the original list remain investable thanks to five bankruptcies of US companies and two de-listings of Chinese companies. Two of the survivors focus on stationary applications and five more manufacture products with broader appeal.
The following table identifies the seven survivors from my original tracking list that offer stationary energy storage products, indicates their principal applications and highlights their market performance since December 31, 2008 compared to the S&P 500.

The only consistent winner in the group was Enersys (NYSE:ENS), which treated its stockholders to a smooth 5½-year uptrend interrupted by a single 50% pullback in the summer of 2011. Enersys remains the gold standard of consistent market beating performance in energy storage.
The market has been more difficult for the six remaining survivors. While Active Power (NASDAQ:ACPW), Maxwell Technologies (NASDAQ:MXWL) and Highpower International (NASDAQ:HPJ) have been highly volatile, Altair Nanotechnologies (NASDAQ:ALTI), Axion Power International (NASDAQ:AXPW) and ZBB Energy (ZBB) have struggled despite solid to stunning progress in the execution of their respective business strategies.
The following graph tracks the percentage change in all seven stocks over the last 5½ years.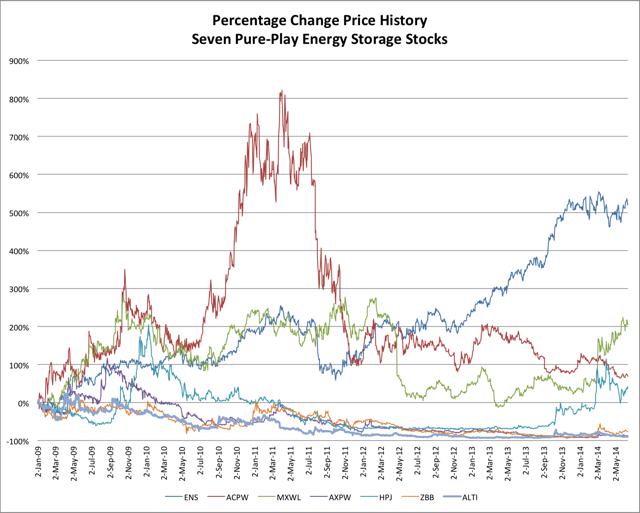 The stationary energy storage sector is preparing to enter a period of extraordinary sustained growth as products that have been working their way through the development, proof of concept and demonstration stages for several years find their footing and rapidly ramp sales. There isn't a manufacturer in the group that I wouldn't own. That being said, Active Power, Altair Nanotechnologies, Axion Power and ZBB Energy strike me as particularly attractive because:
All four have survived brutal proof of concept and technology demonstration phases without losing their focus or suffering major technological failures; and
All four have market capitalizations that are on par with recent VC financing rounds in private companies like Aquion Energy and Ambri that are developing new stationary energy storage products but haven't begun the proof of concept and technology demonstration phases that will absorb substantially all of their time, energy and capital for several years.
In April 2010 I described cleantech as "an ethical system based on the responsible application of technology to optimize the use of natural resources and increase the well-being of the six billion people that live on this planet." It all boils down to using every available resource for its highest and best purpose; and that's where energy storage becomes a critical enabling technology. It can reduce waste in wind and solar power by smoothing out inherent variability. It can reduce waste in the grid by smoothing out load fluctuations and potentially shifting power from when it's produced to when it's needed. It can reduce waste in transportation by capturing braking energy for immediate reuse. In short, energy storage is the beating heart of cleantech and an investment mega-trend that will probably outlive all of us.
Over the next few weeks I plan to revisit several themes that I've discussed in the past that are particularly relevant to the question of how stationary energy storage will help wind and solar power clean up their act.
Disclosure: The author is long AXPW. The author wrote this article themselves, and it expresses their own opinions. The author is not receiving compensation for it (other than from Seeking Alpha). The author has no business relationship with any company whose stock is mentioned in this article.
Additional disclosure: I was a director of Axion Power International until January 2007 and served as its legal counsel until January 2008. Axion is a principal vendor to my current employer ePower Engine Systems, Inc.
Editor's Note: This article covers one or more stocks trading at less than $1 per share and/or with less than a $100 million market cap. Please be aware of the risks associated with these stocks.