Renewable oils and bioproducts producer Solazyme (SZYM) officially initiated production at its largest manufacturing facility with partner Bunge (BG) on May 29. In my previous article found here, I described how this new facility unlocks the company's ability to fully commercialize its products after spending more than a decade in development. Solazyme now prepares to ramp up its tailored oil production and further establish new markets for its product lines of AlgaVia (whole algal flours) and Encapso (encapsulated designer oil).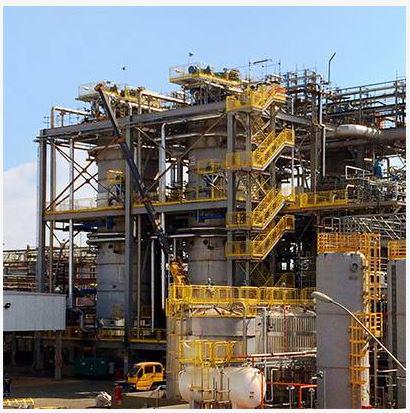 (Solazyme's Moema Facility - Source Link)
Can Algal Biomass Be Used To Help Treat Diabetes?
Solazyme utilizes a proprietary carbohydrate-to-oils technology by using heterotrophic algae in closed fermentation tanks. In the midst of commercializing this novel platform, the company continues to claim unique intellectual property. On June 10, both Solazyme and the University of Manitoba were assigned a rather curious patent. United States Patent Number 8,747,834 titled "Methods of treating impaired glucose metabolism via administration of algal biomass" was issued on this date. The patent can be found on the website of the US Patent and Trademark Office found here. It was also filed with the World Intellectual Property Organization, and can be read in full at the website found here.
US Patent 8,747,834 describes the methods of using Chlorella protothecoides in the treatment of patients with impaired fasting glucose, impaired glucose tolerance, or in patients with diabetes. The patent describes the use of this algal biomass to reduce blood glucose along with body fat in a subject. Additionally, it also patents the use of this algal biomass as a means to increase the relative abundance of beneficial gut microflora. Specifically, the patent suggests that such algal biomass can be used to supplement and possibly replace the use of non-algal pharmaceutical products in the treatment of these conditions. The following claim is stated in the patent listed above:
"In some embodiments of the present invention, the patient receives an alternative treatment, e.g., for impaired glucose tolerance, dysglycemia, insulin resistance, cardiovascular disease, diabetes (including but not limited to types 1, 1.5, 2, and 3), metabolic syndrome, hyperglycemia, and/or insulin deficiency, before the administering step and the alternative treatment is reduced or eliminated after the administering step. In some cases, the alternative treatment is administration of a non-algal pharmaceutical product."
The patent suggests that the consumption of Chlorella protothecoides could be used to reduce body fat, total cholesterol, and blood glucose levels. Despite the seemingly bold claim of such a simple solution, there appears to be a decent amount of independent science that further backs the claims of the patent. A research article found here states that Chlorella has been shown to produce hypoglycemic effects in diabetic-induced animals. The same "noticeable reductions" of fat, cholesterol, and sugar levels can be found in another research paper found here.
One interesting aspect of this patent is that the algae being discussed are already being applied to Solazyme's AlgaVia product line. The patent specifically states that wild-type or genetically engineered microalgae are covered. To-date, AlgaVia utilizes wild-type microalgae. Among other strains of Chlorella protothecoides, the patent specifically refers to UTEX 250 in its examples. UTEX 250 is the source strain for Solazyme's algal flour, according to its filing with the U.S. Food & Drug Administration. This "generally recognized as safe" [GRAS] notice was later approved, and allows Solazyme to commercially sell its algal flours. In the referenced filing, the following is explicitly stated:
"The source strain for Algal flour (Chlorella) (high-lipid and high-protein) is C. protothecoides strain number UTEX 250, which was obtained from the University of Texas Culture collection and assigned Solazyme strain number S106."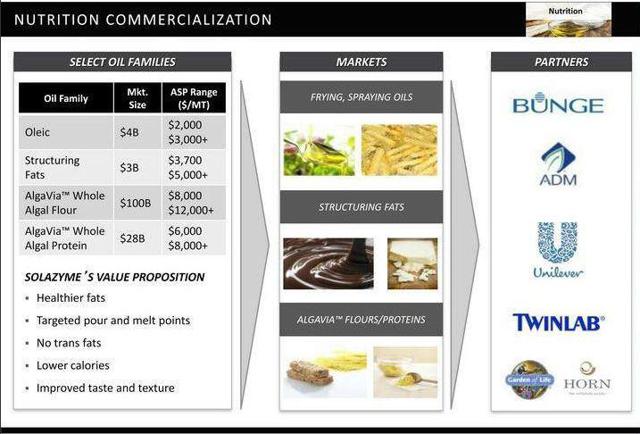 (Target Prices of AlgaVia - Source Link)
What Are The Implications Of This Patent?
According to the American Diabetes Association, there were 29.1 million Americans (approximately 9.3% of the population) with diabetes in 2012. This was up from 25.8 million Americans (8.3% of the population) in 2010. Despite the significant climb, the more shocking statistic is the rise of prediabetes. In 2012, 85 million Americans aged 20 and older had prediabetes. This was up from 79 million in 2010, reflecting percentage growth from 35% to 37%. For Americans aged 65 and older, 51% had prediabetes in 2012.
Addressing this market will undoubtedly require a significant amount of information dissemination, a campaign that will likely take years to unfold. Nevertheless, the widespread and growing population afflicted with diabetes alone suggests that Solazyme's target market remains a very lucrative opportunity for decades to come. There are a few key things mentioned in the patent that stand out to me. Some of these thoughts are found below:
Can Be Added To Food Compositions. Apart from tablet and capsule formulations covered under the patent, food product formulations are also mentioned. The patent suggests that baked goods, pasta products, bread products, energy bars, milk products, juice products, or smoothies can be used. This conveniently fits into the field covered under Solazyme's AlgaVia as well.
Lowers Blood Glucose Levels. When Chlorella protothecoides biomass was added to a food matrix, it lowered blood glucose levels by 25% in Syrian golden hamsters, compared to controls consuming the same diet without added biomass.
Lower Fat And Higher Oxygen Utilization. The percentage of body fat tended to decrease with increased Chlorella protothecoides consumption while oxygen utilization increased. This noted preferred changes in energy substrate and metabolic rates.
Taken altogether, Solazyme's algal flours possibly possess increased beneficial properties beyond the benefits found on a food label. Some of these additional food label benefits can be read about in my article found here. While AlgaVia already offers the promise of significant reductions in calories, fat, and cholesterol without jeopardizing taste and texture, this patent suggests that Solazyme may be able to further market it as an ingredient to treat (or to at least help prevent) diabetes.
One Additional Benefit Found In Prebiotics
One key advantage also suggested in this patent is the possible use of Chlorella protothecoides as a prebiotic. Many people have probably heard of probiotics (think Yogurt) in which a desired beneficial bacteria is introduced as a dietary supplement. However, a prebiotic is a composition which promotes the growth of a particular species of microorganism without having to actually digest the microbes themselves.
Intestinal bacteria, such as Lactobacillus bifidus, has a strong proven relationship with the health of humans. Specifically in the case of Solazyme's algae, the results suggests that consumption of the product can improve overall gut microflora formation. Shown in the graphic below, algal biomass resulted in an overall improvement of gut microflora. Total accession numbers refers to the number of unique matches to the Ribosomal Database Project II. The higher number suggests a positive change in the diversity of the microbial population.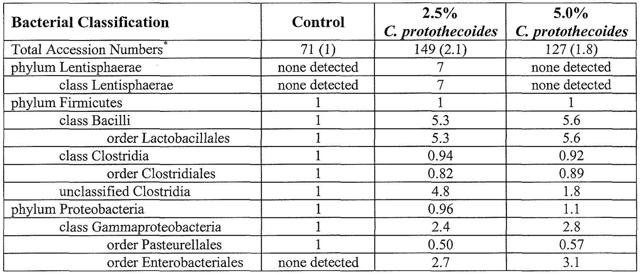 Of key interest is the steady increase of Lactobacillales in the body. The greater than 5-fold increase compared to the control group indicates a noteworthy positive and healthy change in the gut microflora. Recall that Lactobacillales are normally found in fermented dairy products.
Overall, the increased diversity of the microflora should also be viewed as a positive. The human microbiome has been gaining increased attention in its role for human health. Articles such as those found here and here attest to this concept. It is widely believed that the lack of diversity in the gut has led to numerous diseases.
One thought investors should consider is Solazyme's ability to use this science for marketing purposes. Dairy and yogurt products in particular have gained significant traction in their ability to positively promote the use of bacteria as a means to improve overall human health. The very fact that we think of these things when we hear of probiotics attests to this fact.
Now imagine what the effect could be if Solazyme were to utilize a similar concept found in prebiotics. Capitalizing upon the known advantages of beneficial microorganisms, the company's algae can be used in a much wider spectrum of food types. The use of algae can result in an increased shelf life, and move beyond the dairy section and into the food shelves without jeopardizing taste or texture. For example, your pasta could now be advertised as the next product that improves your gut's microflora. Investors should consider the implications of that hidden value proposition.
A Brief Look At Solazyme Now
As of June 14, Solazyme now trades with a market capitalization of $862 million, based on the closing price of $11.34. This amount already takes into account the initial dilution of the latest public offering. Officially, the company carries total assets of $231 million as of March 31. However, recently raised capital on April 1 has added another $203 million to the company's balance sheet.
Additionally, the non-consolidated portion of the company's balance sheet neglects the favorable recognition of the assets found in Solazyme's joint venture with Bunge. Based on the latest quarterly financials, the non-consolidated joint venture now holds assets of $184.5 million. Officially, Solazyme has only recognized $28.2 million of this, based on its investments in the unconsolidated joint venture. As a result of this, investors unaware of these situations may be prone to believe the company has significantly less assets than it essentially controls, upon a cursory glance of the stated financials.
Solazyme now has 122,000 MT of manufacturing capacity under its operation. The recently commissioned facilities found in Moema and Clinton account for 120,000 MT of this amount. These two facilities are currently ramping up their utilization, and production will continue to be limited over the next 12-18 months. However, the recent addition of these two facilities secures growth to the company's revenue over the coming two years.
As a result of these new plants, the implication is a significant positive change to the company's reported revenue. Solazyme reported revenue of $39 million, $44 million, and $40 million for the years 2011, 2012, and 2013 respectively. However, the company's new manufacturing capacity would allow for an additional $240 million in annual revenue, at an average sales price of $2000/MT. It is ideal for investors to keep in mind that the initial sales out of Clinton have resulted in an average sales price of $2,600/MT.
My Take On The Company Now
Solazyme has never been an easy company to understand. The company has its hands in a wide variety of markets through its business partners. This is a consequence of being able to design and control the market of oils. As a result, Solazyme now finds its oils and bioproducts touching the markets of cosmetics, oil & gas drilling services, chemicals, foods, and personal care products.
However, it's important for investors to keep in mind the underlying concept now at hand. The world is very good at producing carbohydrates, and it is becoming ever more difficult to produce the oils needed to meet society's demand. The following graphic keeps things simple.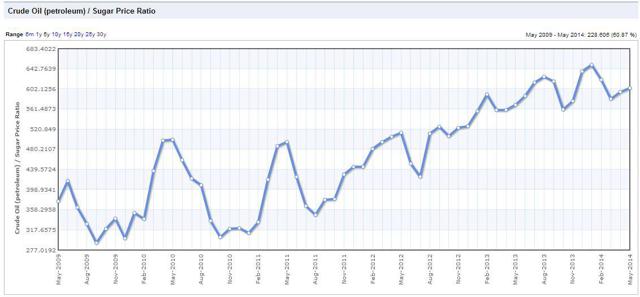 Here is the price of oil in relation to the price of sugar. Even before considering the evolving technology of low-cost sugars, the general trend stands favorable for the company. As long as this ratio continues to increase, Solazyme should prosper without having to improve its technology further.
Despite this, Solazyme is advancing its technology and claiming the intellectual property to protect it. The company is finding additional value by meeting niche demands in large-volume markets. The latest patent assigned to Solazyme suggests this very fact. In a worst-case scenario, the company may now be able to protect the claim that its algae can improve the diversity of the gut's microflora. In the most optimistic scenario, Solazyme may have just patented the right for a new treatment option to diabetes, one of the fastest-growing diseases in America.
Solazyme now trades with a price-to-sales ratio of 18.6. However, based on analyst estimates of $305 million in 2015, Solazyme's price-to-sales ratio will dramatically drop to 2.82 (based on the current price) in a little over a year. Such a rapid acceleration in revenue growth should suggest that the company remains an attractive long-term buy in the present.
Overall, Solazyme continues to remain undervalued in light of the promising technology it continues to develop and protect. The company has finally entered a new phase, in which it is bringing product to market. Investors will now be able to realize the growth potential found in increasing revenue.
Disclosure: The author is long BG, SZYM. The author wrote this article themselves, and it expresses their own opinions. The author is not receiving compensation for it (other than from Seeking Alpha). The author has no business relationship with any company whose stock is mentioned in this article.