My previous article on Micron Technology's (NASDAQ:MU) convertibles didn't spend enough time on a prescription for this self-inflicted wound. It also engendered comments ranging from amateur diagnosis of the author to an historical treatise on why these converts probably weren't necessary in the first place. I can't take credit but was pleased the company bought back $99 million of convertibles in April and May for a mere $253 million. I can't take credit but the company has posted a "Convertible Notes Dilution Overview" tucked away on its investor relations website. I was very amused that after I observed in a comment here on SA that this table only went to $34 per share, it suddenly expanded to $50 per share. But I can't take credit for that either. This document hasn't been filed with the SEC (that I can find) as prudent disclosure practices might dictate and is completely un-footnoted per the requirements of FASB 128 and 129. The footnotes might have saved your author throwing himself to the remedial help mercy of our very own Retired Securities Attorney who dropped the scales from my eyes and explained that this new table uses the Treasury Stock method of calculating dilution; a big shout out to RSA! More on that dreadful piece of GAAP is CRAP later.
What's past is past. I apparently am not going to win any new believers that none of these convertibles were necessary to secure the Elpida deal. But there is some grudging understanding out there in the Seeking Alpha blogsphere that at least the dreadful 2043G tranche didn't need to be issued. So I will concentrate on that $1.025 billion tranche here.
Since my prior article on April 13, the Micron world hasn't gone to hell because of the converts, which I don't think I predicted. Indeed the stock price has risen from $22.60 then to comfortably over $30 today. One wonders what the rise and analyst upgrades might have been if the company had put forth an aggressive, clear, and forward leaning program to deal with ALL of the converts once and for all.
Prescription #1. In the comments to the previous article, i_am_seeker_2 pointed out this excellent service for getting prices on converts. Thanks seeker! Here the 2043G tranche is shown with a quote of 123.994 x 125.965. This is up from 106.75 x 107.75 in my April 13 article.
So the first prescription is for Micron to issue straight debt (if any additional cash is needed beyond our nice cash balances and strong cash flow) and begin a Dutch auction for the 2043G tranche. Such an auction might pay as much as 135 per bond, i.e., a bit of a premium to the current quoted price, for $250mm face value of bonds. Under a Dutch auction the amounts being tendered for are usually tied to a "stair step" like only 1/4 of the issuance. Hopefully that creates some scarcity and the institutions pile into that stair step to get the highest price. Subsequent stair steps are at lower prices ranging down to perhaps something near the current quote.
The other choice for a Dutch auction is the free for all, which economists love and investment bankers hate. "We are devoting $1.3 billion to this Dutch auction. We won't pay higher than [140]. Name your price. We will scoop up the lowest offers first and work our way up."
If the entire $1.025 billion tranche was retired at 130, this would cost $1.33 billion. This would be a killing for bond investors who received the bonds at a discount from face value, receiving a $1000 face value bond for only $800. For those dying with curiosity about the 2043G issuance it can be found in an 8-K here. It would also be a huge savings for the company and avoid the issuance of 35 million shares upon conversion. Or, since the company can elect to use cash instead of shares upon a conversion request, it could save over $1 billion.
Prescription #2. My previous article inelegantly described defeasance and was perhaps too cute and flawed in my construct for it. Under defeasance, risk free collateral, usually US Treasuries, equaling the face value of the bonds, is deposited with a trustee. In this case, treasury shares to handle any eventual conversion would also have to be deposited. The bondholder then receives their stream of interest, and principal or conversion from this defeasance trust and not from the company. Under a properly constructed defeasance, the company's obligation is done and the bonds are off the books.
The math would require depositing $1.025 billion for the face value of the bonds with the trustee. 35 million shares would also have to be purchased and deposited. 35mm x $31.17 = $1.090 billion. So around $2 billion + some legal fees + yet more investment banking fees + trustees fees might get this 2043G tranche off our books.
What about CFO Ron Foster, the $5 million man? If this tranche could have been retired at the quoted value of the bonds when I wrote my April 13th article, about $200million would be saved over doing it at today's prices. If the defeasance described in the second option had been pursued, we could have saved about $300 million by buying in the stock more cheaply.
Dividing those savings by the days elapsed I figure that Ron Foster and the board of directors inaction on a more complete program to deal with the convertibles is costing us $3-5 million per day. And actually those numbers are just for their inaction on the 2043G tranche.
What about that confusing new dilution chart? As mentioned above, a new chart has appeared in a little link way down on the front page of the IR web page at Micron. Here it is: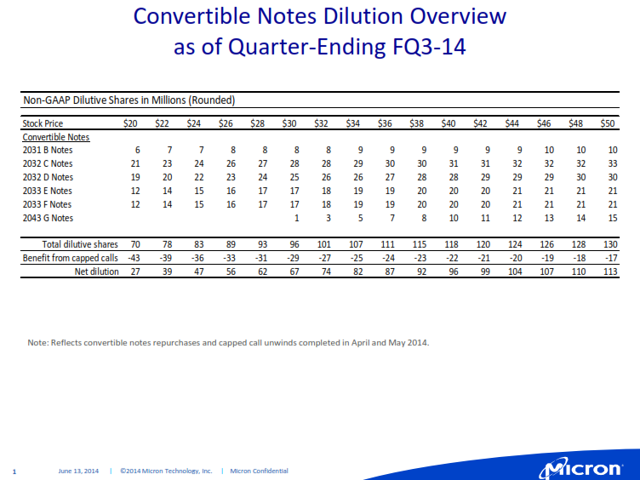 But how does one square these numbers with the dilution table on page 17 of the company's most recent 10Q:

Looking at the 2043G tranche in the first table, one might say "Well heck, dilution isn't so bad it's only 1 million shares at $30 per share, and only climbs to 15 million shares at $50 per share. That's only about 0.1% to 1.5 % dilution!" Wrong! and here it is RSA to the rescue pointing out the first table is based on the Treasury Stock method, which is a terrible piece of GAAP is CRAP. As the second table states, and as the bond indenture states, when the 2043G tranche is convertible it converts into 35 million shares, a whopping 3.5% dilution for this one tranche alone.
The Treasury Stock method dictates that the number of shares includes the "as if converted" number from the beginning of the period. So the chart is showing the additional dilution beyond this floor amount-- even though the dilution is actually fixed at 35 million shares for this tranche.
I love this Alice in Wonderland rabbit hole of FASB 128 pronouncements and here are some really catchy and simple flowcharts from the Journal of Accountancy to explain how to figure shares outstanding and diluted eps: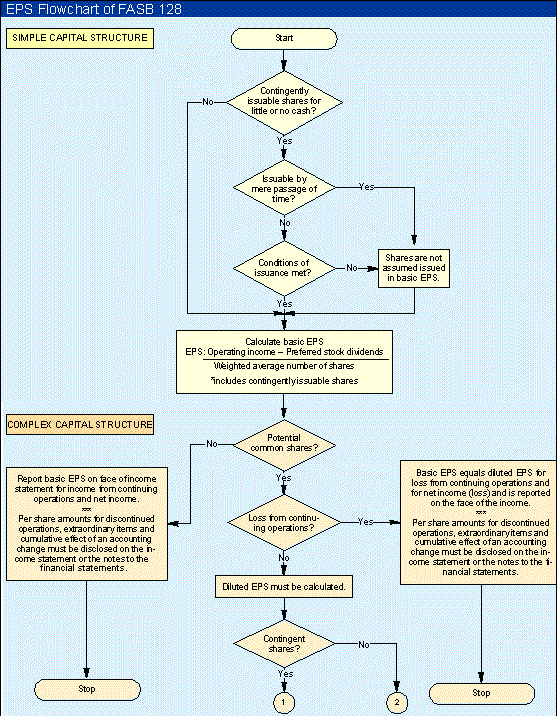 and this nifty follow on from the bottom of the first flowchart: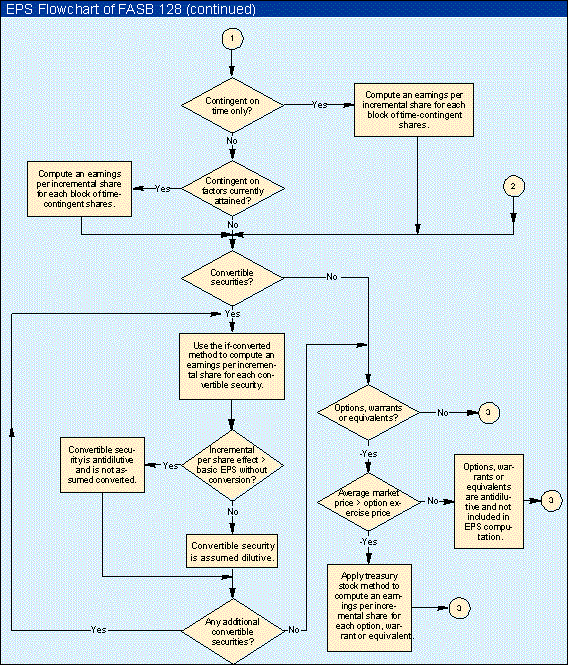 I bother to present these to show how complex this issue is. Judy Bruner, CFO of Sandisk (SNDK), knows this and does a beautiful job explaining it with regards to their own convertible debt on the Sandisk IR web page. Just as we aspire to Sandisk's gross margins on NAND we should also aspire to their clarity on disclosure.
Conclusion. My continued writing and comments on Micron's convertibles is not an obsession or grudge as some commenters have suggested. This is a difficult financial and accountancy area, as my own initial confusion on the Treasury Stock method of accounting for dilution illustrates. And I suppose I want to "pay it forward" in gratitude for the fortune Russ Fischer has made for many of us by being the first to describe some of the tough technical issues and market conditions that convinced him Micron was such a great investment a year and a half ago.
I believe the company's inaction on this convertible issue is a litmus test and speaks very poorly for Ron Foster and the Board of Directors. Obviously they've made huge financial mistakes in the past and their inaction in dealing with this one is another huge mistake. As illustrated above, the problem of dealing with uncallable tranches of debt CAN be dealt with. The $300 million in foregone savings might have been a nice beginning for a dividend or repurchase. It might have been a nice down payment on a NAND controller business, which we have acknowledged needing to get into the enterprise SSD space where the margins are excellent.
I am a long term Micron bull, a management skeptic, and a short term bear. I hold a small stock position but have recently liquidated thousands of LEAPS option contracts, which number is down from tens of thousands of shorter term contracts I once held. CEO Mark Durcan's comments at the Bernstein conference on May 28 rattled me. He told us bad things about our NAND position that no analyst, no SA blogger, and no representative from Micron IR had told us. My great fear is that this is a caretaker management and board who are doing a poor job at implementing the grand vision of Steve Appleton, the former CEO who died in a plane crash a couple of years ago. This group has added some flourishes to the canvas he began: IMFT, Inotera, and surely the foundations for Elpida. Where are their own flashes of brilliance?
Inaction on the converts by this team scares me; the management team has said its a high priority but it sure doesn't seem like one. Durcan's brand new clarifications on the state of our NAND business scare me. Neither the market nor the company have given me enough data to do a point prediction for the upcoming earnings release on 6/23/14 and this scares me. I've warned elsewhere in comments that there is at least a possibility of a miss on the current $0.68 earnings consensus. And this scares me. Oh and China/Vietnam, Russia/Ukraine, and Iraq all scare me. Maybe I've just become a scaredy cat.
Disclosure: The author is long MU. The author wrote this article themselves, and it expresses their own opinions. The author is not receiving compensation for it (other than from Seeking Alpha). The author has no business relationship with any company whose stock is mentioned in this article.