The following is an in depth summary of Ucore Rare Metals (OTCQX:UURAF) (CVE: UCU for Canadian investors) constructed from a series of phone-interviews that I conducted with the company's CEO Jim McKenzie (pictured below) and the company's VP of Business Development Mark MacDonald.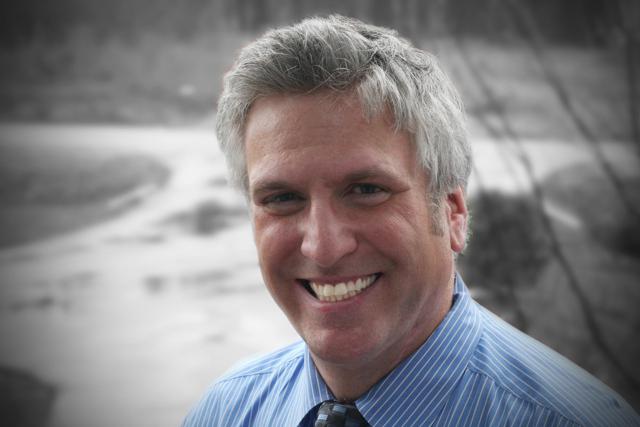 The company's COO Ken Collison also joined us briefly in order to answer a couple of the more technical questions about the company's Bokan Project.
I have edited the conversations and have put the information I felt was most relevant in a Q&A format. While readers should realize that the following was written by me keep in mind that I haven't added any information that was not present in these interviews, and that the answers have all been approved by Ucore's management team.
Before I give the reader an overview of Ucore I would like to take this opportunity to publicly thank Jim McKenzie, Mark MacDonald, and Ken Collison for taking the time to answer my questions, and Mark MacDonald again for arranging these interviews.
About Ucore
Ucore is a late stage exploration and early stage development company with a market cap of $47.6 million, or $62.9 million fully diluted. It owns a handful of properties in Alaska and in Canada, although the bulk of Ucore's current value is in its Bokan Project in Alaska.
This project is one of the few in the world that can feasibly turn into an economical mine producing rare earth elements , and in particular heavy rare earth elements (HREEs) in the near future. Investors familiar with REE investing know that HREEs are much more valuable than the other "light" REEs (LREEs) and that the supply/demand fundamentals indicate that one's REE investments should be heavily skewed towards HREEs. I discussed this with Mr. McKenzie, although readers are encouraged to look at Jack Lifton's 2012 article: The Only Five Rare Earth Elements That Matter, which cites 4 of Ucore's primary products--dysprosium ((Dy)), terbium (Tb), neodymium (Nd) and yttrium (NYSE:Y)--as REEs that "matter."
After spiking back in 2011 HREE prices have fallen considerably, although they seem to be nearing a bottom. While these elements aren't traded in a standard contract on a futures exchange, the pricing information that is available is astounding, showing massive returns in the prices of these elements. For instance the following is a chart of Dysprosium prices from 2001 - 2013. The current price, according to Ucore, is $580/kg.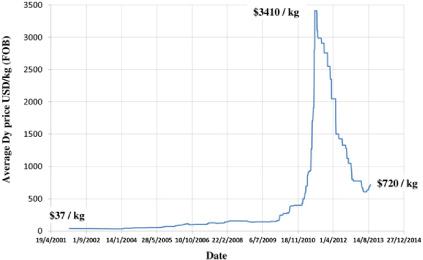 (Source: IOP Science)
Currently prices are slightly lower than this, as the following chart of Dysprosium from December 2013 - May 2014 illustrates.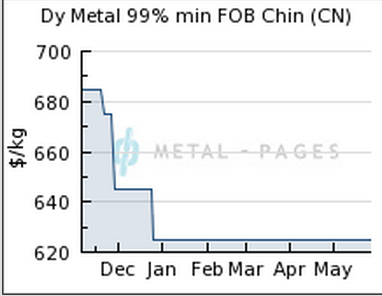 (Source: Metal-Pages)
Shares of Ucore also spiked in 2011 hitting a peak of C$1.10 before falling--in sync with dysprosium and other HREE prices--to a low of just C$0.17. They currently sit at C$0.265 and appear to be in a bottoming process.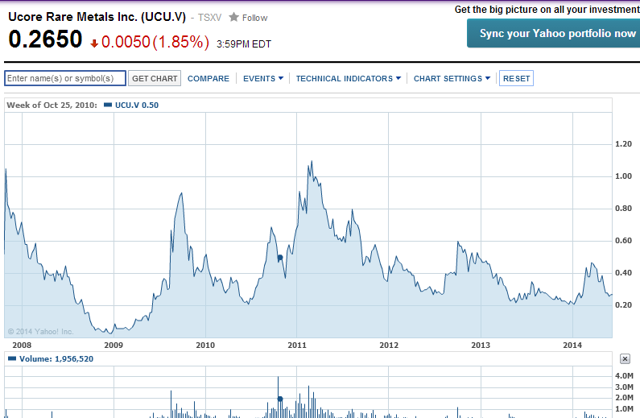 (Source: Yahoo Finance)
In the following interview Ucore's management team, lead by Jim McKenzie, tells us why HREEs, and in particular dysprosium, remain in a long-term bull market, and also why Ucore is one of the best ways for investors to gain exposure to the space.
Q: Before we discuss the specific advantages of investing in Ucore, what makes investing in REE's so compelling? In particular what are some of the applications of these elements and what is the supply/demand situation? Specifically what are the benefits of investing in a company that is focused on mining dysprosium such as Ucore?.
REEs, and in particular HREEs have numerous applications in modern technologies that make them indispensable, or at the very least extremely inconvenient to live without. For many of these applications there are simply no substitutes for REEs.
While Ucore's Bokan Project will produce each of the REEs it will mostly produce dysprosium, terbium, neodymium, and yttrium. This should benefit investors as these metals are not only in short supply, but they have indispensable applications. Specifically, here are a few of these metals' applications:
Magnets--REEs, and in particular dysprosium and neodymium are used to make extremely strong permanent magnets that are used in computers, cell phones, and various military applications. These magnets are small and light-weight relative to their power, and so they are essential for portable devices such as cell-phones and military devices that need to be light-weight. They are also used in hybrid and electric cars, which is a booming industry.
Nuclear Fuel Rods: Dysprosium can be used in nuclear fuel stations to regulate nuclear reactions. More generally dysprosium is great for moderating heat. It can be used, for instance, in military tanks designed to travel in the desert in order to keep them from overheating.
Fuel Cells: Terbium, combined with zirconium oxide can be used to make fuel cells that can withstand very high temperatures.
With regard to the supply of REEs, and HREEs in particular most of the supply for REEs comes from China. This is why REE prices spiked back in 2011 when the Chinese came out and placed restrictions on REE exports. This pushed end-users of REEs to stock up and bid up prices on the open market.
Now that the China supply scare has died down somewhat prices are back down. However this by no means reflects a reduction in demand. Demand is still very strong, however many of the end users--having stocked up in 2011--are producing goods with supplies that they purchased then. Therefore investors should expect end-users to start running out of supplies and to bid up prices in the next year to two years.
Speaking more about demand the demand for HREEs started to really skyrocket towards the beginning of the 21st century when computers became ubiquitous on a global scale. Back then, for instance, the price of dysprosium was $7/kg. It is now $580/kg. according to Ucore--you can get this information off of the company's mobile REE pricing app.
As you can imagine the demand drivers going forward are very strong, as going forward we can anticipate with relative certainty that demand for things such as computers, cell-phones, nuclear reactors, hybrid/electric cars, and a variety of other things will rise.
Thus while HREE prices are down over the past couple of years this by no means overrides the long-term uptrend. While I provided a couple dysprosium charts above, look at the following as well. This is a chart, provided by Ucore that plots the annual highs with a linear regression graphic showing that the uptrend is intact, and that the dysprosium price can easily double from here. To make life easier for the reader I have broken it up into two images.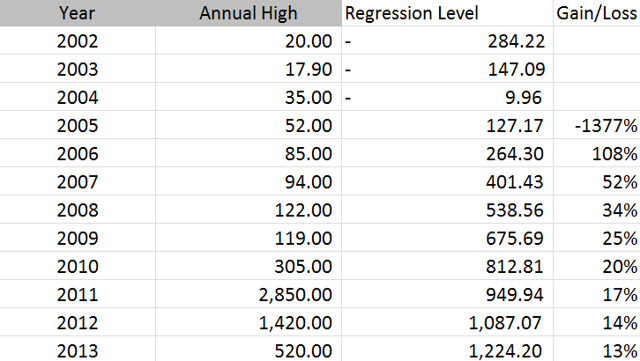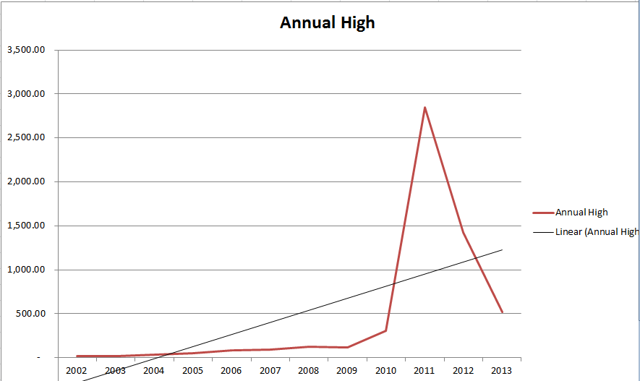 In short demand for HREEs, and in particular metals such as dysprosium and terbium, is rising, while supply remains limited. This bodes extremely well for prices going forward.
Q: Can you tell us a little bit about the Bokan Project?
There is a lot to like about the Bokan Project. It is the most advanced, and highest grade HREE project located on U.S. soil. This is a big deal because the U. S. has the highest demand for HREEs when we look at value-added end use products.
Specifically the mine is going to produce a lot of dysprosium, although it will also produce a lot of terbium and yttrium, all of which, as we have seen, are critical elements for the production of essential products of modern technology. It can be distinguished from projects such as Molycorp's (MCP) Mountain Pass mine, which generates most of its revenue from LREEs such as cerium and lanthanum, which are not as scarce or as critical.
The Bokan Project is located in southeast Alaska, near coastal British Columbia.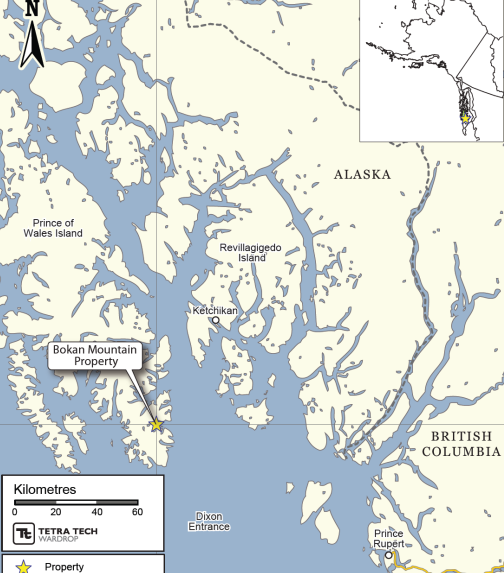 (Source: Bokan PEA)
More specifically it is near Ketchikan, Alaska right off of Kendrick Bay.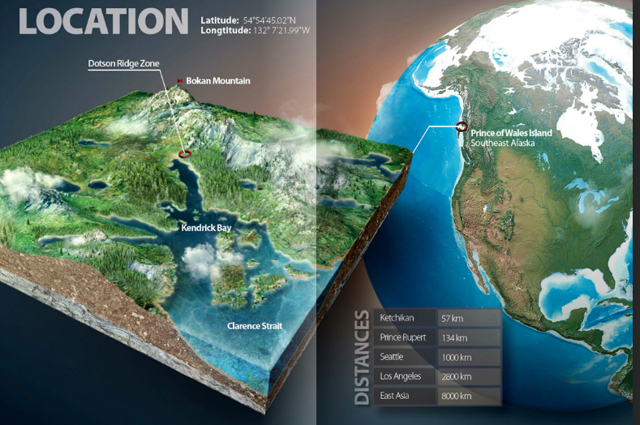 (Source: Ucore's Corporate Brochure)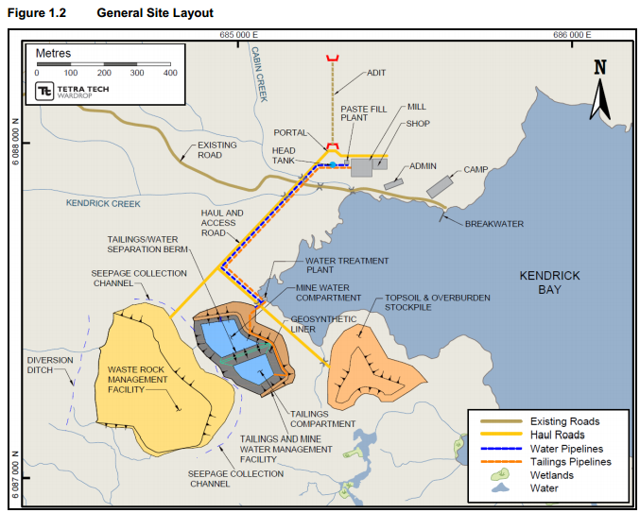 The biggest advantage of the project's location is that it is located on the coast of a deep body of water. This is a big deal because we won't have to build and maintain long haul roads, as we can inexpensively ship our product by ocean going vessel. We are also located near the Ketchikan International Airport, and so we can also ship our product by plane.
There are other advantages to mining in southeast Alaska as well. Alaska's government is interested in seeing the Bokan Project go into production. Keep in mind that Alaska is one of the wealthiest jurisdictions in the West, with a population of just 700,000 and a $50 billion permanent fund, accumulated primarily from natural resource development. The Alaska Industrial Development and Export Authority (AIDEA), which has the mandate of funding various projects in Alaska in order to promote economic growth has received legislative authority to lend Ucore $145 million towards the Bokan Project, or about 2/3rds of the estimated pre-production CAPEX, subject to its own due diligence and board approval. When the Alaska State Senate voted on this (Senate Bill 99) it voted unanimously in favor of funding the Bokan Project. This shows a vote of confidence in the viability of the project, as well as the desire to create jobs and economic opportunity in the region.
Speaking more broadly to AIDEA's involvement there has been talk that Alaska could well become the Silicon Valley of rare earth elements, as was suggested by Julie Gordon in an article published in October, 2011. She mentions Ucore by name, and the implication is that Alaska is more than simply interested in getting the Bokan Project off the ground, but rather it hopes to create a hub where value added HREE-based products are manufactured (e.g. permanent magnets made from neodymium and dysprosium). Longer term Ucore intends to be an integral part of making this a reality.
One great thing about being located near Ketchikan is that we should have a relatively easy time finding labor. The region is full of forestry workers who are looking for work, and who have skills that easily translate into the mining industry. Our COO Kenneth Collison is already working with the native community on employment training and development initiatives.
Q: When will production begin and what is the timeline leading up to production?
We hope to begin production in 2017. Right now our focus is on developing our feasibility study and commencing the permitting process.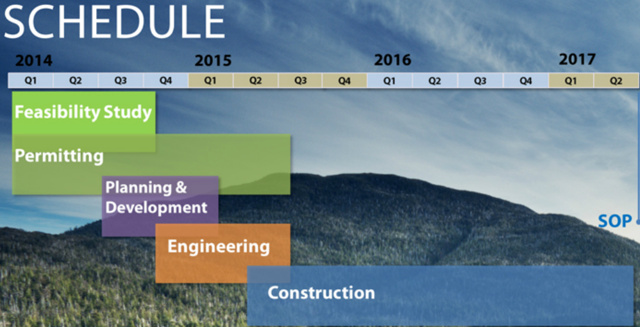 Q: How much capital do you need in order to get the Bokan Project into production?
Not much! According to our PEA we need approximately $221 million, which includes a $24.5 million contingency. The great thing is that, as previously mentioned AIDEA has been empowered to underwrite up to $145 million of the total cost. This means that we prospectively need an additional $76 million in order to bridge the gap and construct the Bokan mine. Overall this is a huge derisking factor for Ucore. The vote of confidence also means that there is a much greater likelihood that we can secure debt-based funding for the remaining amount, meaning that we won't have to dilute shareholders very much going forward.
Q: The Bokan Project is extremely important to the U.S. Department of Defense. Can you discuss the agreement made in October 2012, and also the importance of several HREEs to the DoD?
In October, 2012 we made an agreement with the Defense Logistics Agency, a counterpart of the United States' Department of Defense (NYSEARCA:DOD). They are a strategic body that forecasts the ways and means of facilitating the U. S. war machine.
The DLA wants to look under the hood of the Bokan Project and do their own due diligence and analysis of the project's potential to meet the DoD's critical element needs. As our October 1st, 2012 press release states three elements that are very important to Ucore--dysprosium, yttrium, and terbium--were deemed to be critical to national security in a March, 2012 report.
While there is nothing set in stone there could be an agreement in the future whereby the DoD buys some of what Ucore produces at Bokan. We know that the DoD is intent upon building a stockpile of critical HREEs. In March of 2013 the DoD made an announcement that it wanted to build a $130 million stockpile of REEs. This is part of a much larger--$1.2 billion--plan to build up stockpiles of various critical elements, the details of which can be found in this report.
In short the DoD needs dysprosium, terbium, and yttrium, and Ucore is a domestic source that could readily be positioned to supply this demand. Therefore the DoD is interested in the Bokan Project, and its potential involvement heightens the probability that Bokan will go into production in a timely manner. More generally, it means that there is continued, and increasing demand for the metals that Ucore will be producing, and this should have an upward effect on their prices, which in turn will improve the ongoing economics of Bokan .
Q: I know we've already mentioned SB99 and funding for the Bokan Project from AIDEA, but it is worth addressing this separately. What is AIDEA? What, exactly, is AIDEA's relationship with Ucore and why does it matter?
The Alaska Industrial Development and Export Authority, or "AIDEA" is a public corporation created by the state of Alaska to promote economic activity and growth in Alaska. On April 28th we announced that the Alaskan state senate voted unanimously in favor of giving AIDEA the authority to provide debt funding for the Bokan Project to the tune of $145 million, subject to their own due diligence. As we have already pointed out this is the majority of the estimated initial capex for Bokan as outlined in our PEA. No other rare earth project in the world right now has this sort of pre-arranged financial backing. It's a huge differentiator in comparing Bokan to other REE projects in North America and beyond.
AIDEA's interest in the project stems from the following.
First, due to the decline of the timber industry in south east Alaska that region's economy has slumped tremendously in recent years. Mining at Bokan will provide jobs to out of work timber workers.
Second, Alaska hopes to one day be the home of a vertically integrated HREE and HREE end product industry. Mining at Bokan is a big part of this, as Bokan represents the most advanced and highest grade NI 43-101-compliant HREE deposit in Alaska (as well as in the country). With the prospective funding of the Bokan Project, both AIDEA and Alaska's state legislature hope to start Alaska on the path towards being the nation's center for the development of HREE end products such as permanent magnets.
Before moving on I should point out that support from AIDEA coupled with support from the DoD should give investors confidence in the prospective value of the Bokan project, and in the future value of HREEs. The project looks to be crucial to the DoD in developing its stockpile of critical metals, and it could be funded in large part by agencies with deep pockets and the will to make this project happen.
Q: We have discussed the Bokan Project at length and we have seen how Ucore is uniquely positioned to benefit from the bull market in HREEs and Alaska's/AIDEA's desire to rejuvenate the economy in south-east Alaska. With all of these positives in mind, what are the risks to holding shares in Ucore?
Well the most obvious risk is that the prices of HREEs fall. But if you are investing in Ucore you are doing so presumably because you are bullish on the prices of dysprosium, terbium, yttrium, and other HREEs. If you aren't then there is really no reason to be invested in the heavy rare earth sector in general. That said, there's a sizable body of research which indicates that HREE prices are ripe for a strong rebound.
So, assuming that you are bullish on the sector at large, the risk profile is the same for all mining companies in the West, including risks around permitting. You need to deal with several different agencies and ensure that you comply with regulations on ground water management air purity, and so on. With that being said I believe that compared with our peers, Bokan is the least risky project on this front. We have already made inroads towards permitting the project. For instance the U. S. Forest Service has already approved several construction and ground water management facilities.
Another, less significant risk has to do with financing the pre-production aspects of the Bokan Project such as permitting and producing a feasibility study, which are budgeted at approximately $20 million. The company has about $10 million in the bank at present after our April financing, which will fund a large part of these costs, and we could well finance all of our pre-construction costs, provided that warrants are exercised. Note that historically, Ucore has a very high redemption factor on warrants, so this is a very real possibility. If there is a small shortfall in pre-construction financing we will consider a variety of minimally dilutive alternatives to finance any straggler costs prior to breaking soil. Once soil is broken, we'll be in a position to start drawing down on the $145 M available from the State of Alaska. So, we're very close indeed to having all financing in place to complete this mine.
Q: Since you guys released the Bokan PEA the prices of REEs have fallen considerably. As a result there is a disparity between the prices assumed in the PEA and current market prices. Is the project still economical?
You are absolutely right that prices of REEs have fallen, especially when you compare the price schedule utilized in our PEA versus REE spot prices of today.
That said, our PEA uses a 3 year trailing average to calculate REE prices as opposed to the spot prices available at that time. The reason for this is that a statistical sample based on a trailing average is much more representative of price trends (than spot pricing). The trailing average is akin to a "movie" at 26 frames per second, whereas current spot prices are akin to a "single frame" in that movie; the latter is a great deal less representative of the evolving story.
In turn, the REE price spike of 2011 was not as much of an "outlier" as many might think. In fact, the central thrust of a recent high profile article in Bloomberg is that, yes, REE prices were artificially inflated in 2011. But, as Bloomberg asserts, prices have also been artificially suppressed since that time, due to a drawing down of stockpiled inventories. So, the only fair way to account for the macro trends in REE pricing is by using the industry standard of a trailing average, which captures the artificial extremes and smooths them out, so to speak.
Also, there's been several remarkable trends of late which point to a prospective strong rebound in HREE pricing, notably referenced in the Bloomberg piece. Few will deny that a pending REE tax markup out of China, when set in place, will have a significant upward effect on REE prices. Also, when we chart the macro trends in REE pricing since 2000, the overall upward momentum is readily apparent, even when the 2011 price spike is factored out. For many rare earth experts such as Lifton and Kingsnorth, the indicators strongly point to a renewed bull run in the price of heavy REE's in the not too distant future (which we've discussed earlier). So again, if we hope to capture a true indication of HREE price trends, the trailing average is the only way to reflect the inordinate highs, the inordinate lows, and the underlying truth of the trend.
With regards to prices used in the Bokan PEA, the following table highlights the prices of critical REEs at the time of the PEA issue date versus the prices of today, both using the trailing average methodology. The contrast is a great deal less jarring than if we were to utilize spot price comparisons between 2012 and now, which would unrealistically skew the results to the negative. Also, the Bokan PEA had a robust NPV of $577 million, so there remains of room to absorb price declines, and still stay in the black with the Bokan NPV.
| | | | |
| --- | --- | --- | --- |
| HREO | PEA Base Case | 3-Year Trailing Average | Recent Price |
| Y2O3 | $80.41/kg. | $76/kg. | $16/kg. |
| Dy2O3 | $845.8/kg. | $988/kg. | $464/kg. |
| Tb2O3 | $1,520.83/kg. | $1,736/kg. | $830/kg. |
What's more, the NPV calculation in our PEA utilized a 10% discount rate, as opposed to the 8% DR used by many others. Using the lower discount, our NPV approaches $700 million, giving us even more room to absorb price offsets.
I should comment on the fact that the financing deal with AIDEA also adds substantially to the Bokan NPV. This is because the AIDEA financing of the Bokan Project will allow us to discount the bulk of our initial capex--and potentially all of it--into the future. Since this expense will be discounted out several years into the future, from a DCF perspective it will detract much less from the project's NPV. This is a very positive factor that we couldn't utilize in the original PEA calculations of 2012, since they pre-dated the AIDEA initiative.
So, while I can't specify our NPV using current average prices (for that we'll have to wait for our Feasibility Study), I can tell you that there have been a variety of mitigating factors which have greatly offset the effect of decreased REE prices on our NPV model.
Finally I want to reiterate that--practically speaking-- your readers will be considering Ucore as an investment primarily because they believe that HREE prices are going to rise in the near term, which would obviously increase the NPV used in Ucore's final Feasibility Study. The bottom line is that, if you subscribe to the notion of an impending HREE price turnaround (a thesis set out in the Bloomberg piece of early June), then there`s never been a better time to stock up on shares in a very short list of leaders in the space, of which Ucore is indisputably the most advanced, especially when we talk about the United States.
Q: After production begins at Bokan what are your plans going forward? What will you do with the free cash-flow that you generate?
First, we think that we can expand the resource at our Bokan Property, specifically at the Dotson Ridge Zone (labeled on the map above). We believe the hydrothermal geological model supports additional HREE mineralization at greater depth, so the deposit is highly prospective for increasing the resource size at depth. So one of our goals once we have cash-flow is to develop the resource further and expand production, accordingly.
Also we may have sufficient cash-flow to return capital to shareholders through stock repurchases and dividends, although our top priority is to reinvest profits into our business in the ways just mentioned.
Q: Do you own shares in any other REE mining companies? If you don't but had to buy shares in one which would it be?
I don't own shares in any other REE companies and as an active investor I am committed to Ucore. That said, I believe that Matamec (TSX.V - MAT) (OTCQB:MHREF) is a reasonably good bet. They have the involvement of Toyota. Plus, outside of Bokan, Kippiwa is one of the more financeable deposits in the West, since their capex is reasonably low. Beyond this, Northern Minerals out of Australia has a compelling story, albeit that they trade on the Australian exchange. Their involvement with Conglin Automotive out of China is a significant de-risking factor, but will not contribute significantly to supply shortages outside of China.
Ben's Final Remarks
Again I'd like to thank Jim McKenzie for taking the time to speak with me and to give us insight into the HREE market and into the Bokan Project.
While the above story is very compelling investors should be aware of the risks involved in investing in a very small company with no revenues and no profits. Also I want to emphasize that while it is pretty clear where I stand that the above is by no means a "buy" recommendation for Ucore shares on my behalf.
Disclosure: The author is long UURAF. The author wrote this article themselves, and it expresses their own opinions. The author is not receiving compensation for it (other than from Seeking Alpha). The author has no business relationship with any company whose stock is mentioned in this article.