We have seen quite a few bullish calls on oil this weekend and early this morning with many thinking that $120/barrel is a reality should fighting escalate and $150/barrel could happen if a full blown civil war breaks out. We think that the powers that be will keep this from blowing up, but it is always tough to predict these situations, especially when discussing the Middle East. For the time being, we remain overweight energy and are becoming even more so by allowing our winners to run and not taking profits right now in those winners.
Chart of the Day:
Oil markets are continuing higher and looking set to try and takeout $107/barrel, as more investors pay attention to the situation in Iraq and realize that it could seriously move oil prices as the country is one of the largest producers within OPEC. Worse, Saudi Arabia appears to only have enough capacity to cover the loss of production in some of Iraq which would leave little excess capacity for demand from economic growth.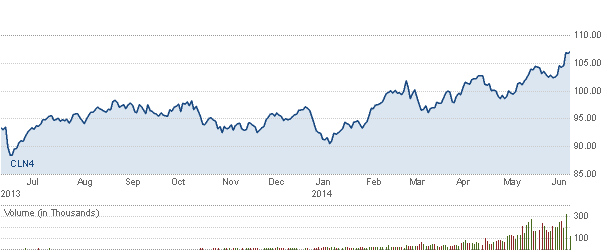 Source: CNBC
Commodity prices are as follows (at time of submission):
Gold: $1,275.20/ounce, up by $1.10/ounce
Silver: $19.68/ounce, up by $0.025/ounce
Oil: $107.08/barrel, up by $0.17/barrel
RBOB Gas: $3.076/gallon, up by $0.0183/gallon
Natural Gas: $4.738/MMbtu, down by $0.001/MMbtu
Copper: $3.0545/pound, up by $0.025/pound
Platinum: $1,438.10/ounce, up by $3.10/ounce
MLP M&A Heating Up
The header is a bit of an alphabet soup, but the important thing today is that our prediction that MLP M&A was going to heat up is starting to take place. Right now, we are seeing the blue chip names making their moves, but this should trickle down to the smaller names as more of these shale plays are further developed.
The Williams Companies (NYSE:WMB) is surging today after announcing that it would acquire the remaining interests in Access Midstream Partners, LP (NYSE:ACMP) that it does not already own for $6 billion in cash. Williams plans to combine the entity with Williams Partners, LP (NYSE:WPZ) to form one of the largest pipeline companies in the US. Williams estimates that the combined entity will have roughly $5 billion in earnings before interest, taxes, depreciation and amortization in 2015.
Using Commodities To Play Iraq
We received quite a few inquiries into which commodities one should be looking at purchasing in order to play the events in Iraq. Although we prefer equities in instances such as these, we recognize the importance of being able to generally identify areas to be bullish on and then set up trades that way. So to discuss the two main ETFs which were asked about we want to visit the SPDR Gold Shares (NYSEARCA:GLD) and the US Oil Fund (NYSEARCA:USO).
In the current market, we would not be buying gold as a safe haven right now. Yes, it will probably do better than a savings account with this news flow of towns being overrun in Iraq, but down the road it will correct when a larger fight does not break out. Oil is the better bet right now because we are already seeing supply, and more importantly future supply, falling as the insurgents race across Northern Iraq. When one factors in that we could see a scorched earth policy implemented if Iraq, Iran or the US force the rebels to retreat and that could damage very important infrastructure and keep oil prices elevated for some time, it would seem that there is no question as to which commodity is the better area to focus investable capital right now.
Disclosure: The author has no positions in any stocks mentioned, and no plans to initiate any positions within the next 72 hours. The author wrote this article themselves, and it expresses their own opinions. The author is not receiving compensation for it (other than from Seeking Alpha). The author has no business relationship with any company whose stock is mentioned in this article.