Headquartered in Thief River Falls, MN, Arctic Cat, Inc. (NASDAQ:ACAT) is a designer, manufacturer and marketer of all-terrain vehicles (ATVs) and side-by-sides, snowmobiles and parts, garments and accessories.
During FY 2013, ATV and side-by-sides contributed 45% of sales and snowmobiles accounted for 39%.
Disappointing Results and Downbeat Guidance
ACAT reported its Q4 FY 2014 results on May 15. Net loss for the quarter was $1.5 million or $0.12 per share, worse than the Zacks Consensus Estimate for a loss of $0.09 per share. This was ACAT's third consecutive quarterly miss.
The guidance provided by management for full-year fiscal 2015 sales and earnings was also below Street estimates. They expect sales to be in the range of $775 million to $786 million and earnings to be in the range of in the $2.33 to $2.43 per share.
Downward Revisions
After disappointing results and guidance, analysts have cut earnings estimates for current and the next fiscal year. Zacks Consensus Estimates for FY2015 and FY2016 are down to $2.40 per share and $2.78 per share from $3.34 per share and $3.70 per share respectively, 30 days ago.
The following chart shows the declining estimates trend for ACAT. Declining estimates sent ACAT back to Zacks Rank No. 5 (strong sell) last month.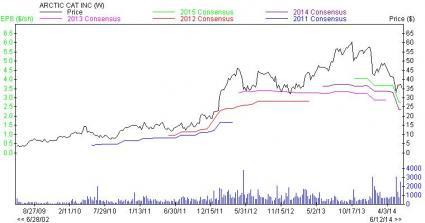 CEO Resigns
On June 2, ACAT announced that Claude Jordan had stepped down as chairman and CEO.
Chris Twomey, who had served as CEO earlier, took over as the interim chairman and CEO while the board started the search for a permanent CEO. ACAT also announced that its CFO Tim Delmore has postponed his previously-announced retirement during this transition period.
Better Play?
Investors seeking exposure to the industry could look at Smith & Wesson Holding Corporation (SWHC) which has a Zacks Rank No. 1 (Strong Buy).
The Bottom Line
ACAT was earlier featured as the "Bear of the Day" on February 25. The shares are down more than 20% since then.
While the company is trying to launch innovative new products as well as expand into new market segments and international markets, near-term headwinds will impact the share price. The top management transition adds further uncertainty to the outlook.
ARCTIC CAT, INC. (ACAT): Free Stock Analysis Report
(email registration required)