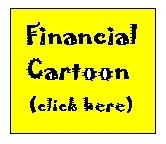 Outlook Summary: Now that the National Bureau of Economic Research has officially declared the trough of the Great Recession as June '09, a comparison with previous recessions (since '46) highlights its depth and breadth.
Investors were broadsided as the typical stock market downturn preceding the economic peak did not occur. The Volcker-induced recession of the early '80's drove inflation out of the economy by sending interest rates to nose-bleed territory. This cleared the way for an extended period of economic and stock market growth.
Can the current purging of financial excesses through this painful financial restructuring create a similar platform of growth that favors large-cap stocks? (See "The Great Recession May Yet Add Up for Investors" (9/22/10).)
CEF Weekly Review: The 13 closed-end fund (CEF) types on average posted a 1.0% increase for the week ending 9/24/10. The high-low spread was +1.9 versus +3.5% the previous week with an average price change of +1.0% and -0.2%, respectively. On an aggregate, unweighted basis, the weekly average price change for the 500 plus CEFs was up 0.8%.
The PowerShares CEF Income Composite (NYSEARCA:PCEF), an ETF that invests in taxable income CEFs, was up 1.0% for the week. The S&P 500 was up 2.1% for the week and extended its positive YTD performance to 3.0%.
(Click here for YTD CEF Performance. The table is based on a smaller CEF sample size as all the data fields are not available for the CEF universe.)
The Eqcome CEF Fear Index was flat. The average price was up 0.8% while NAV was up the same. The CBOE Volatility Index (VIX), which typically moves inversely with the stock market—but is mostly a measurement of volatility based on stock options' premiums—dropped on Friday from Thursday's elevated level as the S&P 500 surged on economic data that implied that the economy still had a pulse.
The S&P's recent advances continued to be fueled on low volume. Weekly average daily trading volume for the S&P 500 slipped 2.2% from the previous week to 3.88 billion shares as trading continued to register below the 4.0 billion shares threshold.
Investor Absenteeism: "Money Flow" into the DJIA ticked up 2.38% for the week and the up/down ratio was 0.99 versus 1.05 for the month. The technology sector experienced the greatest change, up 2.92%; the consumer sector the least, up 1.49%.
The total inflows into mutual funds for the week ending 9/15/10 were up $5.19 billion with equity fund investors withdrawing $3.0 billion. Bond funds continue to rake in the bulk of investor monies. Both taxable and muni funds in total increased $7.75 billion. Money market fund decreased by $10.6 billion to $2.8 trillion as of 9/22/10.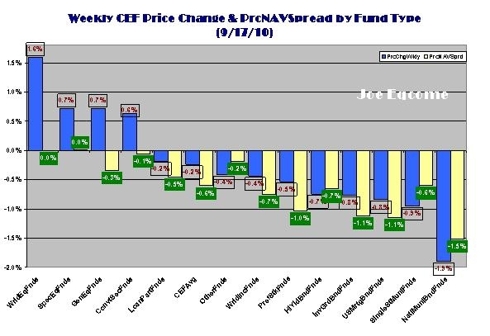 CEF Weekly Fund Type Performance: While all Fund types registered advances, performance for the week was heavily weighted toward advances in equity oriented fund types.
WrldEqFnds advanced 2.2% as many investors anticipate greater growth potential in certain Pacific-oriented economies. Muni CEFs again lagged the second week in a row in terms of performance.
The PrcNAVSprds [*] typically move in the direction of stock prices. However, this week was not the case as 6 of the 13 fund types experienced share price growth lagging its related NAV. The largest spread again occurred in GenEqFnds for the second week in a row. GenEqFnds' average price climbed 1.4% while its respective NAV climbed an even higher to 2.1%.
CEF Portfolio Allocations: There has been a reduction in the percentage allocation to the CEFMuni10 from 25% to 20% with the allocation rising from 30% to 35% for the CEFBig10 with the CEFDisc10 and cash remaining at 40% and 5%, respectively. (See website.)
Weekly CEF Winners and Losers: One of the CEFs with the greatest positive spread was FirstTrust/FIDAC Mortgage Income Fund (NYSE:FMY). FMY price advanced 4.4% while its NAV declined 0.2% generating a positive PrcNAVSprd of 4.6%. The shares have experienced a 12.2% increase since mid-July as it announced a 33% increase in its monthly distributions for July, August and September. FMY's current annualized monthly yield is 8.8% and it is now trading at a 13.2% premium. SIT Investment Associates, Inc. (SIT) owns 13% and has been reducing its stake in FMY.
One of the CEFs having the greatest negative PrcNAVSprd for the week was Flaherty & Crumrine Preferred I (NYSE:PFD). PFD's price declined 5.3% while its NAV advanced 0.1% generating a negative PrcNAVSprd of 5.4%. The share price was trending down throughout the week with a significant increase in volume on Thursday (164,300 shares) relative to its average daily volume of 30,000 shares. There wasn't any indication of insider or institutional selling. It appeared as though a single investor may have sold his/her position as trading on Friday resumed its average trading volume.
Economic & Earnings Outlook: (Click here for next week's economic calendar; click here for earnings' announcements and estimates.)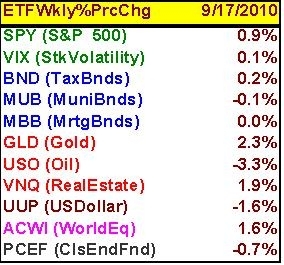 ETFs: For a more detailed EFT performance by sectors, click here.
Insider Trading: Insider trading continues at a lethargic pace in September. The only interesting activities were that of Alan Rappaport a director of several Allianz/PIMCO advised CEFs. Mr. Rappaport established initial positions totaling 5,000 shares in PML (1,500), PFL (1,500), PCN (1,000) and NCV (1,000). It appears that Mr. Rappaport is a new trustee in 2010. He is a trustee/director of 47 funds of the Allianz fund complex.
(Click here for a hyperlink to the Joe Eqcome's CEF Weekly Insider Report.)
CEF Distribution Announcements This Week: The following is a link to a table of CEF distribution announcements this week as well as the previous week's with yet expired ex-dividend dates. The list is not intended to be inclusive. (Click here for Joe Eqcome's Weekly CEF Distribution Announcements.)
Significant CEF Corporate Events: Rating agencies are beginning to circle the wagons on CEF auction rate preferred shares (ARPS). S&P Rating Services was the last to join the major rating agencies (McGraw-Hill and Fitch) in implementing stricter rating criteria.
The central issue concerns the liquidation of assets to facilitate the retirement of ARPS as a function of the nature of assets the CEF holds and a time horizon for their orderly liquidation. According to the WSJ, S&P's new rating standards caused all but 1 of 90 formally AAA-rated ARPS to maintain that rating. Many believe this rating step down will likely cause the 220 CEFs that do employ ARPS to experience higher costs of leverage. (Half the leveraged CEFs currently employ ARPS's.)
The unrelated non-credit related issue looming for leveraged CEFs is the refinancing cost of the ARPS's which are currently enjoying a "finance holiday". Many CEFs with ARPS are paying next to nothing as they defer to a default rate under the terms of failed auctions. When the market "clears" on ARPS and auctions resume the costs are likely to be higher and distribution will likely be negatively impacted.
CEF Focus Stock(s) for the Week: Cornerstone Strategic Value Fund (NYSEMKT:CLM) is the focus stock of the week. It is because CLM appears to defy investment logic—particularly in light of its most recent semi-annual report for the period ending June 30, 2010 and its proposed rights offering.
The Case for an Irrational Investment: I continue to find CLM's stock price performance both astonishing irrational and equally disappointing. It seems that investors have lost their bearing as it relates to this stock's fundamentals. Or, alternatively, there're other causes for this irrational valuation. Let's cover the fundamental analysis first.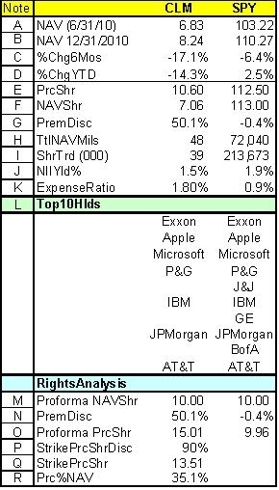 CLM Fails on Investment Logic: Let me make the following case why.
Seven (7) of the top 10 holdings of CLM are similar to SPDR S&P 500 ETF (NYSEARCA:SPY) each representing approximately 20% of the portfolios. These holdings are owned in similar rankings based on percentage ownership for each of the portfolios (See chart; note "L"). Therefore, let me conclude, CLM may be a loosely fitted "closet index" of the S&P 500. As a result, SPY becomes a reasonable benchmark for comparison.

For the first 6 months of this year, the investment performance of CLM (-17.1%) significantly lagged that of SPY (-6.4%) based on relative changes in NAVs—a much better predictor of investor prowess. This is also true of CLM's and SPY's YTD performance: a negative 14.8% and a positive 2.5%, respectively. (Additionally, CLM also lags the CEF market segment for the 6 month period: negative 17.1 versus positive 1.5%, respectively.)

CLM's distribution, supported by net investment income, is 1.5% versus 1.9% for SPY.

CLM is a minnow compared to SPY. CLM's total NAV is $48 million and SPY's is $72,040 million; CLM trades less than 39,000 shares daily versus SPY's average daily trading volume of 213,673 shares.

CLM's expense ratio is 1.8% versus 0.9% for SPY.
A Logical Investment Conclusion: So, based on investment performance, earnings, investment yield, expense ratio, asset size and trading volume, CLM would be a less preferable investment.
An Illogical Result: Yet, CLM trades at a 50% premium while SPY trades at a 0.4% discount. This is just not rational investing—particularly when there is this kind of arbitrage potential.
Other Causes: Other reasons to explain this difference may be:
CLM's nominal distribution is almost entirely a return of capital. So, it's reported nominal yield is 15.6% when the true investment yield is 1.5%. Are CEF investors that dumb not to see through this charade?

The shares are "closely held" and the share price may be influenced by current holders not lending out shares available to be "shorted" and by concomitant strong support from CLM's market makers.
CLM's Current Rights Offering: Now, CLM is attempting to float a "Rights" offering at a strike price of 90% of the share price when the share price is at a 50% premium to NAV. (See, "Why Cornerstone Strategic (CLM) Rights Offering Makes Little Sense for Shareholders" (8/20/10).)
In the rights offering section of the chart above, CLM and SPY have been normalized for the purpose of comparison. Both proforma NAV's were anchored at $10.00 per share with all other metrics remaining the same. Therefore, the effective strike price of CLM "Rights" offering is $13.51 per share.
Overpaying for Assets? Assuming that CLM's portfolio is the loose equivalent of SPY's, one can make the case that CLM's management will effectively go out and buy the SPY "equivalent" with the dollars they've raise in the rights offering.
Therefore, CLM shareholders are effectively overpaying 35% for a SPY equivalent portfolio. Alternatively, if one sells the shares of CLM at the strike price and buys SPY's stock, shareholders would be buying a "similar" portfolio at a 26% discount. Again, you would think in an efficient market the valuation would be arbitraged. Ergo, the market in CLM's stock is not efficient.
An Alternative Investment: An alternative investment to CLM's rights offering is to sell the shares at its $13.51 proforma equivalent and buy the proforma SPY at $10.00 per share. Put the $3.51 per share you saved in your left pocket.
Over the next three years take the difference ($1.31 per share) between CLM's nominal yield ($1.50) per share and SPY's investment yield ($.19 per share) and move it from your left pocket to your right pocket (without incurring a fee). That is effectively the equivalent of the ROC distribution you'd be receiving from CLM as it distributes a portion of its NAV.
At the end of a 3 year period, CLM's NAV will be $5.95 per share and SPY will be $9.01 assuming no appreciation in either portfolios. Therefore, at the end of the 3 year period you'd be 51% better off in this synthetic investment on an NAV basis than you would in an investment in CLM. Now, if CLM can continue to maintain a 50% premium then investors could breakeven.
Is it Apples and Oranges? Some might conclude that comparing a CEF with an ETF is an unfair comparison. CLM's comparison against its CEF peer group is also statistically challenging. CLM's nominal yield is 15.9% versus 7.2%; its premium is 49.2% versus an 8.0% discount; YTD NAV is down 14.8% versus down 2.1%; share price -9.0 versus flat.
No Axe to Grind: Let me conclude by saying I have no financial interest in CLM. Nor have I met its management. I'm sure they're folks who are good to their families, communities and pets. I just need to understand why the stock is valued in such an illogical fashion. When someone provides me with a logical reason why, I'll stop writing about it.
As John Maynard Keynes—who by the way was as good an investor as he was an economist—suggested, "I'll change my mind when the facts change."
Disclosure: Author owns a diversified portfolio of CEFs and ETFs and has no interest in any of the Cornerstone Funds
---
[*] All things being equal, price and NAV should move in tandem. A price movement greater than the NAV generates a positive PrcNAVSprd and may be interpreted as negative on a near-term basis and indicate that the stock is overvalued relative to its NAV which in theory is the stock's intrinsic value. The opposite would be true for a negative PrcNAVSprd.