It's hard to believe it has been six years since the near $150/bbl oil price of 2008. Despite the huge gain seen in US oil production as a result of the shale revolution, the United States still imported 286 million barrels of petroleum in March, an average of 9.2 million bpd. To put that in perspective, at $100/bbl that's $920 million/day or $336.8 billion on an annual basis.

While the US has increased exports of refined product (see below), there is still a huge gap (i.e. trade deficit) between petroleum imports and exports of ~6 million bpd. Total US petroleum consumption is running ~18.5 million bpd.

So while things have gotten much better in the US in terms of production and imports/exports since the disaster that was 2008, the US still finds itself overly exposed to the world oil market and, in particular, the Middle East: countries like Libya, Iran and Iraq. Even Ukraine is an issue for the US because the EU is a big trading partner and could be adversely affected if natural gas supplies are cut off.
We can point to the Sykes-Picot agreement of 1916 as the source of all the problems in the Middle East, but a quick look at the map below shows what many knew when the US first ventured into Iraq: borders drawn with no regard to a thousand years of tribal history (but with much regard to oil production...) led to an artificial split of what needs to be a three state solution (Shia, Sunni, Kurd):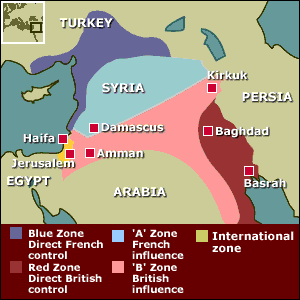 And this map is almost exactly what we have today in terms of regional faction control. In my opinion, the US should just sit back and let the area evolve into the three states it has always wanted to be. Those US politicians like John McCain who want to take action to stop the "insurgency" to save the Shia Baghdad faction from the rampaging Sunnis find themselves in the ironic position of wanting to fight on the side of Iran, a member of George Bush's "axis of evil."
So why not let the region come to some sort of three-state "equilibrium" and then deal with each faction (Shia, Sunni and Kurd) individually? This was how General Petraeus met with some level of success. The answer is likely that even a temporary interruption of Iraqi oil production in the south (i.e. the maroon color on the map) would expose the US economy to much higher oil prices. And oil prices are already high: currently $112.60 for Brent and $107.11 for WTI.
Natural Gas Is The Solution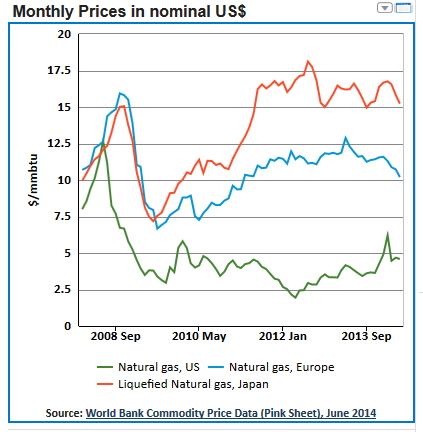 Of course the proven solution to these problems for the United States is obvious: a transition to domestically produced natural gas transportation. NYMEX natural gas is currently at $4.77 mmBtu - less than half that of Europe and two-thirds less than Japanese LNG imports. And of course not only is domestic natural gas much cheaper than gasoline/diesel refined from imported oil, it also emits ~30% less CO2 and 100% less of the toxic particulates emitted by burning gasoline or diesel.
Yet US politicians seem to prefer sending Americans' energy dollars out of the country for oil - primarily from Canada, Saudi Arabia, Mexico and Venezuela. The US' energy policy, if you can call it one, appears to be a media campaign to convince citizens that Tesla Motors (NASDAQ:TSLA) will solve all our problems with the electric car. Yet Tesla is guiding for delivery of only 35,000 vehicles in 2014. That compares to a US car-and-truck fleet of 246 million vehicles, or about 0.01% of the total. It is a drop in the ocean.
In addition, despite Tesla's advertising of "zero emission" vehicles, the truth is that coal - by far the dirtiest of all fossil fuels, still accounts for nearly 40% of US electricity production. Now, before all the Tesla fans get upset at me, let me state categorically that I firmly support EVs as well as wind and solar energy. However, a look at the data above would clearly prove to any objective person that the US needs more of a plan if we want to substantially reduce foreign oil imports and protect the US economy against events like those seen recently in Libya, Ukraine and Iraq.
And here is the vehicle that can do it: a natural gas/electric hybrid engine architecture (think a Prius with the gasoline tank replaced with a CNG tank) that Toyota (NYSE:TM) unveiled (can you believe it) at the LA auto show way back in 2008, and which I wrote about in 2009: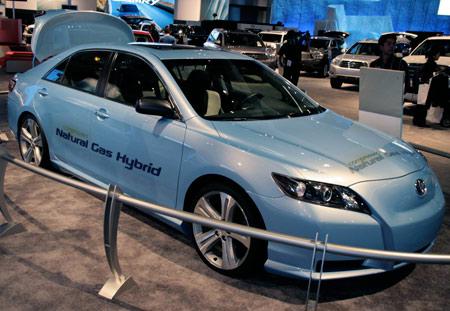 Specs:
TOYOTA CNG CAMRY HYBRID CONCEPT
PRELIMINARY SPECIFICATIONS
POWERTRAIN
2.4 liter, 4-cylinder engine with Toyota Hybrid Synergy Drive®
Gasoline fuel system replaced with CNG system
ESTIMATED FUEL ECONOMY (MPG)
City/Highway/Combined = 32/34/33
(Gasoline Camry Hybrid = 33/34/34)
NET HORSEPOWER (Engine + Electric Motor + Generator + Power Storage)
170 hp
CNG SYSTEM
Two (2) Lincoln composite Type 4 tanks - plastic liner with carbon fiber wrapped exterior
Tanks installed in spare tire well area
Maximum 3,600 psi
CAPACITY
Proposed 8 gallon gasoline equivalent
RANGE
250+ miles
Back in the frantic days of $150/bbl oil and near $5/gallon gasoline (not to mention in imploding US stock market), I badly wanted one of these cars and a Fuel Systems Solutions (NASDAQ:FSYS) "Phill" home refueling appliance so I could fill up the car at night in my garage while I slept. Problem? Toyota would not sell the car. After many calls to the company in an attempt to find out why, I finally spoke with a marketing rep in Los Angeles who frankly admitted the reason (off the record): the US government simply did not want the car sold in the US. Imagine that.
So here we sit, six years later, worried once again about events in the Middle East and considering yet more military action on top of our disastrously unwise decision to enter Iraq back in May of 2003. Did we learn nothing from Vietnam?
Today, practically the only US energy policy that is significantly impacting foreign oil imports (other than increased energy production) is Clean Energy Fuels (NASDAQ:CLNE) plan for "America's Natural Gas Highway":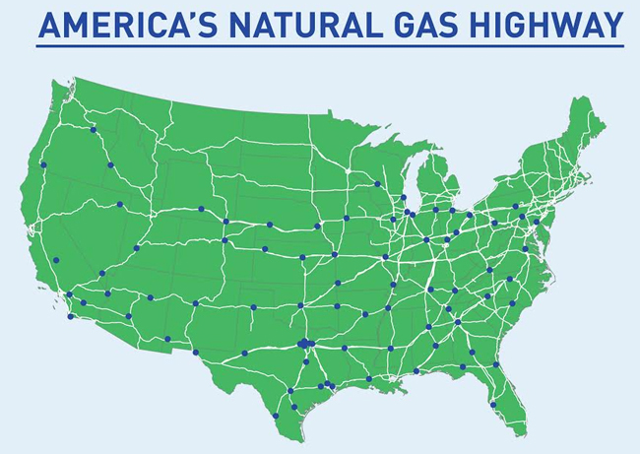 Combined with the Cummins Inc (NYSE:CMI) new game-changing 12-liter ISX12-G engine, Clean Energy's natural gas refueling infrastructure is having a meaningful affect in the long-haul trucking sector. From CLNE's 2013 annual report, we get an idea of the massive fuel costs savings advantage of using natural gas in the transportation sector for the state of California:

When you throw in the cleaner air, it's just a no-brainer.
Indeed, such an overwhelming economic incentive for switching to natural gas is beginning to gain momentum. In its most recent Q1 EPS report, CLNE reported gas gallon equivalents ("GGEs") delivered increased 24% and revenue jumped 43%. Adjusted EBITDA jumped to $20 million-plus from a year earlier $6.78 million loss.
In a recent company presentation, the advantages of using natural gas as a transport fuel has led to the majority of all new refuse trucks being NGVs refueled by CNG: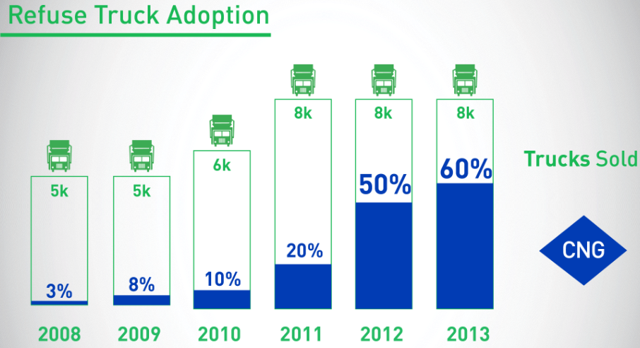 But of course by far the largest market opportunity for US natural gas transportation is the long-haul trucking market: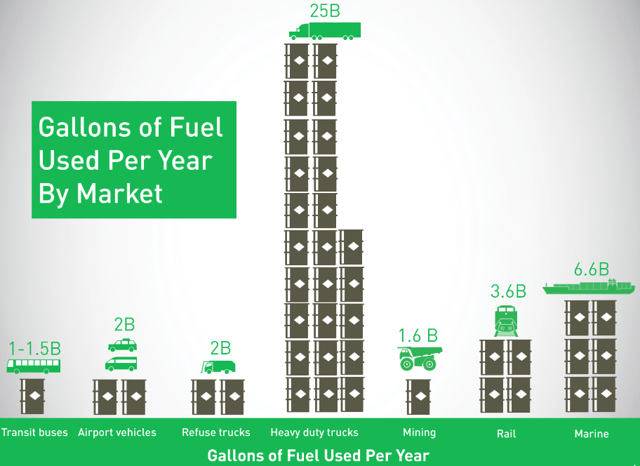 CLNE now reports it has 800-plus fleet customers and refuels over 35,000 NGVs daily by 470-plus natural gas refueling stations. Gas gallon equivalents ("GGE") delivered in Q1 were 59.3 million gallons.
Yet the sad thing to me is that the chart above does not even include the ordinary Americans' cars and truck fleet. Why isn't that included as a possible market and why can't ordinary Americans, in addition to long-haul truckers, reap the economic benefits of refueling with domestic natural gas as opposed to sending their energy dollars out of the country for foreign oil?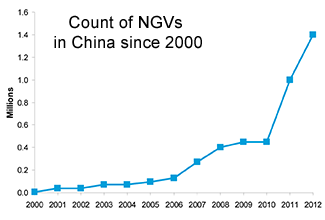 As with most issues these days, what is needed is leadership at the top. While pro natural gas transportation initiatives have gathered dust in the US Congress for years now, the EU, Brazil, Russia and China have all moved ahead with very strong natural gas transportation initiatives. In particular, China is trouncing the US at its own game.
The question is: when will US energy policymakers stop depending on unwise military interventions and start depending on what we have right here at home: abundant reserves of cheap and clean natural gas? Unfortunately, American energy policymakers are asleep at the wheel of a vehicle powered by gasoline. Meantime, it is China that is working at breakneck speed to solve the economic, environmental and national security issues of being addicted to foreign oil (gasoline/diesel). Sad, but true. Maybe $200/barrel with do it for the US? I have a feeling we will find out.
| | |
| --- | --- |
| Market Cap: | 986.64M |
| P/E ("ttm"): | N/A |
| EPS ("ttm"): | -0.97 |
| Div & Yield: | N/A (N/A) |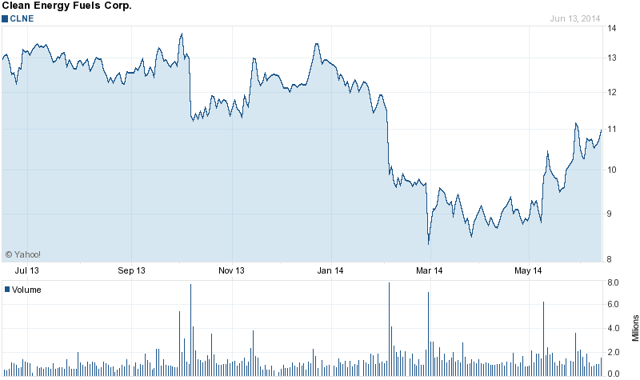 Disclosure: The author has no positions in any stocks mentioned, and no plans to initiate any positions within the next 72 hours. The author wrote this article themselves, and it expresses their own opinions. The author is not receiving compensation for it (other than from Seeking Alpha). The author has no business relationship with any company whose stock is mentioned in this article.
Additional disclosure: I am an engineer, not a CFA. The information and data presented in this article were obtained from company documents and/or sources believed to be reliable, but have not been independently verified. Therefore, the author cannot guarantee their accuracy. Please do your own research and contact a qualified investment advisor. I am not responsible for investment decisions you make. Thanks for reading and good luck!