Semiconductor equipment company Entegris Inc. (NASDAQ:ENTG), at Friday's close of 4.59, is attractively priced at a forward P/E of 7.41, with a strong balance sheet, improving gross margins, and a management team that is optimistic about future growth prospects. On a path to earn about .60 per share for 2010, the company could earn as much as 1.00 by 2012, if management can deliver on its optimistic plans. A recent dip, perhaps fueled by a downgrade from Bank of America (NYSE:BAC), presents a buying opportunity.
Overview
The company describes itself as follows, from the 10-Q:
Entegris, Inc. is a leading provider of products and services that purify, protect and transport the critical materials used in key technology-driven industries. Entegris derives most of its revenue from the sale of products and services to the semiconductor and related industries. The Company's customers consist primarily of semiconductor manufacturers, semiconductor equipment and materials suppliers as well as thin film transistor-liquid crystal display (TFT-LCD) and hard disk manufacturers, which are served through direct sales efforts, as well as sales and distribution relationships, in the United States, Asia, Europe and the Middle East.

The Company offers a diverse product portfolio which includes more than 15,000 standard and customized products that it believes provide the most comprehensive offering of contamination control solutions and microenvironment products and services to the microelectronics industry. Certain of these products are unit-driven and consumable products that rely on the level of semiconductor manufacturing activity to drive growth, while others rely on expansion of manufacturing capacity to drive growth. The Company's unit-driven and consumable products includes membrane-based liquid filters and housings, metal-based gas filters, resin-based gas purifiers, wafer shippers, disk-shipping containers and test assembly and packaging products and consumable graphite and silicon carbide components used in plasma etch, ion implant and chemical vapor deposition processes in semiconductor manufacturing. The Company's capital expense-driven products include components, systems and subsystems that use electro-mechanical, pressure differential and related technologies to permit semiconductor and other electronics manufacturers to monitor and control the flow and condition of process liquids used in these manufacturing processes, and process carriers that protect the integrity of in-process wafers.
A significant advantage here is that Capex driven sales are 37% of sales vs. 63% for unit driven. As such, the company participates in the volume of semiconductor production without being wholly dependent on capex. The company operates in three segments – Contamination Control Solutions, Micro Environments and Entegris Specialty Materials. No single customer accounts for more than 10% of sales. Given the broad product line – 3 segments encompassing 15,000 products – and lack of customer concentration, recent growth is driven by recovery in the semiconductor and other hi-tech businesses.
There is a recent presentation on the company's website: I recommend it for a combination of informative content and optimistic planning.
Growth and Margins
During the recession, ENTG cut expenses, reducing their breakeven sales rate by 23%. With sales returning to prior levels, gross margin has improved, from 43.2% in Q1 08 to 46.2% as of Q2 10. Growth has been steady coming off the Q1 09 bottom, and sales are now above their 2007 level. Applying increased revenues to reduced expenses creates operating leverage, which can do wonderful things for profitability and share prices.
Balance Sheet and Cash Flow
The company recently paid off its revolving credit facility, ahead of plan. Cash flow has been strong, and management expects to finish 2010 with net cash of approximately 100 million, or .75 per share. Debt to total capital now stands at .06x.
Comparing current assets to current liabilities, and interpreting anything in excess of a current ratio of 2 to 1 as excess, Entegris has a .94 per share cushion.
Valuation
Conservatively estimating 2010 to come in at .60 per share, and noting that management is talking about 1.00 per share for 2012, I apply a multiple of 12 X .60 = 7.20, to which I add .94 for current assets in excess of what is required to run the business in a prudent and orderly manner. Rounding, I get a target of 8 per share, within one year.
Strategy
Beta checks in at 3.7, with implied volatility at 60.1%. The shares are optionable (no LEAPS). Eyeballing a one year chart, I see a jagged see-saw pattern in a range of 4 to 6 per share. Given the improved margins and increasing sales, a breakout above the 6 level seems likely. How to play this stock, given the fine combination of value, growth and volatility, is really up to the investing style and philosophy of the individual investor.
The following options trade makes sense to me (click to enlarge):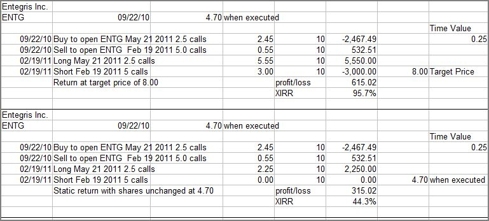 The thinking here is, it is possible to make 44% annualized if the stock just hangs at its current price. If it goes above 5.00, its midrange for the past year, as of the first expiration the annualized return is 95.7%. Tangible book at 2.94 per share provides margin of security, and the high implied volatility makes the sale of options a rewarding proposition. I started small, working off an article by Daniel Long here on Seeking Alpha, and plan to add to the position now I have completed my own analysis.
Given management's ambitious plans, I will be monitoring growth and profitability on a quarterly basis, and adjusting my thinking as the situation develops.
Disclosure: Long ENTG as discussed