Being an avid basketball fan, I've always believed a miss is just a miss - especially to a shooter in a slump. It doesn't matter if it rolls out or if it's an air ball, it's still a miss and just a miss. Shake it off and pull the trigger again. But, the shot not taken is always a miss - 100% of the time.
Stock-picking isn't basketball. In stock-picking, the shot not taken may simply be worthy of a good hard critique regarding one's decision-making. Matrix Service Company (NASDAQ:MTRX) was one of my 2013 shots not taken.
Matrix Service provides engineering, fabrication, construction, maintenance and repair services. The business operates in four segments: Electrical Infrastructure, Oil, Gas, and Chemical, Industrial, and Storage Solutions. Its operations span North America and Canada.
In March, 2014, Forbes published the list of America's 100 most trustworthy companies. The distinction is determined by GMI Ratings. It grades publicly-traded companies on governance and accounting transparency by considering factors such as accounting methods, SEC actions, and risk events. The list is determined annually, based on a company's previous fiscal year. The ratings director at GMI Ratings credited for developing the list explains:
"While there's no guarantee that an honest company is a thriving one, in most cases the companies here are financially sound, with strong stock performance."
Out of a possible 100 points in the GMI rating system, Matrix Service scored a 92. Overall, Matrix Service occupied one of the top 13 spots on the list. And, of the 35 small-cap companies in the top 100, Matrix Service shared a three-way tie for the number 4 spot.
The Miss
So, how did I miss the shot on this trustworthy company? Well, in early 2013, the hesitations that held up an investment commitment were:
In late 2012, Matrix had targeted a five-year goal of achieving revenue growth of 12%-15%. But, the low-end of Matrix's revenue guidance did not support that goal.

Five-year EPS growth estimates were only 10% annually. Industry average estimates were over 14%.

Cash on the balance sheet had been weakening since 2011.

Accounts Receivable had increased in one quarter by an amount greater than it had changed in total in the previous eight years. The company called the change a "short-term fluctuation".
I had decided the important indicators to monitor were:
cash increasing,

A/R decreasing dramatically,

debt staying relatively the same and

double-digit revenue growth continuing.
In the meantime...
Matrix Service's share price had been range-bound since 2009 in the $10 to $15 range. Before the financial crisis, the company had traded in the $20 to $25 range. After reporting fiscal 2013 year-end results in September 2013, the share price began a steady climb back to the company's 2008 range. In February 2014, when Matrix management raised 2014 guidance, the share price broke the $30 level. After presenting at the Credit Suisse Engineering and Construction Conference on June 5th, the $35 barrier broke. The 200-day moving average is now $29+ and the 50-day moving average is $32+.
Reconciling the Miss
Reconciling the factors above:
Cash did increase due, primarily, to cash received through operating activities.

Accounts Receivable continued to grow further to $232 million due, in general, to the increase in business activity.

Long-term debt ballooned from $3 million to $45 million. Matrix accessed its credit facility to partially fund its acquisition of Kvaerner's North American Construction segment in December 2013.

Annual revenue for 2013 totaled $892 million, 5% more than management's high-end guidance of $850 million. Year-over-year growth compared to 2012's total was 20.7% impressively exceeding the 12% to 15% goal.
Backlog and the Path to Revenue
Matrix was and still is experiencing intriguing growth in its backlog of signed contracts. The backlog at the end of fiscal year 2013 was $626.7 million, up from $497 million at fiscal year-end 2012. By comparison, backlog numbers were $405 million at fiscal year-end 2011 and $353 million at fiscal year-end 2010. The chart below displays the quarterly growth in backlog from fiscal year-end 2011 to-date (it is important to note Matrix Service's fiscal year runs from July 1 to June 30).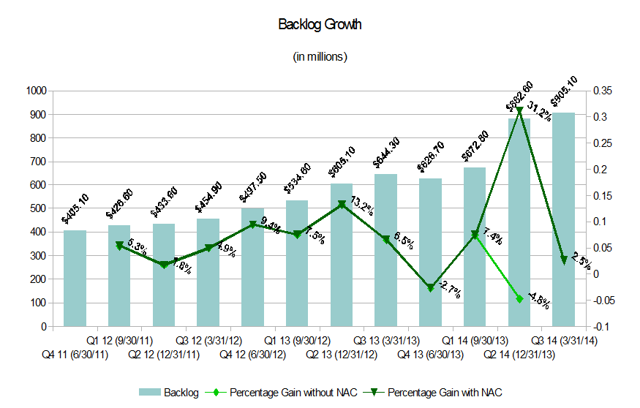 As depicted above, the backlog increased significantly in the fiscal second quarter of 2014. In the Matrix earnings release, management explained:
"Backlog at December 31, 2013 also includes acquired backlog of $242.0 million."
While it may be questionable to buy backlog, it is definitively in line with strategic goals Matrix Service presented in November 2012 which included growing revenue annually through:
"a combination of organic growth (60%) and acquisitions (40%)."
As well, Matrix management advises the best way to view the backlog growth trend:
"from quarter-to-quarter the backlog could go down. I wouldn't be concerned about that because you have to look at the long term run rate of the backlog growth."
Growing A/R Balance
The acquisition of North American Construction establishes a link between the debt level increase and the backlog bump (which will convert to revenue). The remaining factor in question is the accounts receivable balance. Rather than the significant jump in the third quarter of fiscal 2013 being a short-term fluctuation (as it was dubbed by management), it has become a new base. By fiscal 2013 year-end reporting, the bump was categorized by management as:
"Accounts receivable increased by $32.4 million. The accounts receivable increase is due to higher business volume and the timing of billings particularly in the Electrical Infrastructure, Storage Solutions and Industrial segments. The receivable aging categories have not deteriorated and we do not anticipate any unusual collection difficulties."
The chart below shows the trend line.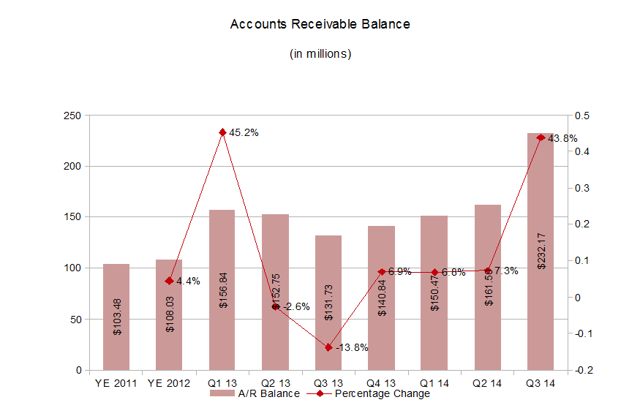 As shown, the A/R balance spanned a range of $131.7 million to $161.5 million from the first quarter of fiscal 2013 to the second quarter of fiscal 2014 and averaged $149 million. Alarmingly, the A/R balance in the third quarter of fiscal 2014 jumped 40+% again. The change was not discussed in the earnings report by management. Analysts on the call did not question the dramatic leap. Embracing previous explanations of volume and timing, it is natural to compare revenue growth to A/R growth. The following chart attempts to prove such a theory: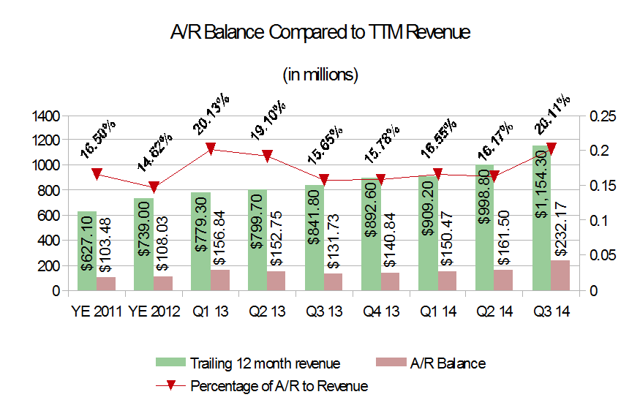 Further, there is some consolation regarding the company's exposure outlined in the 2013 annual report:
"In addition, in most cases the Company can place liens against the property, plant or equipment constructed or terminate the contract if a material contract default occurs."
Is it too late?
Accounting for the changes in the debt level and accounts receivable balance invites potential investors to question if it is too late to make a move. The stock price has more than doubled since the first half of 2013. The current P/E ratio in the mid-20s is high compared to both the industry and the S&P 500 averages. Pricing the stock based on forward earnings still yields a P/E ratio in the low 20s.
The company has not changed its strategic goal relative to annual revenue growth. In a December 2013 investor presentation, the range is still set at 12% to 15%. Through the third quarter of fiscal 2014, Matrix's revenue has already surpassed the total 2013 revenue. The company achieved an annual growth of 3% to-date. All fiscal 2014 fourth quarter revenue will simply inflate that percentage. At the low end of the goal (12%), fourth quarter revenue would have to ring in at just $81 million. At the high end (15%), it would have to total $107.8 million. Yet the company projected fourth quarter revenue of $331 million to $381 million as derived from the guidance below.
"The Company is increasing its fiscal 2014 revenue guidance to between $1.25 billion and $1.30 billion and its earnings per fully diluted share guidance to between $1.34 and $1.42."
Using the midpoint ($1.275 billion) of the company's most recent fiscal 2014 projection and the midpoint of the strategic goal (13.5%) equates to a 2015 revenue projection of $1.45 billion. Therefore, the trailing 3% profit margin produces a 2015 EPS based on midpoints of $1.70. However, the revenue growth rate in recent years averages well above the 12%-15% range. The following chart illustrates the achievements of Matrix Service in that regard.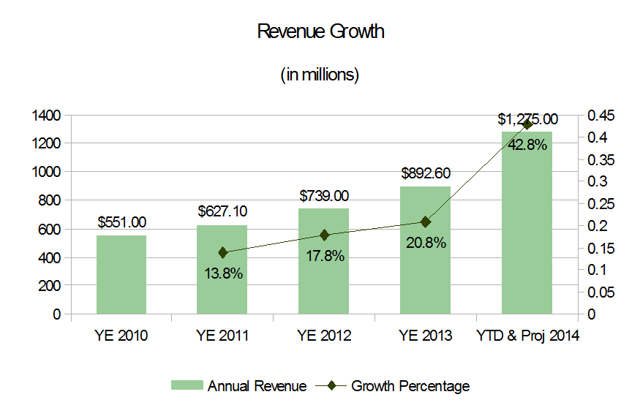 While the simple average is 23.8% and the compound average is 23.34%, it may be a more prudent approach to eliminate the high and low ends of the list and use the remaining average of 19.3%. At 19+% growth, the revenue projection for fiscal 2015 is 1.52 billion and the EPS projection is $1.78.
The latest earnings call contained many nuggets supporting the expectation of further growth for Matrix.
"Expansion in the New England, Long Island and the West Coast are priorities for our (electrical infrastructure segment) team and progress on these plans are tangible."

"Regarding power generation Matrix NAC expects bid activities to be high till the end of the fiscal year and beyond as the number of potential gas power projects in the development phase continues to expand."

"In our core geographies we are extending existing contracts with maintenance customers and winning work from competitors."

"We are also starting to see in-roads in the upstream oil and gas sector. We are actively bidding opportunities in this space and are excited about the possibilities for our capital construction group."

"While growth is centered primarily on our large crude storage projects, tanks and full terminals, we continue to see increased interest in our specialty vessel offering including Cryogenic and refrigerator storage related to LNG and Natural Gas liquids."

"In addition we are seeing strong demand across the U.S. and Canada as the energy industry plans massive infrastructure construction to support the gathering transportation processing and eventual sale crude of gas, gas liquids and refined products."

"Our mining group continues to expand the brand as a result of finding a critical niche in a market dominated by small local contractors and large global EPC firms."

"In general, the market outlook remains strong for the development of additional fertilizer-related businesses and our experience in engineered expertise is creating key differentiators for our value proposition."
In the call, Matrix CEO John Hewitt credits the opportunities and growth to the following summary:
"Customers like our diverse service offering, brand strength and historical project execution success."
Yet, even with these optimistic projections, the recent share price still yields a forward P/E over 20.
Other factors could influence what is considered a fair value for the stock. A stock buyback program would decrease the outstanding share count and positively impact the EPS. However, companies typically purchase shares when it is believed the share price is under-valued. The latest annual report details Matrix Service's current program status. Between recent stock prices and the program expiration, it would be easy to surmise that stock buybacks are a moot point for Matrix.
"On November 6, 2012, our Board of Directors approved an extension of a stock buyback program that allows the Company to purchase up to 2,113,497 shares provided that such purchases do not exceed $25.0 million in any calendar year through the end of calendar year 2014 if sufficient liquidity exists and we believe that it is in the best interest of the stockholders."
Another factor for potential investors is a dividend, or in other words, the concept of being paid to hold the stock. Matrix Service does not pay a dividend. Again, the latest annual report details its stance on dividends.
"We have never paid cash dividends on our common stock, and the terms of our Credit Agreement limit the amount of cash dividends we can pay."
Yet another option, and potentially the hardest, for positively impacting EPS is broader and much more difficult to execute. That option is to increase profit margin. Especially in an environment of rapid growth, it is challenging to hold the reins on costs and spending. In the 2014 third quarter call, management validated that, indeed, growth does cost:
"The increase was primarily related to second quarter acquisition of Matrix NAC, higher costs to support the organic growth of the business and higher short term and long term incentive costs as a result of the improved performance of the company. In addition, we're continuing to invest in improvements of our systems and in process and employee development."
The chart below relays how varied a margin Matrix has managed. It is notable the trend line is moving upward.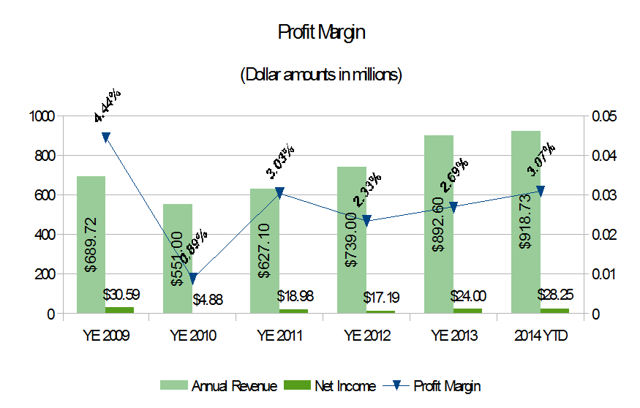 Projecting a similar move of approximately .375% for fiscal 2015 results in a recalculation of the EPS projection to $1.99. Just such a move may not be unrealistic considering the North American Construction acquisition is not yet fully integrated with Matrix.
"We expect Phase I to be complete by mid calendar year 2014 which generally includes IT, accounting HR and safety and infrastructure."
Should fiscal 2015 EPS start nudging $2.00, the current share price seems much more reasonable.
Summary
There is no doubt - hindsight is 20/20 and Matrix Service would have been a home run (yes, I changed sports analogies) had the investment originated a year ago. While GMI Ratings can not guarantee an honest company is a thriving company, it would be a grueling task to argue Matrix Service does not rate as both. For current shareholders, continuing to hold the stock makes sense especially if one has already recouped their original investment. For potential investors, a shrewd approach would be to build a position via routine market pullbacks.
In basketball, a miss is a miss and just a miss. But, a shot not taken is always a miss. In stock-picking, shots not taken are often worth a healthy critique. It certainly doesn't mean one shouldn't take the shot should the opportunity arise again.
Disclosure: The author has no positions in any stocks mentioned, and no plans to initiate any positions within the next 72 hours. The author wrote this article themselves, and it expresses their own opinions. The author is not receiving compensation for it (other than from Seeking Alpha). The author has no business relationship with any company whose stock is mentioned in this article.
Additional disclosure: I intend to present MTRX to my investment club and will recommend investment should the price pull back to the $33-$34 range.