Back in December, Kinder Morgan [(NYSE:KMI), (NYSE:KMP), (NYSE:KMR)] bought 9 Jones Act qualified tankers from PE firms Blackstone Group and Cerberus Capital Management for $962 million. While a relatively small acquisition in dollar terms, this move represented a major shift into marine transportation of energy products by the company.
Kinder Morgan to add another tanker to its fleet
On June 16, Kinder Morgan Energy Partners announced that it was ordering yet another Jones act vessel for its tanker fleet. The new tanker is to be 50,000 deadweight tons, be LNG conversion ready, and have a total cargo capacity of up to 330,000 barrels. The vessel will be built at the General Dynamics NASSCO shipyard in San Diego, with construction expected to start during Q4 2015 and delivery slated for Q2 2017.
Kinder Morgan already has four sister vessels with similar specs under construction at NASSCO, making this vessel the fifth. When combined with the five tankers already in operation, Kinder Morgan will have a total of ten vessels in its tanker fleet by 2017.
Construction costs were not disclosed in the press release. However, we can estimate them using the previous transaction. As noted above, Kinder Morgan bought nine tankers last year for $962 million. In addition, the company anticipated needed to spend a further $214 million to complete construction of the vessels still not in operation. Doing some math, this comes out to about $130 million per vessel.
Once fully operational, the initial nine vessels were expected to add roughly $140 million in annual EBITDA. Assuming that the tenth is similarly profitable, this figure should increase to about $155 million. It is not known if KMI plans to waive IDR payments as was the case with the earlier transaction.
Why is Kinder Morgan expanding into marine transportation?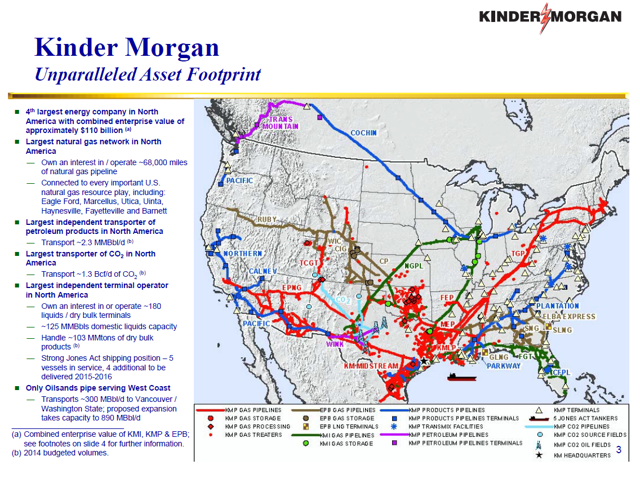 As the largest midstream company in North America, Kinder Morgan needs to offer sufficient options to its customers for the movement of crude oil and the related products.
At the moment, pipeline capacity is maxed out in certain key markets in the US. In some areas such as the Gulf Coast and Mid-Continent, there is too much crude oil, depressing prices. On the other hand, areas such California and the East Coast, there is insufficient oil coming in via pipeline, requiring its transportation via rail and or tankers. As a result, this has led to an explosion in demand for Jones Act qualified vessels.
What is the Jones Act? Basically, this is legislation requiring that "all goods transported by water between U.S. ports be carried on U.S.-flag ships, constructed in the United States, owned by U.S. citizens, and crewed by U.S. citizens and U.S. permanent residents" (source).
These new vessels will add yet another cog in Kinder Morgan's massive energy infrastructure footprint. As noted by Rob Kurz, vice president of Kinder Morgan Terminals and president of KMP subsidiary American Petroleum Tankers (NYSEMKT:APT):
"We are delighted to build an additional tanker (supported by a long-term charter with a major shipper), which clearly demonstrates Kinder Morgan's ongoing commitment to marine transportation of crude oil, condensate and refined products in the United States domestic trade, commonly referred to as the Jones Act,"
Furthermore, Kinder Morgan will taking on very little risk in building the vessels. The company has signed multi-year contracts with major oil producers, securing years of fee-based cash flows.
Conclusion
The addition of another tanker to the Jones Act fleet likely confirms Kinder Morgan's initial investment into marine transportation. While I am sure critics will question the move and its merits, it is clear that the company is seeing robust demand for the service, warranting the expansion.
Kinder Morgan, be it via KMP, KMI, or KMR, remains one of the best options for income and moderate growth in the large-cap midstream MLP sector. While the stocks have rallied recently, the all remain undervalued compared to relevant peers.
Disclaimer: The opinions in this article are for informational purposes only and should not be construed as a recommendation to buy or sell the stocks mentioned. Please do your own due diligence before making any investment decision.
Disclosure: The author is long KMI. The author wrote this article themselves, and it expresses their own opinions. The author is not receiving compensation for it (other than from Seeking Alpha). The author has no business relationship with any company whose stock is mentioned in this article.