AVNR could end up being the most volatile stock of all the biotech stocks up for approval during October into their Oct 30th PDUFA date. This will provide trading opportunities for investors and also have the opportunity for the most promising gains. AVNR investors saw their stock trade as low as $2.64 on 9/16. One of the reasons for this could potentially be attributed to the significant increase in short position from 8/31 to 9/15. During that period the percent increase in short position at the end of 9/15 was 37%. That was an increase of 26% from an 11% increase at the start of 8/31. From 8/31 to 9/15 the short increase was almost 3 million shares (2.83 mill) from 7.64 million to 10.48 million.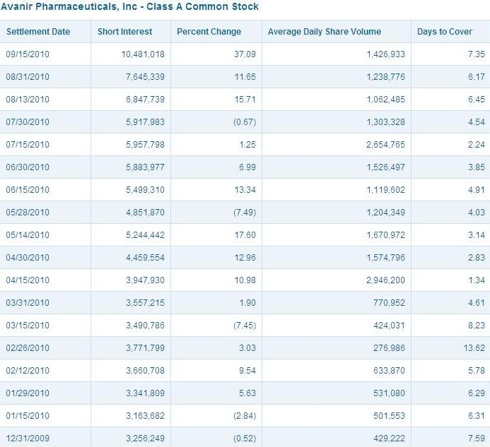 The total shares that were traded from 8/31 to 9/15 were 15.64 million in 11 trading days. From 9/16 to 9/24 there were 16.48 million shares traded in only 7 trading days. What we saw was a lot of covering and volatility in the stock which caused the sharp moves higher in the stock. Sept 23rd and Sept 24th have been the highest volume days of the month as they traded 3.7 million and 3.8 million respectively. On the 23rd Avanir traded in a wide range of 15 pts from 2.92 to 3.07 closing near the high of $3.06. On the 24th the stock also traded in a wide range of 16 pts from $3.07 to $3.23. This extreme range the past two trading days signals covering as well as the increased confidence of investors that Avanir could obtain approval for AVP-923.
We will continue to see covering as the average daily share volume on Sept 15th was only 1.42 million. We have seen almost 3x the daily volume in only two days (23rd and 24th) which is where we saw the greatest gains on the stock. The stock closed at a high of $3.23 on Friday and traded as high as $3.25 in the afterhours signaling to investors that there are still more shares that need to be covered particularly if the high volume interest continues. From the close on 9/15 it would take a little over 7 days to cover the shares that have been shorted.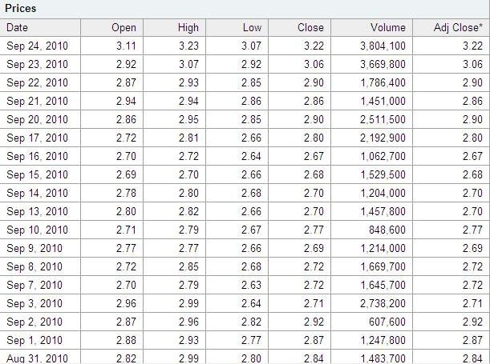 Based on the trading pattern and high interest in the stock by investors the past few days, it would seem that this stock has a lot more appreciation to occur as we move into their Oct 30th PDUFA date.
Disclosure: Long AVNR