Target (NYSE:TGT) is on the operating table, but few are talking about the real reason why. I'd like to share my diagnosis with you and look forward to your comments.
Declining same-store sales and DOMA
Target is going through a difficult time. To be fair, other large box discount retailers like Wal-Mart (NYSE:WMT) and Big Lots (NYSE:BIG) have also been suffering from declining same-store sales. Wal-Mart's volume dropped for several reasons; the three most salient are labor issues, international bribery lawsuits and a large reduction in government subsidies through food stamps. Big Lots has a decent business model, but the strategies employed to grow market share were as old as the inventory.
Target had none of these issues. It had the highest margins in the industry; it was known for its trends in fashion, and fresh merchandise; it had high scores in corporate governance, and a well-known policy of employee engagement, but most of all the company was a paragon for diversity and progress which is why Target's stance on the Defense of Marriage Act (DOMA) appears misaligned with the company's culture and brand.
Reduction in traffic
As you can see from the chart below, declining same-store sales was an issue prior to the data breach. In fact, the company started 2013 off with declining same-store sales of -0.6%.

Target Comparable Store Sales, Source: Target
Same-store sales is a function of ticket and volume; an increase in either will increase sales. Take a good look at the chart below from the 2013 third quarter 10Q. It provides a breakout of same-store sales prior to the data breach, the number of transactions is the largest contributor to the decline. The number of units per transaction also went down by 1.1%. Without the large increase in selling price per unit to offset the decline, same-store sales would have been negative in Q3.

This proves that something is driving down:
the number of transactions, and
the number of units per transaction
Both of these issues are contributing to an overall decline in price and earnings.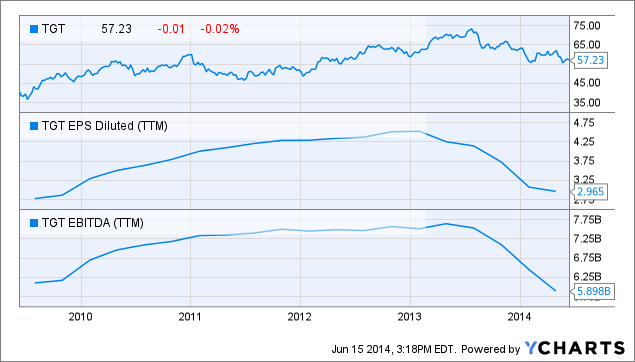 On the 2013 Q3 earnings call the CEO Gregg Steinhafel, who stepped down last month, blamed the slowdown on the economy:
As we survey our guests and monitor the overall consumer environment, we continue to see anxiety regarding the economy and the ability to stay within household budgets, particularly among lower and middle income consumers....

In the third quarter we were pleased to measure a year-over-year increase in the number of guests shopping with us, but this increase was offset by a decrease in their average shopping frequency.
So, even though more customers were coming in the door, they weren't spending as much money which caused transaction volume to decline.
Q1 also saw a decline in same-store sales. Bob Drbul, an analyst for Barclays, asked the following question on the Q1 2013 earnings call regarding traffic:
I guess the question that I have for you is twofold, but it revolves around traffic. When you look at the initiatives that you have in place, Red Card and Pfresh, and I understand the seasonal piece, Q1 this year versus last year, but when you think conceptually, traffic was down in the fourth quarter and that was down again in the first quarter, how do you sort of get us comfortable with essentially the efficiency and the effectiveness of these initiatives over the longer term period? And the second question that I have is the lower comp assumption for this year, can you maybe just break down the traffic component in that new 2-2.5% expectation?
The twofold question was answered by three different people, but the response provided no real answers, only an acknowledgement that the analyst was right in his assessment of the situation. The one answer the CEO kept coming back to was weather, which was "unseasonably cold", and the payroll increase.
Greg Melich from ISI Group asked another question about traffic on the Q2 earnings call:
And then second, turning to the U.S., Kathryn was helpful to go through all the initiatives you have and it seems like the issue that is bigger than anything is traffic staying negative versus what you guys would have probably hoped or expected a year or two ago. If we think about the traffic side of it more specifically, what in the back half do you think is going to help stabilize and improve that traffic trend or is it just a way it is now that [there's] this trip consolidation and that's the way the consumer is.
Kathy Teskija, the EVP of Merchandising, had this to say:
You are right Greg. Traffic was our issue. And I do think that that is the way it is right now. We are seeing a lot of trip consolidation across all guests.
In Q1 the issue was bad weather and payroll tax increases, in Q2 we get a little more detail -- the issue is trip consolidation.
So, there are more guests coming in the door, but they're not buying as much, and those that are buying are consolidating trips -- and this was prior to the data breach.
The power of Pink Money
It is estimated that Pink Money, the buying power of the LGBT community, is nearly $800 billion. It's hard to apply this number directly to declines in same-store sales for any retailer. We do know that, at Target, the issue appears to be related to customers making fewer trips to the store. We also know, from a report published by Nielsen in early 2013, that the LGBT community, especially those in same-sex partnered relationships, make very good retail customers. Not only do they spend more, but they make more trips to the store which increases total annual spend by 25% on consumer goods. The full report is below:
The buying power of same-sex partnered households is significant when compared to the average U.S. household, which offers considerable opportunities to manufacturers and retailers that are able to satisfy the need states of these consumers.

Nielsen information measuring the shopping trips and purchase behaviors of participating households shows that on any given shopping trip, same-sex partnered households spend at comparable rates to the average U.S. household ($50 average spend per trip vs. $46 average spend per trip for all U.S. households). But, same-sex partnered households make 16 percent more shopping trips than the average U.S. household over 52 weeks (173 average shopping trips vs. 149 average shopping trips for total U.S. households).

These additional shopping trips make for a marked difference in total spending. Among same-sex partnered households, average annual spending on consumer packaged goods ((NYSE:CPG)) is 25 percent higher than that of the average U.S. household ($8,651 vs. $6,898). Within the LGBT community, male same-sex partnered households shop even more frequently than female same-sex households (182 trips vs. 163 trips), raising male same-sex household annual CPG spending to $8,943- nearly 30 percent higher than the average U.S. household.
Perhaps the real reason Target is experiencing declines in traffic is because the mix of customers is changing as those in the LGBT community, and those in support of the community, began shopping somewhere else.
How is Target doing today?
I've been using 2013 numbers, but let's take a look at how Target did in the first quarter of 2014:
Q1 2014 sales increased 0.2% to $16.7 billion from $16.6 billion last year.
Comp sales decreased 0.3% in Q1, compared to a 0.6% decrease last year.
Q1 EBITDA is down 42% and net earnings of $418 million, or $0.66 per share were down 16% from last year.
Q1 adjusted EPS is $.70, a decrease of 13.9% from $0.82 in 2013.
Net/net, comp sales continue to decline and earnings are taking a dive. As a result, the company's stock price has declined significantly over the past year.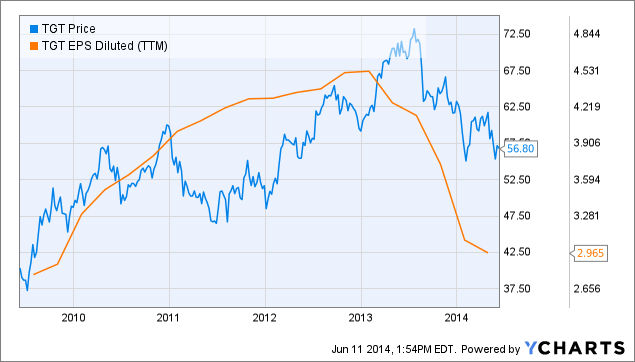 Expectations for the full year were guided down on the most recent financial report. For full-year 2014, Target expects adjusted EPS of $3.60 to $3.90, compared with prior guidance of $3.85 to $4.15. It is important to note that the cost of the data breach is not included in this estimate.
DOMA, Pink Money & Pride
Before I get into the specifics behind this debate I would like to acknowledge what Target is doing right. The company should be applauded for holding off on stock buybacks until it gets a better handle on data breach expenses. This may seem like an obvious action, but it's not uncommon for companies to borrow money for buybacks, especially when EPS is trending down.
Let me also applaud Target's leadership for making the bold decision to move forward with a new CEO. The interim CEO laid out the following three priorities on the Q1 earnings call:
Growing traffic and sales in the U.S. segment through "newness in our merchandising and presentation".
Improving Canadian segment performance through fresh thinking about how to improve (read: new management).
Accelerating the company's digital presence.
These are all noteworthy priorities, but these initiatives offer nothing new to the current strategy.
There are a number of Target brand initiatives, such as Made to Matter, which feature hand-picked organic and sustainable brands to showcase; there's also the launch of Peter Pilotto for Target. These are great initiatives, and Target has had "great initiatives" for the past 18 months, but it's not working anymore. What worked in the past isn't working now.
The decline of same store sales began in Q2 of 2012, roughly two years after Target was blasted for contributing $150,000 to MN Forward. MN Forward is a group that supported Tom Emmer's bid for Minnesota governor; Emmer is an ardent anti-gay supporter. The backing prompted a backlash from the LGBT community.
Steinhafel was specifically targeted as spearheading the decision and had this to say in his defense when pressed on the issue:
Our position at this particular time is that we are going to be neutral on that particular issue, as we would be on other social issues that have polarizing points of view.
Clearly, Steinhafel believes making a stance either way is not in the best interest of the company.
Unlike Steinhafel, Cummins' (NYSE:CMI) vice-president and CEO at the time, Marya Rose, didn't mix words when she said the amendment to ban gay marriage, "sends a negative message that Indiana is not a place that welcomes people of all backgrounds and it jeopardizes our ability to be competitive in global markets and to attract and retain top talent." Incidentally, Cummins has a 1-yr price return of 35% compared with Target's -18%.
In response to the criticism received over its campaign contributions Target began advertising its wedding registry service with the ad below. At the bottom of the ad is the caption "Be Yourself, Together".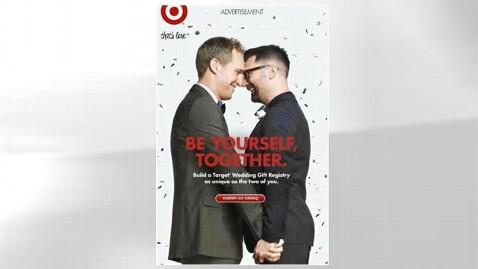 The above Target ad promoting its wedding registry ran in April 2012
The company also sold gay pride T-shirts online during June's Pride month and stocked its shelves with LGBT specific greeting cards. The difference between Target and Cummins is that Target is perceived to be in support of making money from the LGBT community without supporting the group's civil rights.
Companies that are openly in support of marriage equality include: Apple, Microsoft, Google, Intel, Amazon.com, Facebook, Salesforce.com, Qualcomm, Zynga, eBay, Pfizer, Aetna, Alcoa, Nike, Starbucks, Citigroup, Morgan Stanley, and Thomson Reuters.
The pressure to 'take sides' began in 2011 when the 70 companies below filed a brief against the DOMA on the grounds that it creates an administrative financial burden because it forces companies to treat employees differently based on sexual orientation.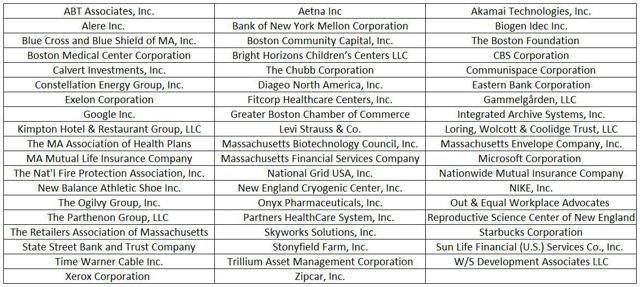 The list grew to nearly 300 by 2013, but Target is still taking a neutral stance.
Conclusion
Supporting the LGBT community is more than just "nice", it's a business imperative for retailers. According to Bob Witeck, a consultant to Fortune 500 companies on LGBT issues, young people, in particular, are in support of same-sex marriage, adding that "people 35 and under are future customers and future employees." According to Target, their shoppers have a median age of 46 -- the youngest among major retailers -- and these shoppers are also listening to this debate.
Some may argue that just as many customers are gained from anti-gay policies. After all, Chick-fil-A grew sales by 12% in 2012, a year when the CEO came out against same-sex marriage, but the tide is turning.
Whether the perception is real or not, the brand has been damaged. Target has been downgraded by the LGBT community and those, like myself, that care about civil rights. This is larger than a boycott; it's the effect of 4 years of PR against Target by the LGBT community and fair or not, Target isn't making things easier for itself by having no stance on marriage equality rights. It may even be the reason Target was hacked in the first place. The group known as Anonymous, a loosely associated group of 'hacktivists' which originated in 2003, "hacked" both the Ugandan and Nigerian government websites due to their anti-LGBT policies.
Let's hope the new CEO for Target has enough sense to take a more progressive stance. I also hope this sends a message to corporate policy makers that staying neutral on political topics isn't always the best course of action, especially if it conflicts with brand image.
On a positive and somewhat ironic note, Minnesota's current Governor Mark Dayton recently signed a marriage equality bill into law. Dayton is also the grandson of George Dayton, the founder of Dayton's which later became Target.
Disclosure: The author has no positions in any stocks mentioned, and no plans to initiate any positions within the next 72 hours. The author wrote this article themselves, and it expresses their own opinions. The author is not receiving compensation for it (other than from Seeking Alpha). The author has no business relationship with any company whose stock is mentioned in this article.