Primoris Services Corporation ("Primoris" or the "Company") is a specialty engineering and construction ("E&C") company. The Company's vertical niches are numerous, and include pipeline (natural gas, refined product, and wastewater), power plants, petrochemical facilities, refineries, parking structures, highway and bridge, airport runways, and marine facilities.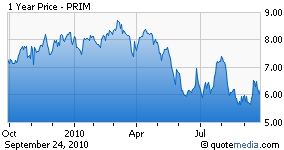 Today, the market values Primoris at just 7x forward earnings, a multiple that represents a discount of over 40% to its publicly-traded comparables (or roughly 70% upside if it were to trade in-line). Normally, such a discount would imply that Primoris' operations were inferior to its competitors; however, in this case the opposite is actually true. Primoris consistently generates returns on both its invested capital and equity that are well in excess of its competitors in aggregate. For example, in its last full fiscal year (calendar 2009), Primoris generated a return on both its invested capital and equity in excess of 40% (note: this calculation excludes the December 18, 2009 acquisition of James Construction Group, detailed below). While a handful of its competitors also generate attractive returns, others struggle just to earn back their cost of capital. The bottom line is that, in this regard, Primoris' multiple discount is completely unjustified.
Primoris was privately held until July 2008, at which time it merged into a publicly traded SPAC, Rhapsody Acquisition Corp. There were two primary drivers for going public: 1) to provide an acquisition currency for the Company and 2) to beef up the Company's capitalization to facilitate its ability to bid on larger, more complex projects. Primoris has a long history of successfully integrating acquisitions, each of which has brought new, unique skill sets to the Company. The most recent acquisition was the James Construction Group ("James"). James, acquired in late 2009, increased the Company's revenue base by roughly 65%, brought a new core competency in heavy civil construction, and significantly diversified the combined entity's geographic concentration from what had traditionally been a West Coast focus. This diversification should help Primoris better ride out region-specific macroeconomic vagaries.
Primoris' focus on niche markets requiring unique skill sets holds the key to its superior returns on capital. The Company generally avoids generic, highly contested bid situations and has demonstrated consistent discipline on the pricing side. While this can have a negative impact on near-term revenue prospects, it ensures that the Company's productive capacity remains available for higher return projects as they materialize. Primoris' business also generates an enviable working capital cycle, with a negative net working capital balance (ex-cash). During periods of top line growth, this ensures that the Company's cash flow will exceed its net income, providing it with additional firepower for new project bids.
Primoris' senior management team has an average of 25 years experience with the Company. In aggregate, they own over 50% of the shares outstanding, ensuring that their goals are aligned with outside shareholders. In August of this year, multiple members of the senior management team executed open market purchases of Primoris' stock.
So with all these positives, why does Primoris trade at such a steep discount to its competitors? I believe that there are two reasons. First, the Company's history as a SPAC has left a convoluted capital structure. There are roughly 3mm legacy warrants still outstanding from the original SPAC transaction. Fortunately, these warrants, which carry a $5 strike price, expire in early October and, as such, will likely all be converted to common shares within the next several weeks. This $15mm inflow to the Company will leave it in a net cash position amounting to roughly $0.75/shr, or over 10% of the current share price. In addition, the conversion will add another 3mm shares to the public float, which brings me to the second driver of the current discount. With over 50% of the Company closely held, the public float is limited and trading can be light. Average daily volumes of roughly 50,000 shares aren't sufficient for many institutional shareholders to build meaningful positions. The additional shares from warrant conversion will help in this regard; however, at some point management may consider doing an offering of secondary (insider) shares in order to increase liquidity further. Doing so would increase trading volumes, and likely help to narrow the valuation discount.
For those who can stomach the relative illiquidity, Primoris represents an outstanding buy today at 7x earnings. A 7x multiple is typically indicative of either a low quality business, or one in either perpetual steady-state or even terminal decline. Primoris fits neither description. As described earlier, this is a high return business with a bright future. In fact, Primoris has grown its backlog each of the last two quarters (after closing the James transaction), and recently announced deals (post-2Q) that took the backlog over the $1bn level. This provides a high level of comfort with respect to future revenues and income.
Disclosure: Long PRIM