In the last two years, investors have sought the safety of stable Large Cap stocks amid a rough economic environment to limit downside risk, while avoiding smaller cap companies that have a higher chance of failing. Despite that fact, we believe there are a select numbers of small caps that provide a compelling investment opportunity and are worth considering. In general, small caps tend to receive less analyst coverage, and thus are more prone to mis-pricings, giving investors the opportunities to find vastly undervalued gems. In addition, these smaller companies have much more room to grow than large caps. What are the chances of GE, Procter & Gamble (NYSE:PG) or Wal-Mart (NYSE:WMT) being a three or four bagger? Quite unlikely. In fact, small caps have historically outperformed the large caps. Over the last ten years, the Russell 2000 Index posted approximately a 26% return, versus a 21% decline in the Standard & Poor 500 index. Taking a longer term perspective, small stocks have outperformed its larger counterparts 19 out of the last 30 years.
Peter Lynch once said "Big companies make small moves, small companies make big moves."
A look at the 10 year performance of Russell 2000 Vs. S&P 500

source: www.finance.yahoo.com
If your portfolio is filled with well-established mega-cap stocks and you are looking to diversify by adding new names from the Russell 2000 that are poised to make a big move, below is a list of companies with the most attractive valuations within the index. All of the attractive companies listed below also look attractive relative to sector peers based on The Applied Finance Group's (AFG's) default Buy/Sell Recommendation, which factors in each companies Economic Margin, Intrinsic Value, and Management Quality Score. AFG's valuation techniques and Economic Margin methodology have proven to be effective at identifying companies set to outperform their benchmarks and sector peers across all sectors, styles, countries and size classifications.
When creating our list of attractive small cap stocks we looked for companies that fit the criteria below.
• Profitable from an economic standpoint
• Expected to improve their economic profitability
• Wealth-creating management teams
We also have provided a list of potential torpedo small cap stocks that do not fare well in one or more of the above criteria to help avoid some of the riskier stocks in the index that have some of the characteristics of stocks that tend to underperform. As our historical performance shows, AFG's Buy and Sell recommendations have performed well over time and there is a substantial spread between the companies that we identify as attractive and those that we label unattractive.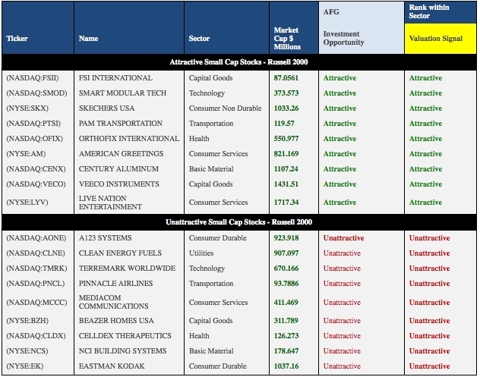 source: www.economicmargin.com
One company from our list that we especially like is SMART Modular Technologies, Inc. (NASDAQ:SMOD) and here are a few reasons why.
SMOD: SMART Modular Technologies (WWH), Inc. is a leading independent designer, manufacturer, and supplier of value added subsystems primarily to OEMs, offering more than 500 standard and custom products for the computer, industrial, telecom, and networking industries. The company is an emerging supplier in the Solid State Storage Drive (SSD) Market, providing DRAM modules as well as Flash memory cards and modules. The company offers its products worldwide, and its primary customers include HPQ (21%), Cisco (NASDAQ:CSCO) (15%), and Dell (NASDAQ:DELL) (15%). Products that incorporate SMOD's subsystems include servers, routers, switches, storage systems, workstations, PCs, notebooks, printers, and gaming machines. The company's revenues in Q310 were derived primarily from Other Americas (47%), a majority coming from Brazil, with the U.S. (29%), Asia (19%), and Europe (5%) contributing as well. The company is currently benefitting from the ramp of Solid State Drive design wins and faster than expected traction in its flash memory card business in Brazil. Due to the significant interest and demand for SSD's, SMOD plans to invest heavily in R&D to secure its position in this growing market, saying R&D expense could double by the end of FY11 from current levels.
For SMOD's fiscal third quarter, the company reported net income of $14.9 million, or $0.23 per share, up from a net loss of $2.4 million, or $0.04 per share, a year ago. Excluding stock option expenses and the divestiture of a business, the company would have earned $0.26 per share. Total revenues were $201.2 million, up more than double from $91.6 million last year, driven by demand across multiple end markets and a continued stable pricing environment for DRAM products. Both figures handily beat analysts' estimates for EPS of $0.18 and total revenues of $180.7 million. Management guided Q410 revenues between $200-$210 million and EPS of $0.22-$0.24, again beating the Street's expectation of revenues of $185 million and EPS of $0.20. Our target price is $11.21.
Here is an interesting chart from SMOD's most recent investor conference showing IDC's projections for the Solid State Drive Market.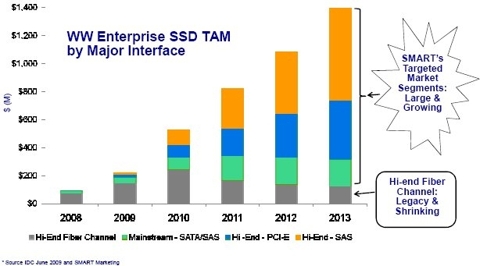 Disclosure: None