Ford (NYSE:F) has shown solid upward trend over the last month due to the continued growth from the global operations. The company has reported impressive growth numbers which have attracted strong interest from investors - over the last 30 days, the stock is up about 5% and year-to-date Ford is up over 7% -- we have maintained that Ford will be a good pick in the sector, and we believe there is still room for this stock to rise. In our previous articles, we shed light on many different aspects of the company, including its demand and supply situations, strengths and weaknesses, and its auto leasing division. In this article we will focus on the following areas: The current situation in the Chinese market, Ford's overall growth and market share and a glance on the upcoming F-150.
Strong Growth in China Will Continue
China, the world's largest automobile market with 22 million vehicles sold annually, continues to show strong growth. In May, the country's total sales increased by 8.5%. Ford has been very aggressive in catering this strong Chinese demand and is effectively capitalizing on this growth. In the month of May, Ford posted sales growth of 32% as compared to 9.2% for General Motors (NYSE:GM). Earlier this year, the market share of both Ford and GM was believed to be 15% each. However, the disparity in sales growth suggests that Ford's market share in China is growing rapidly. The company first targeted a 5% market share in China in the last quarter of 2013. Based on the current figures, its growth strategy is proving to be remarkable.
Now that we have talked about the current performance, let us take a look into the future of this market. The Automobile market of China is predicted to grow at 8-10% as compared to the last year's growth rate of about 14%. Ford's aggressive market penetration strategy with a $5 billion investment, which started in 2011, has allowed it to achieve the current growth in China. By the end of this decade, Ford anticipates that 40% of its sales would come from China by 2020. By looking at the current figures, if this trend continues, it is very much possible that the company would achieve it. Currently, sales from China make up for a very small part of Ford's overall sales, and the company reports it under "all other" section. Therefore, 40% sales from China is quite a bold statement. However, the trend in the sales growth is extremely encouraging and the target might be achievable if the company continues the current growth rate. The table below shows the geographic distribution of the Ford's total sales.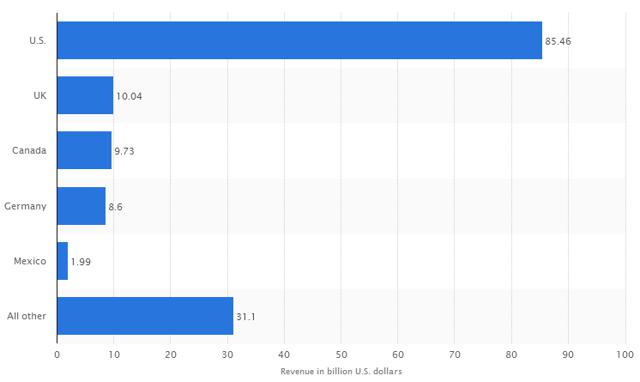 Source: Statista
By the end of this year, Ford also plans to launch Lincoln MKC in Chinese market. However, Lincoln will not be manufactured in China and will be exported from the U.S., which would increase the prices of Lincoln in China. Besides, there are plenty of luxury cars being manufactured in China from GM and other vendors. This move is risk aversive for Ford. If the company sees demand from Lincoln upon its launch, it will have a choice to manufacture the brand in China. In case of low demand, the company can keep exporting Lincoln with far lower fixed cost. The profit margins of luxury vehicles are greater - if the Lincoln brand is successful in China, the company can enhance its overall margins.
Will Ford F-150 Revolutionize the Truck Category?
Pickup truck sales grew significantly this year and GM and Chrysler capitalized on it heavily. Ford fell behind due to its focus on the new F-150. It is important for trucks to be able to carry heavy load or tow other vehicles while keeping a fair mileage. Therefore, the truck's weight is a very important factor along with its durable body. Ford is currently making its new F-150 series using aluminum for its body which will reduce its weight straight by 700 pounds. The density of aluminum and steel greatly differ and aluminum can be used with a heavier gauge to make up for the durability that steel would give and still weigh less than steel. Aluminum has been used previously in Humvee which is known for its ruggedness and durability for military use. The company has run a few test for its new F-150 durability and remains confident about its new product.
Pickup trucks account for 27% of the total sales of ford. If the new F-150 is as durable and fuel efficient as Ford seems to believe it is; it will revolutionize the whole pickup truck category. Before the other companies can make the change, Ford should have at least the next year to enjoy a monopolistic market with this unique product. We will see a significant increase in its sales by 2015.
Conclusion
The growth prospects of the company are bright in the medium-long term. We maintain that Ford will be a solid long-term investment due to its global portfolio and strong growth in the Chinese market. Furthermore, as we discussed in our previous article, the recovering North American and European markets will further supplement the growth from the Asian and emerging markets.
Disclosure: The author has no positions in any stocks mentioned, and no plans to initiate any positions within the next 72 hours. The author wrote this article themselves, and it expresses their own opinions. The author is not receiving compensation for it (other than from Seeking Alpha). The author has no business relationship with any company whose stock is mentioned in this article.