By Matt McCall
The price of gold has soared to a new all-time high. Silver has rallied to its best level in 30 years. Even economically sensitive copper is sitting at the highest levels in five months. But they may not be the best investment in the world of metals as we head into the fourth quarter.
There is a group of 17 metallic elements often referred to as "rare earth" or "strategic" metals, and they are beginning to garner more attention. Unsurprisingly, China is at the center of the news. Rare earth metals are used in everything from batteries to wind turbines to cell phones to high-tech weapons. As technology continues to advance, several industries that rely on specific rare earth metals in cutting-edge products will move the world further into the 21st century.
The problem is that China produces approximately 97 percent of the world's rare earth oxides, which are the raw materials that can be refined into the usable rare earth metals. The Chinese Ministry of Commerce placed export restrictions on rare earth metals this year at a level that is 40 percent lower than 2009. This has many developed nations concerned about a shortage of the metals, and with demand increasing and supply unknown, prices are sure to continue higher.
Investing in Rare Earth Metals
Within the last year, two stocks in the rare earth metals sector began trading on major U.S. stock exchanges. Molycorp (MCP) is a Colorado-based company that operates the Mountain Pass mine in California. Outside of China, the mine is the most prolific rare earth deposit being worked, and has great potential. The one issue with MCP is that the mine is not producing at 100 percent, but the company has plans to get the mine up to speed, and has talked about expansion. At this time, MCP is the only miner of rare earth metals in the Western Hemisphere.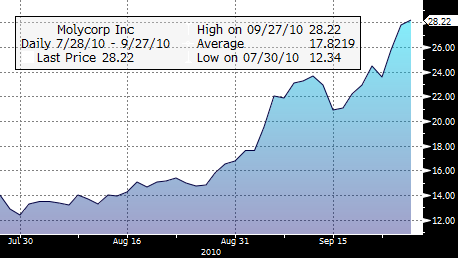 Fundamentally the stock has seen sales surge over the last few years. In 2008 sales came in at $2.1 million before jumping to $7.1 million. Analysts estimate sales will increase to $31.4 million in 2010 with earnings per share coming in at -$0.46. That loss isn't particularly concerning, as losing money is not uncommon for a small mining company that is ramping up its operations. Investors are definitely looking at the big picture too, because the stock has doubled less than two months after it began trading on the NYSE. The recent news has turned the stock into a momentum play and I am looking to buy on weakness near the low-$20s.
Looking north, Canadian-based miner Rare Element Resources (NYSEMKT:REE) is also getting into the search for the elusive metals. The company has a 100 percent interest in the Bear Lodge property located in Wyoming. According to the US Geological Survey, the land contains one of the largest deposits of disseminated rare earth elements in North America.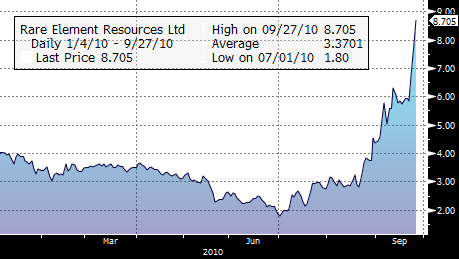 The company has yet to begin production, but drilling started in June 2010 on the Bear Lodge rare earths project. Drilling on a gold project also got under way in July, but the reason the stock has rallied from a low of $1.15 in July to a high above $7 is likely the rare earth metals' potential. REE, like any junior minor, is a speculative play that has the potential to turn into a big winner; however, chasing an unproven stock that is already up 300 percent in three months is not the best investment strategy. Similar to MCP, look for weakness if you are considering buying into REE.
Molybdenum
Thought not strictly speaking a "rare earth" mineral, molybdenum is definitely a strategic minor metal, and remains an intriguing investment opportunity. The base metal is used primarily by the steel industry due to its ability to fight off corrosion and heat. Molybdenum has the sixth-highest melting point of any key element and is considered one of the least corrosive metals. Because of this durability, it is consistently in high demand from industries such as energy and medical equipment.
General Moly (NYSEMKT:GMO) has interest in two molybdenum mines in Nevada, and once the production gets to full output, will become the primary producer of the metal. Because the company is in the exploration stage, it continues to lose money on a regular basis, but similar to most stocks in this sector, it's all about the future. Technically the stock has been within a trading range for the past few months and has solid support at the $2.85 level that must be held to validate the trend.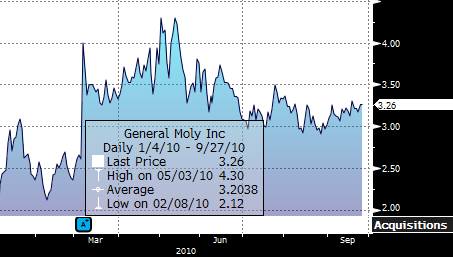 Silicon
Silicon metal and silicon-based alloys are used in making silicone compounds, aluminum and polysilicon, and is a core component of everything from medical implants to solar panels.
Globe Specialty Metals (NasdaqGM: GSM) is a producer that has approximately 156,000 metric tons of silicon metal and 72,800 metric tons of silicon-based alloys capacity. The company's clients are primarily focused on steel and iron manufacturing—economic sectors in the midst of recovery. The stock has rallied nearly 50 percent in 2010 and is sitting near an all-time high. Fundamentally the company differentiates itself from the other stocks in this rundown with one key statistic: It actually makes money.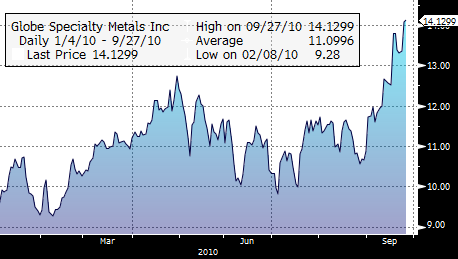 In mid-September, the company reported a quarterly profit of 9 cents per share, up from 2 cents per share a year earlier, on revenue that increased by 79 percent. Even more impressive, the company is running at capacity, with every furnace fired up to meet strong demand. A pullback to the $13 area would be where I would begin to build a position in GSM.
Investing vs. Speculation
Investing in niche sectors such as rare earth metals or molybdenum carries great upside potential, but comes with above-average risk. There is no doubt that the demand for the metals will continue to increase. On top of that, the run in gold and silver has put the entire metals industry in the spotlight. The question is, how long will investor attention last and are the secondary metals a fad or a long-term trend?
Personally, I believe that we're seeing the early stages of a long-term trend for most of the strategic metals. If I am correct, the upside for the stocks mentioned could be substantial, but investors must be willing to ride high volatility from month to month. This is why investors must wait to buy on weakness and not chase the rallies; there will be opportunities to buy.
Disclosure: No positions