Longwei Petroleum (LPH), an oil and gas distributor in the Shanxi province of China, has been consolidating for several months between $1.80 and $2.20.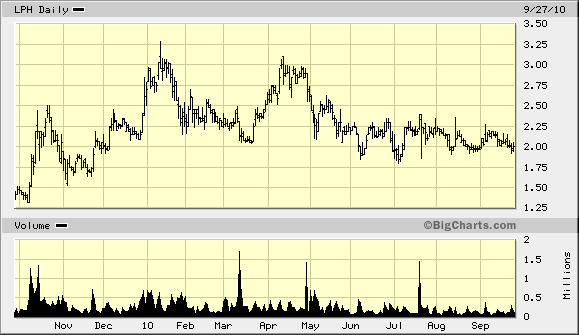 At the same time, Longwei has expanded revenues, increased gross margins, and established a new storage facility that should yield future benefits:
During the month of June, Longwei generated roughly $39 million in revenues, an increase of 130% from $17.0 million in June 2009. Gross profit in June of this year reached $8.1 million, up 138% from $3.4 million in the same period last year.

Total revenues for the fiscal year ended June 30, 2010 were $339.4 million, a 72% increase from fiscal 2009 revenues of $196.8 million. Sales figures for the fiscal year ended June 30, 2010 surpassed management's previously stated fiscal 2010 guidance of $310.8 million by 9.2%. Gross profit for the twelve-month period ended June 30, 2010 was $68.5 million, up 119% from fiscal 2009 gross profit of $31.3 million.

"We are very pleased with our financial performance in June and over the last few months, thanks in large part to the quick ramp-up of business at our new Gujiao storage facility," said Cai Yongjun, President and CEO of Longwei. "Building on our strong growth this past year, we expect sales in fiscal 2011 to exceed $500 million. The outlook for our industry and economic environment is promising, as China's rapid economic growth recently propelled it past Japan as the world's second largest economy in terms of GDP. Coupled with China's growing dominance in the automobile market and strong industrial growth in our operating region, Longwei is in an ideal position to capitalize on the boom in oil demand.
The interim report just addressed revenues. Longwei has yet to publish profit numbers for the fiscal year ending June 30th. In the third quarter LPH posted $.10 fully diluted earnings ($.14 basic earnings). There is a large warrant overhang with a $2.25 strike, so investors should focus on the fully diluted numbers.
I bought a little LPH today, thinking that a strong fourth quarter report could push it out of its several month consolidation. Because it was a preemptive purchase, I used a smaller than normal position size. If it does break out, I intend to add size.
DISCLOSURE: Long LPH