Warren Buffett first purchased the shares of Coca-Cola (NYSE:KO) in 1988, during which the company had its earnings reported 2% lower than the previous year and traded at PE ratios of 14-19. Pundits at that time were skeptical about his investment decision and the premium he paid on the shares. Nevertheless, time has proved that Buffett was right in his investment in Coca-Cola. That has reminded us the importance of investing hinges not only on analysing current state and data, but also on envisioning the future and growth. In this piece I am going to lay out the reasons why Buffalo Wild Wings (NASDAQ:BWLD) is a great growth company from fundamental perspectives.
Business overview
BWLD is a restaurant group that provides its guests with welcoming neighborhood environments and extensive multi-media systems for enjoying sports events. Its menu mainly features chicken wings with signature sauces and seasonings - traditional and boneless wings presently accounts for over 40% of its restaurant sales in aggregate. There are more than 1,010 Buffalo Wild Wings locations in the United States, Canada and Mexico.
Valuation
What deters investors from purchasing the shares of BWLD today may be its "lofty" valuation. The trailing PE ratio of the stock is currently 34.68, a pretty large number compared to its industry peers. However, taking one step forward and look at the PEG, we would find that the stock is not that expensive. Its ratio is well below the industry average. Its price is actually justified by the fast pace of growth of business operations.
| | | |
| --- | --- | --- |
| Company | | PEG |
| Buffalo Wild Wings | | 1.72 |
| McDonald's (NYSE:MCD) | | 2.39 |
| Starbucks (NASDAQ:SBUX) | | 19.67 |
| Yum! Brands (NYSE:YUM) | | 2.26 |
| Bloomin' Brands (NASDAQ:BLMN) | | 0.86 |
| Chipotle Mexican Grill (NYSE:CMG) | | 2.55 |
| Panera Bread (NASDAQ:PNRA) | | 1.33 |
| Average | | 4.40 |
(Source: Finviz.com, calculated by using closing prices on 13 June)
The following slides show how strong the company has been improving its business operations, in terms of the number of restaurants, revenue and net earnings. The company has achieved CAGRs of 25% and 24% in its revenue and net earnings respectively for the last five years. What's more, the management just raised its full year guidance of 2014 and expected an earning growth of 25%. In my opinion, this guidance is very conservative as the net earnings in Q12014 already increased 72.9% year-over-year.
(Source: Investor presentation on analyst day of 2014)
Outlook and catalysts
1) Better weather and continuing sports fever
Despite the severe weather conditions in the first quarter of 2014, the Company still managed to record same-store sales growth of 6.6% and 5.0% at company-owned restaurants and franchised restaurants respectively. With improved weather, I believe that sales growth can be even faster in coming quarters. Furthermore, the first quarter results were driven by the Super Bowl and Winter Olympics. Entering into 2Q2014, the NBA playoffs, the NHL playoffs and the World Cup will definitely have a positive impact on restaurant sales. The impact of the World Cup can be better than expected because the time zone of Brazil is relatively close to that of the U.S. and the popularity of football has actually increased in the U.S. in recent years.
2) Business expansion and product developments
The management of the company holds a good track record on bringing about reforms of business operations. For instance, it changed its menu and started to sell customers chicken wings by portion instead of number in July 2013. This move has significantly reduced its cost of sales figures, and the company will still have the year-over-year cost-of-sales benefit in the results of 2Q2014.
Moreover, the company expanded its business through addition of a new brand, PizzaRev. It launched its first PizzaRev franchise in Hopkins, Minn., in suburban Minneapolis. The new restaurant is the first outside of California for the build-your-own artisanal pizza concept. Customers can craft their own" 11" artisanal-quality pizzas loaded with 30+ fresh, premium ingredients of their choosing. In addition, the company aims to enhance customers' experience by developing new food products and adopting the use of tablets on orders and payments in restaurants.
3) Healthy balance sheet positions for potential international expansion
The balance sheet of the company is very healthy. As at 30 March 2014, the company possessed $72.5 million of cash and did not have any borrowings. The current ratio of 2.37 also showed that the company had good liquidity resources to meet its short term liabilities. Coupled with the availability of a $100 million unsecured line of credit through January of 2016, the company has got adequate flexibility for future acquisitions and investments. In the meantime, BWLD is preparing to start its international presence in India, South Korea, and Vietnam, then followed by Brazil and China. The management aims to have 400 international locations in total. I am confident that the company has a bright future.
Final remarks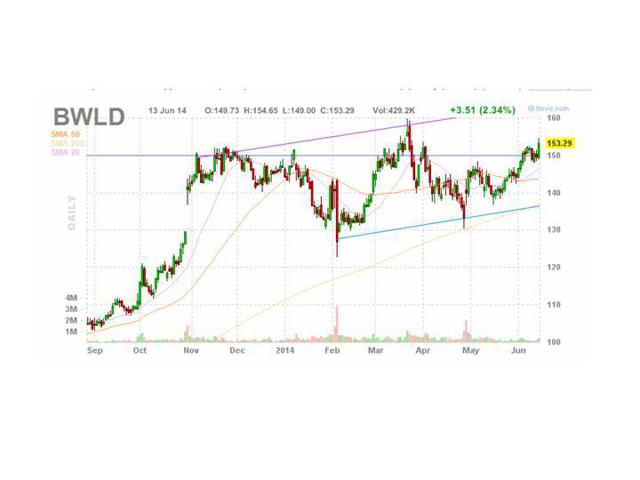 (Source: Finviz.com)
From the stock chart, we see the stock has gained momentum after exceeding the resistance level at $150. Bullish signals are also indicated with Bollinger bands expanding and pointing upwards since the beginning of June. In my opinion, BWLD is a good pick for both short-term speculators and long-term investors.
Disclosure: The author is long BWLD. The author wrote this article themselves, and it expresses their own opinions. The author is not receiving compensation for it (other than from Seeking Alpha). The author has no business relationship with any company whose stock is mentioned in this article.