With the unveil event tomorrow for Amazon.com's (NASDAQ:AMZN) next big thing, we wanted to update readers on the latest news that came out this morning and provide our opinion on it. We have also pointed out some of the items we will be looking for management to cover during the event and why investors should be concerned about these topics. There are mixed emotions among investors this morning regarding the latest news from The Wall Street Journal, but we view this tie-up for Amazon as a positive so long as it does not remain exclusive for an extended period of time.
Chart of the Day:
The line has begun to flatten out when viewed as a moving average but the trend is still up, and as we have always said, "up is up." Do we wish growth was higher? Of course. The fact that we continue to grind along though is a sign of strength because the process for applying for a mortgage is a mess and does chase many people away, which keeps the housing market from having the strength that it should have at this point.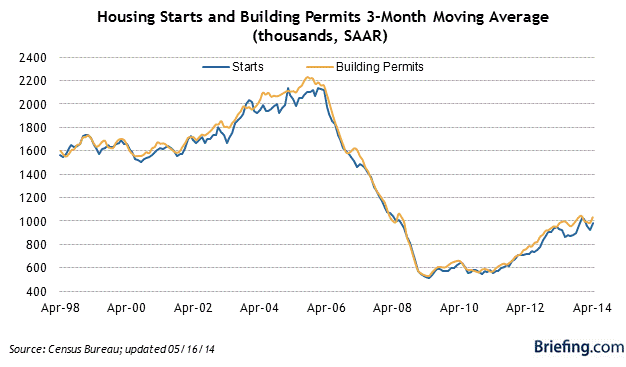 Source: Briefing
We have economic news today, and it is as follows:
Housing Starts (8:30 a.m. EST): Est: 1028k Act: 1001k
Building Permits (8:30 a.m. EST): Est: 1050k Act: 991k
CPI (8:30 a.m. EST): Est: 0.2% Act: 0.4%
Core CPI (8:30 a.m. EST): Est: 0.2% Act: 0.3%
The Asian markets are mostly higher today:
All Ordinaries -- down 0.22%
Shanghai Composite -- down 0.92%
Nikkei 225 -- up 0.29%
NZSE 50 -- up 0.28%
Seoul Composite -- up 0.40%
In Europe, the markets are higher this morning:
CAC 40 -- up 0.53%
DAX -- up 0.37%
FTSE 100 -- up 0.09%
OSE -- up 0.08%
Details Emerge
A number of important questions have been answered from out previous article (located here) on Amazon.com's rumored smartphone with today's The Wall Street Journal and their reporting that Amazon has agreed to use AT&T (NYSE:T) as the exclusive network provider for the smartphone they are set to unveil tomorrow. Obviously, this gives more credibility to the smartphone rumors and leads us to believe that there is a 99% chance that the announcement tomorrow is centered around a smartphone. It also answers one of the main questions we asked relating to how the company would roll the product out and introduce it to the public.
Following the same path as Apple (NASDAQ:AAPL) did with their iPhone when they launched it, Amazon will use one network to launch the phone before a larger rollout. Although this does limit the initial potential market, it does allow Amazon and AT&T to better coordinate their advertising strategies and manage supply/demand efficiently. Using one of the 'Big Two' national networks is the way to go here and even though we have already heard some investors groaning about the limited market, it could have been much worse if one of the smaller national carriers was selected as a partner.
What To Watch For Tomorrow
If these reports about the single launch carrier are in fact true, tomorrow we want to hear how long the partnership will remain exclusive because once the initial hiccups are worked out, investors will want to see Amazon add scale by entering new partnerships with other carriers; most importantly Verizon Communications' (NYSE:VZ) Verizon Wireless. This is important because we have all been led to believe that Amazon is simply interested in getting more of the wallet of each of their customers, and discriminating against certain networks will limit just how much traction they can build among their current customer base.
If Amazon can get this smartphone offering correct, the momentum of the most recent rally in its shares could continue. We see this smartphone as being one of two things, either a runaway success or a long-term, low margin project.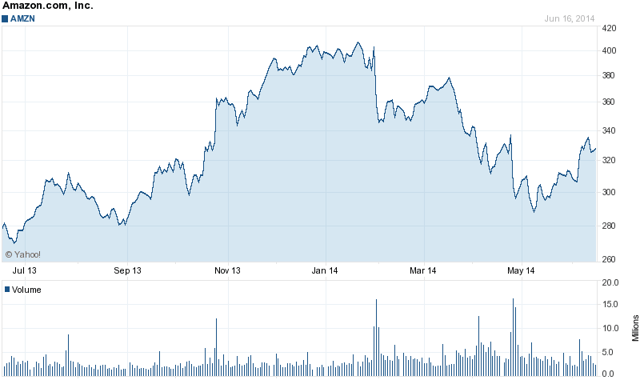 Source: Yahoo Finance
As we have learned from numerous handset makers, including BlackBerry (BBRY) most recently, the product has to be easily differentiated from products already in the market and offer a compelling entry point in regards to price. The buzz surrounding this launch would lead us to believe that Amazon has built in some elements that differentiate the product and they will probably place a price on the device which makes it attractive to the consumer, as they seek little to no margins on the initial sale while looking to make it up with their ecosystem revenue over the life of the device and customer relationship.
Disclosure: The author has no positions in any stocks mentioned, and no plans to initiate any positions within the next 72 hours. The author wrote this article themselves, and it expresses their own opinions. The author is not receiving compensation for it (other than from Seeking Alpha). The author has no business relationship with any company whose stock is mentioned in this article. AAPL, VZ & T have previously been recommended.