SolarCity (SCTY) has announced it is acquiring Silevo for about $200M, and, based on certain milestones, another $150M might be paid. This is a huge milestone in the corporate existence of SolarCity, as it marks the company's entrance into the solar cell/module manufacturing industry.
Up to now, SolarCity has purchased solar panels from its suppliers in China; recently, it also signed a supply agreement with REC Solar, a European manufacturer, most likely in response to the future tariffs likely to be imposed on Chinese modules.
By purchasing solar panels, SolarCity's panel cost was actually the industry ASP. As of the first quarter of 2014, the ASP was around 70 cents per watt while production costs were as low as 47 cents per watt.
If SolarCity could use its own in-house manufactured panels in its distributed energy business, it might be able to lower its system cost by a significant percentage. There are two ways this will work:
Higher Efficiency panels will reduce the number of panels a system requires to generate the same amount of electricity.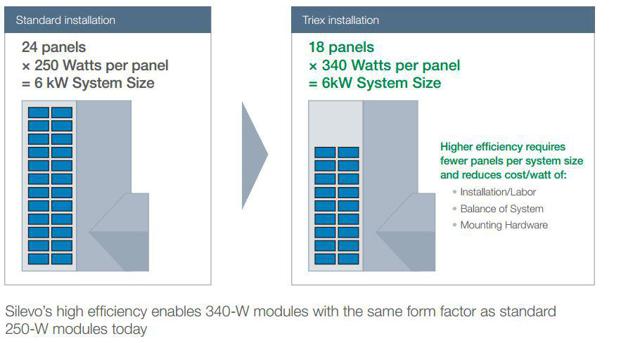 Lower shipment costs. SolarCity will ship its modules from New York State instead of having them shipped from China/Europe.
The Unknowns
The Efficiency Side
The first part of cost reductions comes from using modules of higher efficiencies. Chinese solar manufacturers are rapidly working on multiple fronts on increasing the efficiencies.
If, two years from now, SolarCity will have the option to purchase high-efficiency modules from Chinese producers, it will be able to achieve the same cost reductions from installing systems with fewer panels. Of course, the question is, for what price?
The Cost Side
The other part of the potential cost reductions is coming from the margin of savings that panel producers are able to make. The question that arises on this issue is: Will SolarCity be able to produce solar panels at a lower cost than that at which Chinese producers will sell their panels in two years?
This is a far from obvious question. SolarCity said they plan to build a massive 1-GW facility in New York. A 1-GW facility might be enough to reach the same economies-of-scale the Chinese are reaching, but higher costs such as labor, land, etc. are likely to offer quite a challenge to matching the costs achieved by off-shore producers.
Even the two big U.S. producers, First Solar (NASDAQ:FSLR) and SunPower (NASDAQ:SPWR), focus most or all of their production in foreign countries. FSLR has 85% of its production lines in Malaysia. SunPower has its production capacity located in France, Malaysia, Mexico, and the Philippines.
There is a reason even the U.S. producers choose to build their production facilities overseas. Maybe SolarCity is seeing some other incentive to produce in the U.S. (perhaps some tax incentives), but fundamentally, taking such an approach doesn't make much sense.
Tariffs
I don't think that basing an investment decision like that of SolarCity on the existence tariffs is the right thing to do. Trade barriers have a tendency to break down sooner or later, and Chinese producers are more than likely to move to a global production profile, which will bypass U.S. tariffs in the next few years.
Effect on Overall Supply
This facility won't have a substantial impact on global supply, as in two years from now, over-capacity in the solar industry will not be an issue. In the big picture, this 1-GW facility will be a drop in the bucket of future capacity needs.
Even if the solar industry were to generate only 40% of the world's electricity with photovoltaics by 2040, that would mean installing more than 400 GW of solar capacity per year for the next 25 years. We absolutely believe that solar power can and will become the world's predominant source of energy within our lifetimes, but there are obviously a lot of panels that have to be manufactured and installed in order for that to happen. The plans we are announcing today, while substantial compared to the current industry, are small in that context.

Source: SolarCity blog. Written by: Elon Musk, Lyndon Rive and Peter Rive.
Conclusion
I admire the fact that SolarCity is attempting to become a vertically integrated company. That said, the move of setting up a shop in the U.S. is a risky step to take. Only time will tell us if SolarCity's move was a smart one or not. In the short term, the value of such a move might be questionable. In the long term, securing domestic in-house production capacity, even at a slightly higher cost, could demonstrate Musk's brilliance, as global demand for panels explodes.
SolarCity's shareholders might ask themselves if pursuing a risky move that might lead to single-digit system cost reductions is worth it. Building a 1-GW facility in New York is sure to cost SolarCity hundreds of millions of dollars, an investment that might take many, many years to return itself.
That said, Elon Musk's inspiration is noteworthy. His plans usually go beyond what ordinary people believe to be possible. Some of these plans will work, and some of them won't, but it's important to note that individuals such as Mr. Musk are the ones that push humankind forward.
I just wonder if building the world's largest solar panel manufacturing facility was also a part of his vision at Burning Man, almost 10 years ago.
Disclosure: The author has no positions in any stocks mentioned, and no plans to initiate any positions within the next 72 hours. The author wrote this article themselves, and it expresses their own opinions. The author is not receiving compensation for it. The author has no business relationship with any company whose stock is mentioned in this article.