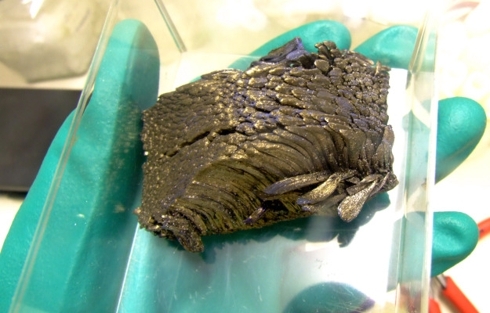 Rare earth metals are becoming all the rage in investing circles. It began with James Dines' recommendation in May 2009.
Europium

Dines has been known to forecast long term bull markets before they begin with surprising accuracy, so it was no surprise that his recommendation to invest in Rare Earth minerals jump started the buzz and put rare earth investing on the map for the general public.
Since that newsletter was published, several rare earth stocks have taken off. Most notably, Molycorp (MCP) has spiked to 28.49 since the IPO in August. Clearly investors are front running the stock since domestic development of rare earths lags that of Chinese competitors. China accounts for 95% of rare earth mineral supply. Here is a chart showing crucial mineral production areas, including rare earth.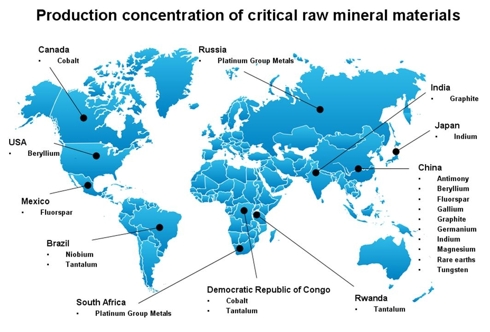 (Click to enlarge)
Reuters notes that:
In addition to China, Molycorp in California produces 3,000 tonnes per year, while Silmet Rare Metals in Estonia produces 2,400 tonnes per year. There are small amounts of rare earths mined in India, Malaysia and Brazil.
This illustrates why China will be a hotbed of growth in the 21st century. In addition to a growing middle class and astute spending on infrastructure, China is a minerals-rich country with large deposits of gold and rare earths. China has sequestered most of the metal production internally and not allowed their supplies into the market as part of a long term development plan. The plan includes attracting factories to China to manufacture the end products of rare earth metals, which aids in bringing valuable production techniques and jobs to the mainland. China currently uses 51% of rare earths, and Japan comes in second at 17%, sparking a China – Japan rare earth rivalry.
And not only is China furiously pumping rare earth mining and production in China, but they are reviving defunct projects in Australia with investments in Arafura and Lynas.
What Are Rare Earth Elements?

Rare earth metals take 16 entries on the periodic table.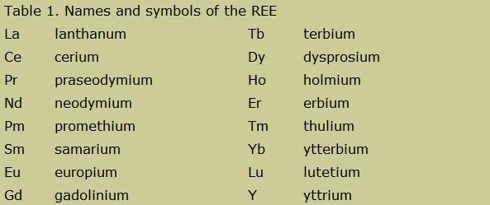 Rare earth elements are actually not rare, with the two least abundant of the group 200 times more abundant than gold. They are, however, hard to find in large enough concentrations to support costs of extraction, and have an inhibitor in radioactive thorium which must be properly disposed of.
Uses of rare earth include phosphors in television displays, PDAs, lasers, green engine technology, fiber optics, magnets, catalytic converters, fluorescent lamps, rechargeable batteries, magnetic refrigeration, wind turbines, and strategic military weaponry. As you can see, rare earth elements are important to current and future technological applications, including the burgeoning green energies market.
It is clear that countries who want to remain economically competitive will need to heavily invest in rare earth element mining and application. In addition, the continued automation of the defense sector substantially increases demand pressure on rare earth elements for missile and laser technologies.
Reuters notes:
The demand for dysprosium, terbium, neodymium, praseodymium and europiumis set to grow by a minimum of 8 percent a year. Electric vehicle demand for dysprosium, neodymium and praseodymium is set to grow by an average of 790 percent in the next five years.
Where Is the US on Rare Earth Elements?

Molycorp was one of the largest miners of rare earth neodymium used in production of hybrid engines such as the Prius uses at Mountain Pass Mine. The mine also produces cerium used in flints and ultraviolet absorbing glass and europium used as red color in television tubes. However, cheaper Chinese production of these elements shut down the mine in the 1990s.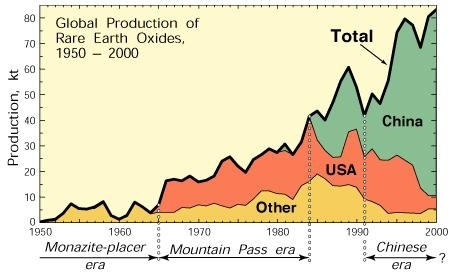 With the Chinese dominating the market of rare earth elements production of rare earth end products, the US is working to renew rare earth mine development.
That diversification may soon get a jump start. Today, the House of Representatives Science and Technology Committee approved legislation to authorize funding by the US Department of Energy (DOE) for a $70 million research and development center to study new ways to mine and process rare earths. The bill also contains authorization for DOE to fund a loan-guarantee program designed to restart U.S. rare earth-mining operations.
Investing in Rare Earth Elements
Your options for investing in these key commodities are unfortunately limited. I have already discussed Molycorp, which is actively in mine production. They are a known quantity, but their stock is also too rich for my blood considering Chinese price competitiveness and the fact they are losing money. I want to see their stock dip into the low teens before I consider investing in them.
Another stock might be Great Western (OTC:GWMGF), which is a Canadian based company that also owns plays in Utah and South Africa. Like Molycorp, they are in the red. However, they have more assets than liabilities and have a substantial resource base of rare earths to develop. They are trading at a robust 41 cents. The company's plan is to take rare earth from mining to finished product in 2013.

Another popular, but not profitable stock is Avalon (AVARF.PK). As Jason Hamlin points out, Avalon:
Avalon has returned very high-grade drill results and their Thor Lake deposit has high concentrations of heavy rare earth elements, nearly double the typical concentration.
The company is developing three of its six mineral properties and should have solid production in the future to finance operations.
Stans Energy (OTC:STZYF) has taken a slightly different approach to obtaining rare earth deposits. They purchased a former Russian rare earth mine in Kyrgyzstan. The mine is a known producer of all 15 rare earth elements, and is estimated to have 2/3 of mine capacity still untouched. In addition, surrounding infrastructure for Stans Energy is already in place and operational. Black Swan notes:
The mine produced all 15 rare earth elements (at 65% recovery rate-good for rare earths) and included a good mix of 50% Heavy rare earths (HREE) which are the most economically profitable. Because this was a previously producing mine, there is excellent infrastructure which minimizes the cost to Stans Energy. All necessary roads are there along with a power source and a railway. More importantly Stans has purchased an option to buy the processing mill which was previously used for Kutessay II. This is a major plus for Stans because processing mills are extremely expensive to build from scratch.
There is political unrest in the country, but not in particular near the mine location. However, this bears watching as it could affect transportation round the mine in particular. The timeline for production starting for Stans Energy might be 2012 – 2013.
Then we have the two Australian companies subsidized by the Chinese, Lynas and Arafura.
Lynas owns one of the richest rare earth deposits at Mt. Weld. Analysts' consensus is buy and outperform for this stock. Lynas recently increased costs estimates for projects in Australia and Malaysia, owing to engineering and construction fees. I don't doubt that mining costs will continue to exceed preliminary estimates for many rare earth companies. Lynas expects first ore feed from Western Australia in 2011.
Arafura Resources' Nolan discovery has a 30 million ton project that has an expected sustainable life of 20 years. If the company can finance activities and get production up and running, they represent a solid stock play.
I think that Molycorp is over-priced in the short term and don't recommend buying at this price. I feel the same way about Avalon at this time as the price has been run up.
The intriguing options are Great Western and Stans Energy, as they may be quickest to bring a wide variety rare earths to market. The major complication is cost competitiveness in the short term with China. However, if they can keep their heads above water as rare earth demand continues to increase, they have solid futures ahead of them in the middle term.
Lynas and Arafura will no doubt end up being successful because the Chinese have chosen them and can immediately put their production to use. However, it may take a long time before investors see any return on their capital with these two companies.
Rare earth elements may be the biggest investment opportunity in a long time. We are at the beginning stages of what could be explosive growth, if you have the time and patience to wait for the market to unfold before you.
Disclosure: No positions