Sometimes investors get carried away on certain news events or trends in the market and we feel that this may have been the case yesterday with an oil company we will discuss later in the article. As the ISIS insurgents in Iraq appear to be consolidating their gains and not willing to incite any further international outrage, we think that investors might want to shift their attention to the south Iraqi oil fields, which could be prime targets for attacks if fighting does escalate. The reason this is important is because there are many multinational oil and services companies in the south and any violence in that perceived 'safe' area would be felt in major equity markets as those companies' stocks were affected.
Chart of the Day:
We think that it might be beneficial for investors to hedge some risk with the volatility index as we think that it could rise to 14 on further minor flare ups in Iraq and much higher on wide scale violence. One could play this via the iPath S&P 500 VIX ST Futures ETN (NYSEARCA:VXX) which is far less risky than investing in futures themselves and offers plenty of liquidity for investors with nearly 30 million units traded each day.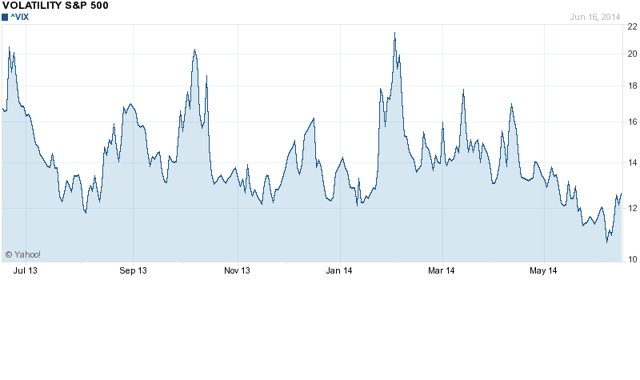 Source: Yahoo Finance
Commodity prices are as follows (at time of submission):
Gold: $1,270.80/ounce, down by $4.50/ounce
Silver: $19.68/ounce, down by $0.035/ounce
Oil: $106.82/barrel, down by $0.08/barrel
RBOB Gas: $3.086/gallon, up by $0.0142/gallon
Natural Gas: $4.703/MMbtu, down by $0.004/MMbtu
Copper: $3.0605/pound, up by $0.0105/pound
Platinum: $1,435.60/ounce, down by $3.50/ounce
Big Move Yesterday
Yesterday ZAZA Energy (OTC:ZAZA), a partner of EOG Resources (NYSE:EOG) in a joint venture saw its shares catch fire as it was one of the largest percentage gainers in the market. The move took the company back around the $100 million market capitalization threshold and does appear to signal that the recent trend higher is legitimate.
ZAZA has been a loser for years, even after their JV with EOG Resources was announced. We like the area where they are drilling, but think there are better areas to put one's money to work at this time.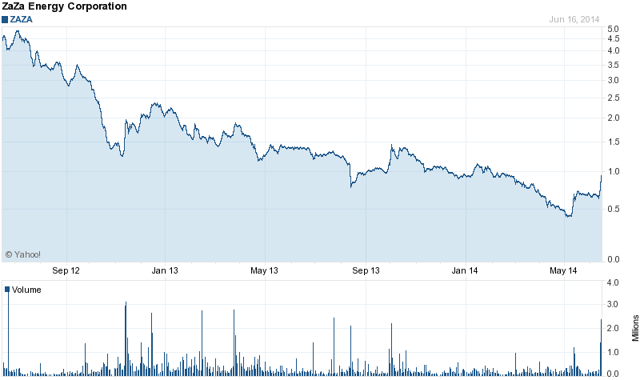 Source: Yahoo Finance
With that said, if one is bullish of ZAZA's joint venture with EOG Resources we would recommend taking on less risk and investing in EOG's shares or finding another suitable name in the area to invest in. The stock has been a dog for some time and if one cannot perform well during a great bull market for oil companies we want nothing to do with it when the market cools off. This is not a name that we would be embracing right now, but rather taking profits if having been lucky enough to have purchased shares in recent months.
Solar Stocks Still Rocking
Although not much of a solar fan, we do give credit where it is deserved as we have done for years with First Solar Inc. (NASDAQ:FSLR) and more recently with Elon Musk's SolarCity (SCTY). Both companies' shares are moving higher on the session after SolarCity announced that it would purchase Silevo for up to $350 million with the goal that the combined company will be able to lower PV costs and have a breakthrough in lowering the cost of solar power generation.
SolarCity is going to use Silevo to lower its PV cost but will keep its current PV suppliers while also getting them to match the cost savings SolarCity is able to achieve through Silevo. This will have the effect of lowering costs for the company's product and either increasing margins or allowing the company to lower the overall cost for consumers and bring in more business. Also announced as part of the deal is that SolarCity will continue to work towards the PV manufacturing plant in New York with management saying that this plant would be a pilot plant and pave the way for further plants to be built.
Disclosure: The author has no positions in any stocks mentioned, and no plans to initiate any positions within the next 72 hours. The author wrote this article themselves, and it expresses their own opinions. The author is not receiving compensation for it (other than from Seeking Alpha). The author has no business relationship with any company whose stock is mentioned in this article.
Editor's Note: This article covers one or more stocks trading at less than $1 per share and/or with less than a $100 million market cap. Please be aware of the risks associated with these stocks.