After spending $475.6 billion on share repurchases last year -- a 19% increase from 2012 -- cash rich companies ranging from Apple (NASDAQ:AAPL) to Occidental Petroleum (NYSE:OXY) are showing little sign of slowing down. S&P Dow Jones Indices analyst Howard Silverblatt issued a preliminary estimate that first quarter share repurchases in the S&P 500 will be the second highest on record.
While Apple is the biggest repurchaser in dollar terms Silverblatt notes that 119 stocks in the S&P 500 reduced their share count by at least 1% in the first quarter. Buybacks are a less-sticky form of shareholder return than dividends (but a better deal for taxable accounts). Companies that have emphasized share buybacks have outperformed the market of late, as seen in this chart of the $3 billion PowerShares Buyback Achievers ETF (NASDAQ:PKW) and the Lilliputian $120 million AdvisorShares Float Shrink ETF (NYSEARCA:TTFS):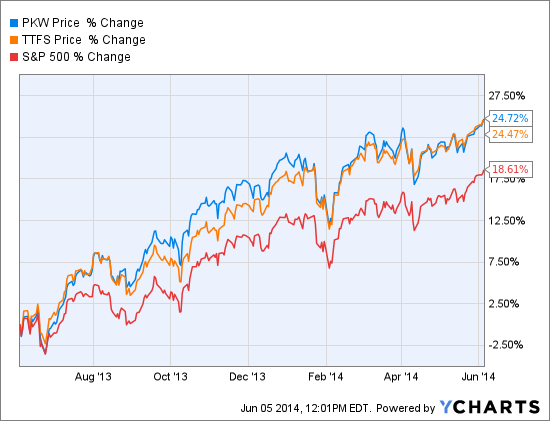 The PowerShares ETF sets a high bar -- a share buyback of at least 5% in the past 12 months -- thus annual portfolio turnover is steep. Over the past five years, investors pocketed a 160%+ total return that outpaced the S&P 500 by nearly 40 percentage points. Current top holdings include Oracle (NYSE:ORCL), Home Depot (NYSE:HD) and AT&T (NYSE:T). AT&T just happens to be taking out one of the most beloved buyback stalwarts, DirecTV (DTV), which it plans to acquire.
Year-to-date, only Oracle has outperformed the broader market. While a short time period, the PowerShares ETF has in fact lagged the S&P 500 in 2014 by about 1.5 percentage points, while the TrimTabs portfolio has managed to keep pace.
The AdvisorShares TrimTabs Float Shrink Portfolio has an interesting tilt that aims to ferret out unhealthy repurchasers. In addition to share count reduction, a company must also have strong cash flow growth and not be using leverage to finance buybacks to make it into the 100-stock portfolio. The strategy develops a proprietary liquidity score based on all three metrics and whittles down the Russell 3000 to the 150 stocks with the highest liquidity scores. From there management tosses out companies it deems to have too-low volume or inefficient bid-ask spreads. A final round of cherry picking from what's left makes up the equal weight portfolio. Despite starting with the Russell 3000 that encompasses large and small caps, the portfolio skews big; the average market cap is north of $35 billion, with mega caps Apple, Microsoft (NASDAQ:MSFT), Pfizer (NYSE:PFE), Visa (NYSE:V) and McDonald's (NYSE:MCD) in the current mix.
While it would stand to reason that firms would only be buying back stock at significant discounts, we all know that's not how it always works. The 17 forward PE ratio for the AdvisorShares Trim Tab Float Shrink ETF is slightly ahead of the 16.3 for the S&P 500. That said, there are some bargains to be had.
Asset manager Franklin Resources (NYSE:BEN), which was a major acquisition for the top-performing Oakmark Select mutual fund last quarter, delivers on the three-pronged liquidity screen, as solid free cash flow yield and a debt-to-equity ratio well below 1.00 accompanies share buybacks.
On the valuation front, Franklin Resource's 16 trailing PE is well below it's 5 year normalized level, and the stock's EV/EBIT continues to tread close to its five year low.
In terms of relative valuation, IBM (NYSE:IBM) is one of the cheaper large caps going as investors are still not buying that CEO Ginni Rometty can deliver on her predecessor's EPS target for 2015.
For all its very real headwinds, IBM is still a very profitable company generating free cash flow growth while reducing share count by nearly 40% over the past five years.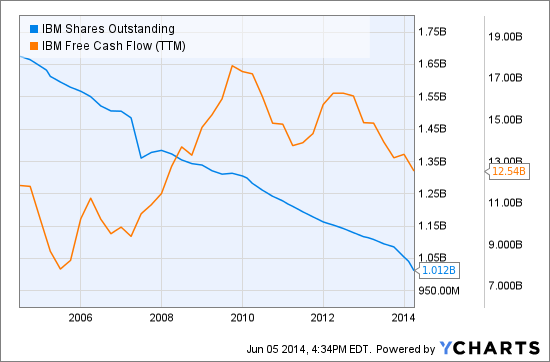 IBM Shares Outstanding data by YCharts
One metric that bears watching is IBM's debt-to-equity ratio. It recently spiked over 2.5x, from below 2x at year-end. That's not danger territory, but it bears watching over the coming quarters if investments in cloud computing and big data start to pay off.
IBM's debt-to-equity ratio is among the higher levels. Coca-Cola (NYSE:KO), another one of the big holdings in Berkshire Hathaway (NYSE:BRK.B), has a long history of consistent share buybacks and a debt to equity ratio less than half that of IBM.
Carla Fried, a senior contributing editor at ycharts.com, has covered investing for more than 25 years. Her work appears in The New York Times, Bloomberg.com and Money Magazine.
Disclosure: None