Shares of Select Income REIT (NYSE:SIR) are poised to significantly outperform the property income REIT ETFs such as iShares U.S. Real Estate ETF (NYSEARCA:IYR), Vanguard REIT Index ETF (NYSEARCA:VNQ), and peers such as American Realty Capital Properties (ARCP) or Realty Income Corporation (NYSE:O).
The Catalyst:
Three elements are currently converging to create major changes in the governance of Select Income REIT and unlock current value. These include:
The recent replacement of the entire Board of Directors of SIR's largest shareholder, Commonwealth REIT (NYSE:CWH). Those removed include SIR Trustees Barry Portnoy, Adam Portnoy and William Lamkin, together holding 60% of the current Select Income Board seats.
Lakewood Capital Management (a private hedge fund holding 5.8% of SIR) has accused the current SIR Board of malfeasance and is actively pursuing means to replace the current Select Board by amended voting procedures (non staggered election of directors) and probably also by legal action concerning the alleged governance misconduct. The new Commonwealth Board is expected to strongly support these actions in concert with Lakewood.
The recent supplemental share offering caused significant dilution and has sharply suppressed share prices far beyond the actual dilution bottom-line impacts.
An open letter from Lakewood fund manager partner Anthony T. Bozza to the SIR Board of Trustees lays out the governance issues and also provides multiple pathways to valuation suggesting the current $28.50 is 43.5% below fair value of $40.90 based on Lakewood's estimated NAV appraisal of the company assets and based on fundamental metric comparisons to peers.
The activist moves by Commonwealth and Lakewood can be expected to unlock a considerable portion of this discounted value within 1 year or less through replacement of the current company Board via shareholder votes to change bylaws and/or litigation.
Mr. Bozza's letter summarized the implications of the recent Commonwealth Board removal as follows:
On March 25, 2014, CommonWealth announced that its shareholders had voted to remove its entire Board of Trustees (including SIR Trustees Barry Portnoy, Adam Portnoy and William Lamkin, who together hold 60% of the seats on the SIR Board) and that a new CommonWealth Board would be selected in late May 2014.[4] At this point, it was clear that RMR's days were numbered as the manager of CommonWealth. As CommonWealth held 44.1% of SIR shares, these changes had clear implications for SIR's future governance.
The Opportunity:
The open letter goes on to enumerate the alleged malfeasance in great detail and specificity. It then continues with an analysis of the fair value of SIR based on its Net Operating Income and low debt leverage, offering the following table in support of its NOI valuation.
(source: Ex.A-1 to Lakewood open letter to SIR Trustees)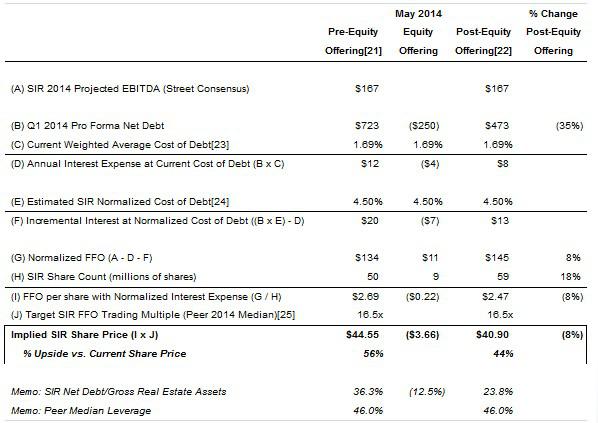 This evaluation concludes that SIR's Fair Value currently even after the recent supplemental share offering dilution now stands at $40.90. This is a 43.5% value over the current $28.50 share price.
Exhibit A, part II went on to estimate SIR share value based on Net Asset Values as follows:

Exhibit A, part III looked at value based on comparable peer metrics: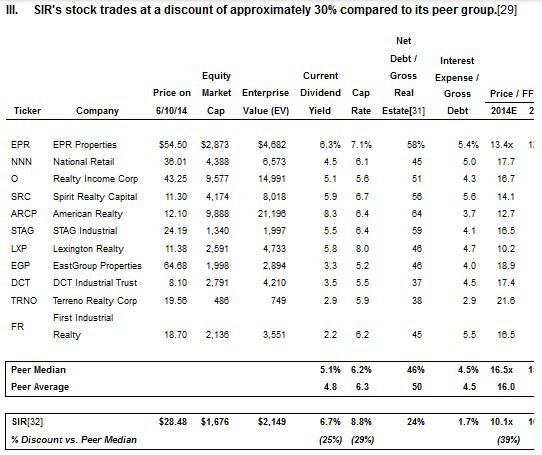 and finally, Exhibit A, part IV looked at SIR's debt ratios compared to peers, finding SIR to have considerable strength and growth potential by future employment of its under leveraged debt position.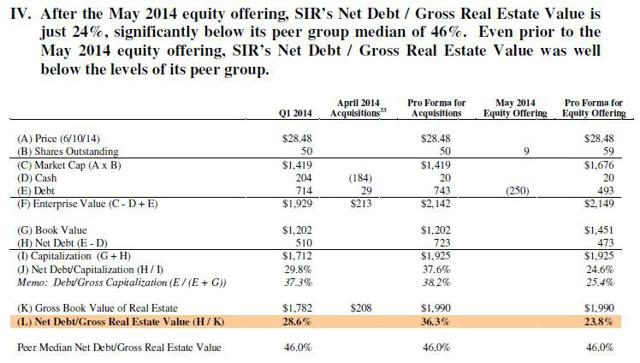 Additional factors in favor of SIR:
The open warfare between SIR's major shareholders and its Board offers a rare insight into a private hedge fund's fair value analysis and its blueprint of a path to unlocking that value. Beyond this, SIR provides a 6.8% dividend yield with a large margin available for distribution growth fueled by its cash generating FFO.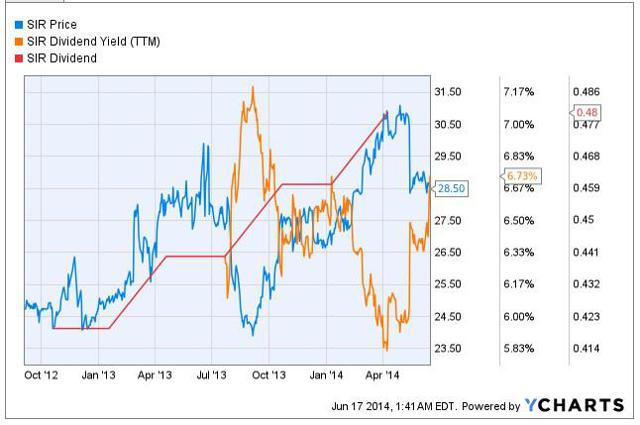 Potential Downside Factors to Watch:
Select Income's largest holdings and strongest markets are in Hawaii. Any significant downturn in the local market for commercial and industrial land rentals there or marked increase in competition for tenants could have serious negative impacts on FFO and margins.
Possible tax legislation hostile to REITs after the upcoming mid-term elections could cause a significant sell-off in the REIT sector.
Protracted litigation between shareholders and management or greenmail settlement between management and the activist shareholders could leave share prices depressed or even depress them further.
Conclusions & Recommendations:
An active battle for control of Select Income REIT has begun by its major shareholders.
The outcome of this confrontation will very likely result in replacement of the current Board with new management chosen by the largest shareholders, Commonwealth and Lakewood.
These issues should resolve within the next year, by use or threat of litigation buttressed by the ability of the shareholders to select new bylaws and select a new Board.
As shown through multiple pathways to fair value analysis, shares are currently undervalued by more than 40% regardless of the battle for control.
Select Income shareholders enjoy a 6.8% safe and growing dividend from an excellent portfolio of properties in favorable markets, making this a quality dividend income investment.
Investors should take advantage of the current depressed prices, which have been driven by the significant dilution caused by current management's ill advised recent supplemental share offering and be prepared to reap the benefits of NAV growth, FFO growth from rental income resets and additional acquisitions funded from cash, cash flow, unused credit lines, and expansion of debt leverage in line with peer debt ratios.
Accumulate aggressively below $30.00/share and using option strategies and on general market pullbacks while shares remain below $35.00.
I hope you will have an interest in my recent series and current new series, where I focus on the use of covered option writing to boost yields and reduce market risk on quality dividend income equities. Simply click on the orange link at the end of this article to get real time alerts on my future articles immediately when they are published. Click here for a link to the index of my past and future articles.
I am not a licensed securities dealer or advisor. The views here are solely my own and should not be considered or used for investment advice. As always, individuals should determine the suitability for their own situation and perform their own due diligence before making any investment.
Disclosure: The author is long SIR. The author wrote this article themselves, and it expresses their own opinions. The author is not receiving compensation for it (other than from Seeking Alpha). The author has no business relationship with any company whose stock is mentioned in this article.