On June 1, I wrote that I believed Apple (NASDAQ:AAPL) shares to be worth $914 ($130 post-split). With iPhone sales most likely exceeding estimates this quarter, the shares are now easily worth more than $130.
A recent report from Morgan Stanley predicts iPhone sales of 39 million units for the quarter ending this month. The Morgan Stanley "AlphaWise Smartphone Tracker" has shown to be more accurate than the Street consensus in the past and if correct for this coming quarter it would mean that Apple is about to have 25.0% more iPhones sold in Q2 2014 than during Q2 2013. The Street consensus is for Apple to sell 35 million iPhones this quarter which would represent 15.4% yoy growth in units sold.
The Morgan Stanley model has been more accurate than Street estimates in four out of the last five quarters: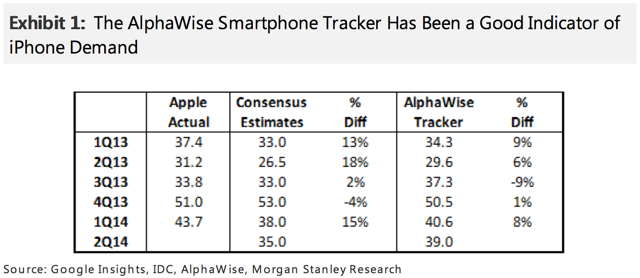 (Source: Business Insider)
No model is ever perfect, but that is a good track record and it is reasonable to assume AlphaWise Smartphone Tracker numbers as opposed to the street consensus.
The Increased Revenue From iPhones
There are many interesting segments that Apple does business in and there are no shortage of articles about them. Just look at all the talk about the Beats acquisition for $3 billion. $3 billion is nothing to Apple. While it's fun to talk about whether Apple has lost its "mojo" or not, the reality is that events like Beats are fairly insignificant to the stock in the long run.
Apple employees could have a party today after work and light up a bonfire composed of three billion dollars. The market cap of the company would drop from $550.39 billion to $547.39 billion and the stock would drop from $91.86 to $91.36.
My example is perhaps overly facetious, but my point is this: the key for Apple right now is iPhones. According to the latest Apple 10-Q, the revenue from iPhones was $26.064 billion. The total sales for the company were $45.646 billion. iPhones represented 57.1% of sales.
If the Morgan Stanley report is accurate, then units of iPhones sold is going to come in 11.4% over Street estimates. To be conservative and allow for the possibility of lower priced phones making up a disproportionate percentage of the 39 million unit estimate, I will assume a 10% upside in iPhone revenue.
Since iPhones make up 57.1% of the company sales, the implication of the Morgan Stanley estimates is an upside surprise for total company sales of about 5.7% over Street estimates.
Analyst Estimates
Source for all analyst estimates: zacks.com.
In the last seven days - perhaps in response to the AlphaWise Smartphone Tracker report - five analysts raised their EPS estimates for AAPL's June quarter. Two analysts have lowered their estimates. Despite more analysts raising estimates than lowering them, the average Q2 EPS estimate seven days ago was $1.21 and today it is the same.
Here is the trend going back three months:
| | |
| --- | --- |
| Current | $1.21 |
| 7 days ago | $1.21 |
| 30 days ago | $1.22 |
| 60 days ago | $1.22 |
| 90 days ago | $1.25 |
Another Exceptional Quarter?
Could AAPL give us another great quarter? It seems likely. Over the last four quarters, AAPL has averaged an EPS surprise of 6% according to Zacks. With the consensus trending down to $1.21 over the last few months combined with the very positive Morgan Stanley report, it looks like AAPL is highly probable to exceed the current consensus EPS and give the market another upside surprise.
Conclusion
Two weeks ago, AAPL was worth about $130 per share to me. Thanks to the very bullish AlphaWise Smartphone Tracker numbers that came out last week, the stock is worth more than $130 per share to me now. I'm not ready to put a new target on it, as I want to wait for Q2 numbers to be reported.
I'm reasonably confident that Apple will report better than the consensus $1.21 per share for this quarter. If so, we should see a catalyst for the stock from analysts raising estimates before the release date and/or the company beating estimates when it reports on July 21.
If AAPL can show the market yet another great quarter, this stock could blow through $100 easily in the next 6-8 weeks.
What could go wrong? In my opinion, the biggest threat to Apple is margin erosion. The smartphone market is huge and will continue to grow at a healthy rate. But a new entrant, such as Amazon (NASDAQ:AMZN) (expected to make big news on Wednesday about getting into the smartphone business) could cause a decline in margins for everyone. I do not expect margin erosion in the next few quarters for Apple as they are about to unveil the iPhone 6 and the loyal Apple following is willing to pay premium money for new iterations of the iPhone. However, the landscape could change quickly and it would be wise to keep an eye on margins going forward.
Disclosure: The author is long AAPL. The author wrote this article themselves, and it expresses their own opinions. The author is not receiving compensation for it (other than from Seeking Alpha). The author has no business relationship with any company whose stock is mentioned in this article.