It's not given to human beings to have such talent that they can just know everything about everything all the time. But it is given to human beings who work hard at it - who look and sift the world for a misplaced bet - that they can occasionally find one. -- Charlie Munger
Kandi Technologies Group, Inc. is a NASDAQ listed (NASDAQ:KNDI) China based leader in Pure Electric Vehicle (EV) technology and production. This article concentrates on what is appearing to be an inflection point in its stock price based on the following chart.
KNDI is rolling out an intra-city EV transportation system, that resolves the issues of range anxiety, ownership, insurance, battery charging and environmental disposition, and parking or garaging - its Public EV sharing system. I personally believe its Public EV sharing system the most elegant personal intra-city transportation system until someday… "Beam me up, Scotty." In my opinion, KNDI is a great untold story and represents one of the great emerging growth stock stories of our time.
Last month, in the Company's announcement of its first quarter results ending March 31, 2014, KNDI reported an increase in first quarter revenues of 174% year-over-year. More importantly, combined electric vehicle (NYSE:EV) sales increased to $33.4 million from $1.7 million year-over year, an increase of 1,865%. KNDI has now reported two consecutive quarters of revenues over $40 million ($50.5 million for Q4 of 2013 and $40.2 million for Q1 of 2014). Revenues for all of 2013 were $94.5 million. KNDI's first quarter has always been its slowest quarter of the year so one could easily speculate Kandi could achieve revenues of $200 to $300 million for all of 2014 assuming accelerating EV sales.
KNDI reached an all-time high of $22.40 on March 18, 2013 and since then has pulled back to $12.75 at Friday's close, June 13, 2014. Since closing at $11.77 on April 15, KNDI has been consolidating nicely in the range of $10.70 at the low end to a high of $13.94 on May 12. KNDI is trading above its 200 and 50 day moving averages at Friday's close and technically, appears poised for a breakout to the upside.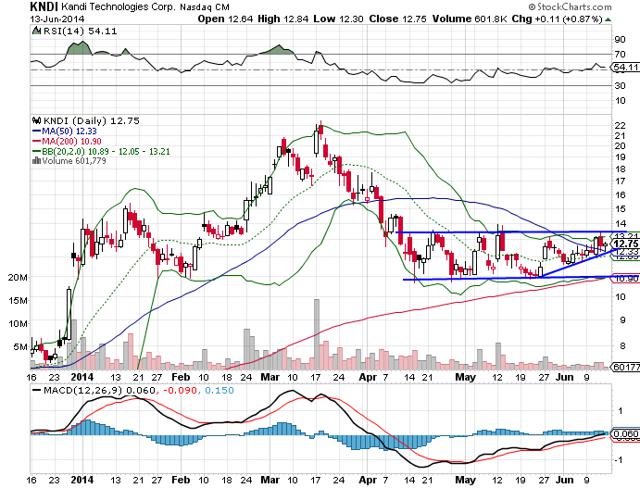 The most recent reported short interest for KNDI stands at 6.3 million shares, an increase of 798.2% from a year ago and now at an all-time high. Watching the reported daily short volume reporting and KNDI's daily trading activity, I suspect there has been no covering instead with the short interest increasing since May 30, 2013, the last settlement date. My assumption is that today Kandi's short interest stands at about 6.5 million shares. I come to this assumption by taking the trend line data from the below chart provided by shortvolume.com which shows a significant increase in intra-day shorting between May 30 and June 13, the last day of the next short reporting period.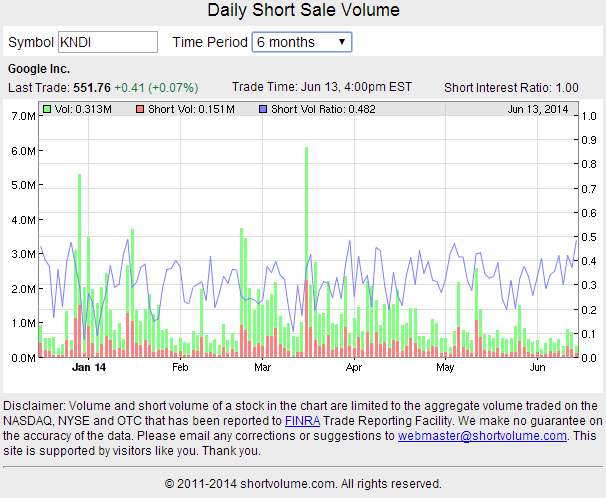 The last 11 day trend on the above chart shows a solid uptrend in shorting. Comparing the uptrend above with the volume table below showing the lowest short interest reporting period average daily volume since November 2013, KNDI's days to cover short interest ratio of 4.6 at the last report would jump to over 7 on a reported basis. That is a number that even Tesla (NASDAQ:TSLA) has not experienced in two years.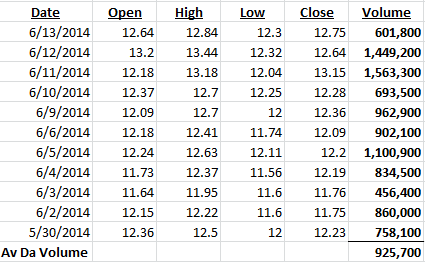 Table Courtesy of Yahoo Finance
The chart below shows the short interest and the average daily trading volume at the close of each month from May 2013 to May 2014. The average daily volume has declined steadily to the top of the low range for the past year.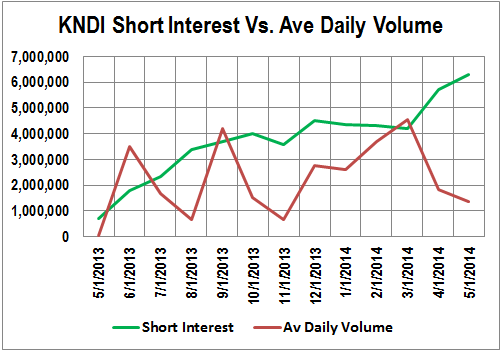 The divergence in record high short interest and low range trading volume appears to have precipitated Kandigeddon - an attack of negatively slanted articles or investigations triggered first by a March 31, 2013 sell recommendation (actually a "hurry" sell recommendation). The "hurry" sell recommendation was triggered because KNDI had increased 300% in a year, which is always a good reason to hurry and sell a stock - right? KNDI closed at $16.40 on March 31, the day of the "hurry" sell recommendation. The Kandigeddon articles and investigations dwell on events that occurred in 2009 and 2010 and have no relevance on Kandi's operations since then.
KNDI, Montage Technology Group (NASDAQ:MONT), and other U.S. listed Chinese companies have long been targets of relentless shorts relying on short and distort and abusive naked short selling tactics to diminish the value of these companies. In fact, last week, less than nine months after going public on the NASDAQ stock exchange at a valuation of $400 million, Montage accepted a $693 million buyout offer from Shanghai Pudong Science and Technology Investment Co. Montage Chief Financial Officer Mark Voll said getting attacked by short sellers was one of the reasons why the board considered and accepted Shanghai's offer. Ironically, for the nine months Montage was publicly-held, the buyout offer represents an almost 100% annualized return to investors. Obviously the shorts missed that bet.
But even more ironically, within hours of board acceptance of the buyout offer, a parade of "Class Action" law firms posted press releases about bringing legal action against Montage directors for selling the Company too cheap. Whereas just four months ago, after an obscure declared short seller wrote an article attacking MONT, a similar parade of class action law firms issued press releases soliciting shareholders to sue the Company and Directors. Here is an excerpt which is just one of many:
Glancy Binkow & Goldberg LLP Announces Class Action Lawsuit on Behalf of Investors of Montage Technology Group Limited
February 11, 2014 04:32 PM Eastern Standard Time
"…Montage is a Shanghai, China-based provider of analog and mixed-signal semiconductor solutions for the home entertainment and cloud computing markets. The Complaint alleges that during the Class Period the Company and certain of its executive officers and/or directors misrepresented or failed to disclose that the Company's revenue was overstated and actually significantly lower than reported to investors, and that the Company's largest distributor, LQW Technology Company Limited, is a mere shell company, owned by an undisclosed related entity established by Montage and a Montage employee…"
Coincidentally, on May 7, 2014, the above headlined law firm also announced an investigation into KNDI about matters pertaining to 2009 and 2010 - go figure.
Real Trading Volume
What I find most interesting about KNDI's trading this month is that it appears about fifty percent or more of KNDI's daily trading volume is high-frequency trading assuming that trades priced to four decimal points in between the bid and the ask are high frequency trades. I think it is also safe to assume that high frequency trades are neither long nor short and is fictitious volume. One more assumption is that some percentage of the daily trading volume belongs to day traders, who must even out their positions at the end of each day. My final assumption, the most damning, is that I believe a significant percentage of the daily trading volume belongs to short accounts themselves being used to manipulate the volume, attempting to move the price down.
NASDAQ reported KNDI's short interest at May 30, 2014 at 6.3 million shares, average daily trading volume at 1.4 million shares, and days to cover at 4.6 days. However, following my assumptions above, I am going to assume that sixty percent (likely even greater) of KNDI's daily trading volume is empty volume, not delivering KNDI shares in either long or short accounts. The average daily trading volume for the ten days in June is 944,366 shares. If I assume only forty percent of the average daily trading volume actually trades shares in either long or short accounts, it means the real average daily volume is about 378,000, and based on the consistently increasing short position, it is obvious more of the reduced volume are net buyers versus sellers.
My Conclusion
As a KNDI long I ceaselessly question my investment thesis in the context of the Company's ongoing developments. Given the Company's ongoing developments, I believe the catalyst to launch KNDI's meteoric growth remains the long-awaited, long-delayed PRC electric vehicle subsidies. Carefully analyzing all indications, it appears to me the subsidies will begin flowing to China based EV manufacturers and consumers very soon, certainly this year and possibly any day now. Recent pronouncements by Chinese Premier Li Keqiang have affirmed commitments to fighting air pollution, new energy industries, and maintaining economic growth objectives. Consumer opinion polls in China report that 53% of consumers surveyed would choose to own an electric vehicle and China is the world's largest automobile market.
http://www.0car0.com/xnynews/xnyhy/2014/0612/191622.html
Tracking the monthly China pure electric vehicle production one could assume to project Kandi enjoying record second quarter revenues surpassing first quarter revenues of $40 million; and far exceeding last year's Q2 total revenues of $12.2 with 632 EV sales. A 300% revenue increase is likely to be reported showing a 500+% increase in EV or EV parts sales. If a short squeeze has not begun by KNDI's mid-August second quarter reporting date, with the long awaited first EV subsidy payments expected any day now, my bet would be that reporting the above year over year Q2 comparison will trigger the short squeeze.
I think it is certainly plausible to deduce that achieving a $90 to $100 million first half 2014 without EV subsidies, that with the EV subsidies, KNDI could be on track to achieve revenues well in excess of $200 million for 2014, compared to $94 million in 2013. The prospects portend even greater growth in 2015 and beyond.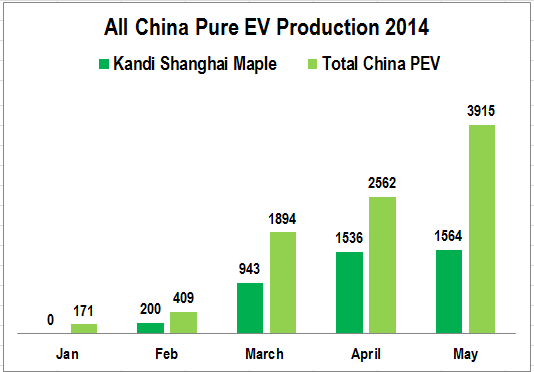 Click on the "Month" links above for translated confirmation in China.
The only question remaining in my mind is when will the EV subsidy program go into effect? That's when a reasonable person would expect the shorts begin covering. I am confident both events will drive KNDI higher (no pun intended), likely to new highs.
It's time to place your bet.
Disclosure: The author is long KNDI. The author wrote this article themselves, and it expresses their own opinions. The author is not receiving compensation for it. The author has no business relationship with any company whose stock is mentioned in this article.