I have previously written about Gazprom (OTCPK:OGZPY) in March of 2013. Quite a lot of things have happened since then, including my change of stance on company prospects from being cautiously optimistic to negative.
As such, I believe it is a good time to revisit Gazprom for my SA readers. My previous writings about the company can be found here and here.
Grant goes bullish:
Jim Grant of Grant's Interest Rate Observer recently made a bull case for Gazprom at the Sohn Investment Conference. His thesis is that solvent businesses that cover their debt interest payments by operating cash flow more than 30 times over don't trade at 2.5 times earnings and yield 5% forever.
The catch? "You can't care about the time."
I like Jim, but I believe he is wrong on this one. Being ridiculously cheap on a quantitative basis is never a reason enough to buy a stock. As a good example you can look at Hong Kong stocks: even good companies such as Cheung Kong Holdings (OTCPK:CHEUY) can trade at a discount to book value for a decade or longer.
Potential dividend payout increase:
Some bulls are making an argument that Gazprom shares might see a significant rebound if and when the company finally bows to the pressure of starting to pay out 25% of its income according to IFRS as a dividend instead of using Russian Accounting Standards, which normally only refer to the head company and not its various subsidiaries.
Should the change happen, Gazprom dividend yield could almost double. As for now, company management has recommended the board approve a 20 percent increase in dividend payouts on 2013 results, upping it up to 7.2 RUB per share ($0.21 U.S.) from the 5.99 RUB per share ($0.17 U.S.) paid on 2012 results.
Gazprom was expected to offer between 6 and 8 rubles per share, so 7.2 RUB payout exceeds some analysts' expectations. As the shares trade around 145 rubles on the Russian MICEX exchange, this translates into a projected yield of almost 5%.
The deal with China: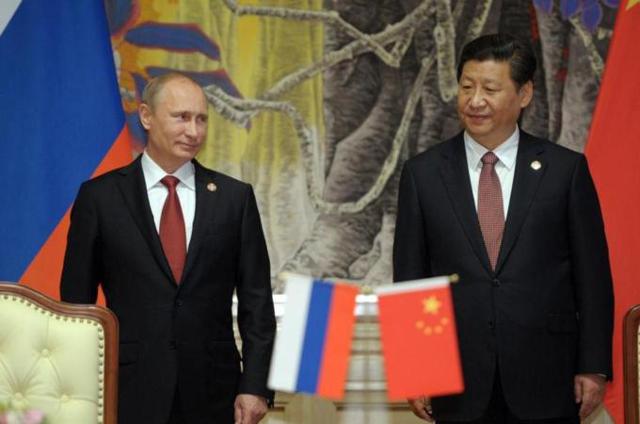 China's President Xi Jinping and Russia's President Vladimir Putin in Shanghai (source - AFP)
More than a decade in the making, the mammoth $400B 30-year Russia-China gas deal has finally been signed and it looks like the Chinese have some really good negotiators.
While the exact price hasn't been made public, it is estimated that Russia will be getting between $350 and $380 per 1000 cubic meters of gas, which is roughly in-line with the price Gazprom charges its European customers.
Putin gets to pump his chest and "show the West" that Russia is not as reliant on Europe as Europe is reliant on Russia. Except nobody with half a brain is going to buy this posturing as there's a tiny little detail: actually developing the gas fields and building the pipelines required for this project will demand a minimum investment of $55 billion.
Which brings us to my next point...
Minority shareholder dilution is a huge risk:
Putin made a bombshell suggestion that Gazprom should consider issuing additional shares to fund the CAPEX related to the Chinese deal.
With Gazprom's low debt levels, the company could easily finance the project without issuing shares. Going through with that anyway and increasing the amount of shares outstanding by roughly a third when the company trades below a P/E ratio of 3 and with its PB hovering around 0.35 would cause unprecedented shareholder value destruction.
The Ukraine situation:
A lot has been written about the situation between Russia and Ukraine and I see little point in rehashing most of it. However, the fact that European leaders will now no doubt give an even stronger consideration to diversifying away their reliance on Russian gas in the future cannot be overstated.
Conclusion:
Gazprom shares remain undervalued, but its overall risks have increased over the past year. Until there are more potential catalysts for a major share rebound, stay away.
Disclosure: The author has no positions in any stocks mentioned, and no plans to initiate any positions within the next 72 hours. The author wrote this article themselves, and it expresses their own opinions. The author is not receiving compensation for it (other than from Seeking Alpha). The author has no business relationship with any company whose stock is mentioned in this article.
Editor's Note: This article discusses one or more securities that do not trade on a major U.S. exchange. Please be aware of the risks associated with these stocks.