The National Association of Homebuilders released its monthly Housing Market Index yesterday (June 16), showing a four-point jump to 49 this month. This index "gauges builder perceptions of current single-family home sales and sales expectations." A reading above 50 indicates positive sentiment, while a reading below 50 implies a more negative outlook. While the new homebuilder sentiment may have improved a little, which should be expected given that June is the peak seasonal month for home sales, "sentiment" and "outlook" do not translate into actual economic transactions. Furthermore, based on several indicators that I will discuss below, it looks like home prices, along with sales volume, are going to start to tumble going forward.
One indicator that stands in direct contrast to builder "sentiment" is "prospective buyer" sentiment. A finished new home does not translate into a positive economic event until an end user buys it. According to a Fannie Mae survey published by the Wall St. Journal, buyer enthusiasm is dropping quickly (source: Fanniemae.com, edits are mine):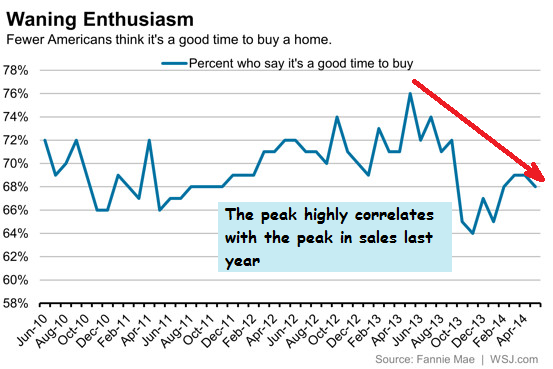 Conversely, more homeowners are looking at selling: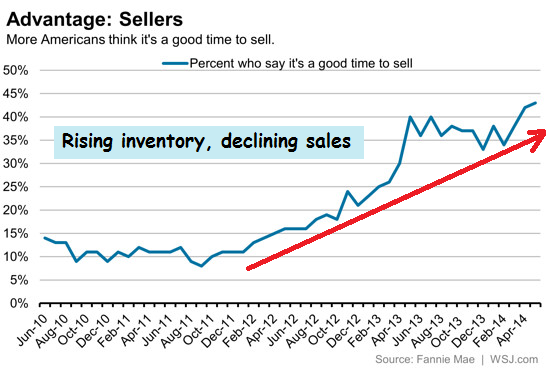 As you can see, buyer enthusiasm peaked last year, right around the time a definitive downtrend in sales volume started in both new and existing homes (see several of my previous articles). What this data tells us is that not only is the "low inventory" narrative that has been used to justify weak sales wrong, but it would appear that new homebuilders are going to face rising supply competition from existing homeowners. Inevitably, this will create downward pressure on prices, especially in the face of declining demand per the "buyer sentiment" chart above.
As evidence that seller "enthusiasm" is climbing, Redfin.com, the internet-based real estate firm, is reporting that home listings hit a four-year high in May, while the number of homes sold was down 10% (source: Redin.com, edits in yellow are mine):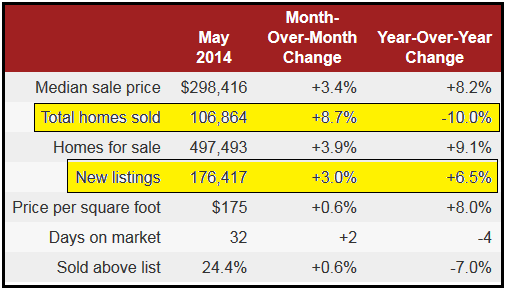 We've been told by the National Association of Realtors for at least the last six months that low inventories have been the source of the disappointing home sales. As I have argued in several past articles, however, the deteriorating financial condition of the average household is the real reason for the declining trend in home sales. Moreover, the inventory of both new and existing homes has been rising since the beginning of the year but higher inventories are not stimulating sales. Rising inventories and declining demand will inevitably force prices lower over the course of the summer.
One last point about the Redfin article linked above. If you scroll down you'll find a chart that shows the number of homes sold in May by 29 of the largest metro areas (this data would be sourced from the MLS database). Only three of the 29 metro areas registered year-over-year sales gains for May (Miami, Oakland, Raleigh-Durham). All 26 other MSAs experienced declines, with many MSAs registering double-digit declines. That this is occurring in May, which should be the second or third strongest seasonal month of the year for sales, should trouble any analyst. But the fact that declining sales are coupled with an increase in listings (listing in May has traditionally been considered "late" for the seasonal cycle) implies to me that both prices and sales volume will continue to decline.
Finally, housing starts for May were released this morning by the Census Bureau. While the headline numbers looked strong, both starts and permits missed expectations by quite a bit and the previous numbers for April were revised lower. Worse, despite April's lower revision, both starts and permits declined from April to May sequentially. Permits for apartment buildings (5 or more units), which had been considered a previous source of strength in the housing market, were down 20.4% from April and down 2.8% from May 2013. In my opinion, both the permit and starts data do not reflect the bounce in homebuilder "sentiment" discussed above.
In fact, I would argue that it reflects homebuilder concern over the strength of the new home and apartment rental market going forward. I would also argue that the multi-family data reflects the possibility of an apartment rental glut developing - apartment vacancies on the rise. Clearly, if an apartment rental glut develops, it will put pressure on rental pricing, which, in turn, will exert downward pressure on home prices as marginally potential homebuyers opt to rent instead.
With buyer sentiment dropping and inventory climbing, I thus believe that we are going to see downward pressure exerted on home values and a further decline in the number of potential buyers who think now is a good time to buy. Furthermore, with housing and apartment inventory starting to climb - and I believe the rise is accelerating - it is my opinion that the housing market data released in the coming months will be a huge disappointment to the market. Because I think homebuilder stock prices reflect exceedingly high expectations, they should be sold to avoid what I believe will be big losses going forward. Aggressive traders can start shorting the shares here with confidence.
I issue this recommendation with the caveat that if the S&P 500 and Dow continue to climb higher, it could support flat to higher homebuilder stock prices. However, as I've detailed in previous articles, since May 2013 the DJUSBH has diverged negatively from the S&P 500 to a significant degree. I'm currently short DR Horton (NYSE:DHI), KB Home (NYSE:KBH) and Ryland (NYSE:RYL). I also like shorts in Pulte (NYSE:PHM), Beazer (NYSE:BZH), Lennar (NYSE:LEN) and Toll Brothers (NYSE:TOL) - especially TOL. A "conservative" way to start establishing short positions in any of these names is to sell-short slightly out-of-the-money calls which expire a few months out. You get to collect the premium and keep it if the stock closes below the strike price by expiry. On the other hand, you can always opt to get exercised and taken short if the stock closes above the strike, but your basis in the short is reduced by the amount of the premium you got paid. You can also always roll forward your short call position if you're not ready to get short the underlying stock.
Disclosure: The author is short DHI, KBH, RYL. The author wrote this article themselves, and it expresses their own opinions. The author is not receiving compensation for it (other than from Seeking Alpha). The author has no business relationship with any company whose stock is mentioned in this article.