Netflix (NASDAQ:NFLX) subscribers in the US prefer watching internet-connected TVs, with 49% of subscribers watching video on the internet through a connected device weekly, while only 8% people use connected devices who are not subscribers of Netflix, according to a new consumer research. Nearly 50% of Netflix's US subscribers watch videos via their games console, 42% on their computer screens and 14% watch by connecting their computer to their TVs. The company's growth prospects significantly depend on international expansion, which is a strategic part of its business model. Aside from the US, Netflix offers its live streaming videos in Canada, Latin America and the Caribbean, and some parts of Europe, such as the UK, Ireland and the Netherlands. The company has tremendous opportunities left in Asia, Africa and the rest of Europe.
We believe that Netflix's current valuation doesn't capture its entire growth prospects and at around $440 the stock is a "strong buy," despite its astronomical P/E multiple. The company's earnings are expected to increase significantly going forward as a result of its global expansion strategy coupled with the growth of internet TVs.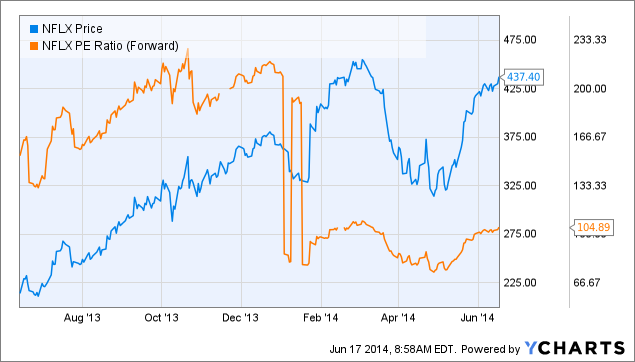 Internet TV: A Global Opportunity
While in the US the penetration of internet TV is a staggering 49%, outside the US the numbers are not that impressive and the global market for internet TV is forecast to reach $81.2 billion by 2017. With videos over the internet progressing rapidly, we believe that the growth of internet TV will rise exponentially due to its efficiency to deliver higher resolution and longer length videos. As a global trend, the demand for streaming videos is rising among the younger generation, and Netflix is trying to capitalize on this opportunity.
The company's streaming video business is forecast to have approximately 50 million subscribers globally. The worldwide growth of internet TVs, particularly smart TVs (with a number of internet-connected services that traditional TVs cannot offer), means big business for Netflix. According to a research report:
The overall smart TV market was worth $86 billion in 2010 and is expected to reach $265 billion by the end of 2016 at a CAGR of 17%. In terms of unit shipments, smart TV was valued at 43.6 million units in 2010 and reached around 64 million by the end of 2011 at an annual growth of 47%. By 2016, smart TV unit shipment is expected to reach 153.2 million units at a CAGR of 19%.
Asia Represents Huge Potential
Asian markets such as India and China represent tremendous growth potential for Netflix in the not so distant future. India had one fixed line broadband connection per 100 inhabitants in 2011, translating into close to 10 million broadband households, according to a UN report. This might seem a relatively small market but broadband penetration in India is growing rapidly. Moreover, China is aiming to have 250 million broadband users by 2015, according to China's Ministry of Industry and IT, which is also good news for Netflix.
Upside Potential
Netflix is trading with an EV/EBITDA of only 9.4x, while other media companies such as Amazon (NASDAQ:AMZN), Facebook (NASDAQ:FB) and Google (NASDAQ:GOOGL)(NASDAQ:GOOG) are trading with far higher multiples. Given NFLX's huge growth prospects, with the company currently having 36 million US subscribers and 13 million international subscribers, we expect that the stock will soon trade with an EV/EBITDA close to 15x or even higher depending on market conditions. Our target price based on an EV/EBITDA of 15x is $680, representing an upside of more than 50%.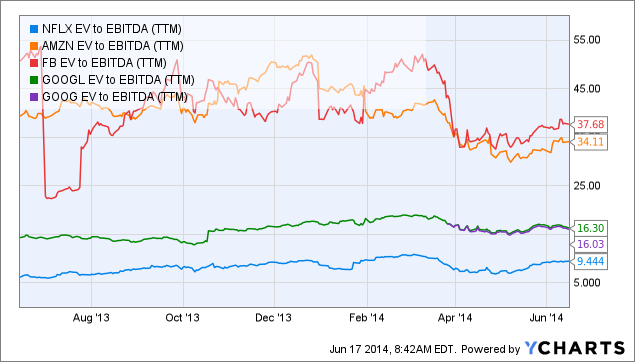 NFLX EV to EBITDA (TTM) data by YCharts
The company's planned price hikes will help attract more subscribers globally because it would allow the company to increase spending on original content. We feel that a material price hike will hardly have any impact on the company's subscriber growth as a result of huge demand for its services.
Final Words
Although most of Netflix's subscribers watch streaming videos on either their games console or computer screens and in some cases on their TVs, we believe that the rapid adoption of smart TVs globally will help grow the company's subscriber base on a sustainable basis because smart TVs can display higher quality videos. The company is going to replace traditional TV channels in the years to come, which can meaningfully boost its top and bottom line growth.
Business relationship disclosure: The article has been written by a BB Research stock analyst. BB Research is not receiving compensation for it (other than from Seeking Alpha). BB Research has no business relationship with any company whose stock is mentioned in this article.
Disclosure: The author has no positions in any stocks mentioned, and no plans to initiate any positions within the next 72 hours. The author wrote this article themselves, and it expresses their own opinions. The author is not receiving compensation for it (other than from Seeking Alpha). The author has no business relationship with any company whose stock is mentioned in this article.