Roundy's (NYSE:RNDY) is currently a company looking to turn itself around, and quite frankly, everything looks like it's going well. With the recent expansion of Mariano's as well as the recent sale of Rainbow Foods, the management is highlighting its commitment to improving the profitability and sales of the company. The goal of this article is provide a comprehensive review of the recent and past actions of Roundy's management in order understand what's motivating their actions. This isn't to say they're doing everything they can or are perfect. Bob Mariano's past employment at Safeway (NYSE:SWY) certainly needs to be evaluated because this experience certainly has an impact on the skills he possesses today.
Insider Trading
In the past three months, insider trading records from the NASDAQ database show that the amount of shares bought far outweigh the amount of shares sold. Figure one below shows that of the 32 trades conducted over the past three months, 21 have been buys, and 11 were sales. The number of shares bought was 414,209 and the number of shares sold was 30,487.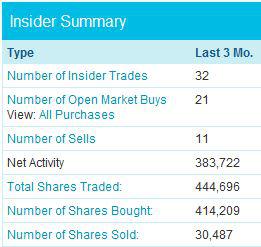 (Figure one)
When insiders (usually management), buy into a company, they're investing in themselves and their ability to grow the company. The fact that insider trading has been positive as of the last three months supports the claim that management is further committing themselves to the growth of Roundy's.
One fact that should be noted is that in the past 12 months, insider trades have largely been negative. According to the same NASDAQ database, the number of insider buys vs sells stands at 414,209 and 21,738,614; respectively. This piece of news is superficially negative, because when analyzing it alongside transactions processed in the last three months, the data supports the notion that the trend of selling among insiders is beginning a reversal. With this in mind, and assuming the management continues to buy rather than sell, the company will benefit from having a more invested, dedicated management team.
Leverage
It's safe to say Roundy's is a highly levered company. In Figure two below, I will compare Roundy's debt to EBITDA ratio to Kroger (NYSE:KR), Supervalu (NYSE:SVU) and Whole Foods (NASDAQ:WFM) using data compiled from S&P's Capital IQ database.

(Figure 2)
As indicated by the chart above, Roundy's carries a significantly higher amount of debt compared to its EBITDA than does two of its larger competitors, Kroger and Whole Foods. This debt makes the operations of Roundy's much more unstable in that its less likely to be able to stay up to date with its debt payments. If we take a further look at the specifics of the debt in Figure 3, taken again from S&P's Capital IQ, we can see it isn't exactly cheap either.
( Figure 3

Looking at the structure of the debt, we can see that a lot of it is floating rates, and the fixed rate debt has coupons between 7.6-10.25%. As interest rates creep up while the Federal Reserve continues to taper bond buying, Roundy's debt is only going to get more expensive. Unless they improve their cash flow, paying down the debt is only going to become more difficult.
While having a lot of debt is certainly not desirable from a cash flow or risk tolerance standpoint, it certainly motivates managers who hold equity in the company to work harder. According to an article entitled "Corporate Risk Management and the Incentive Effects of Debt" discussing a study regarding how management of a company and debt are related, when the managers of a company are stakeholders in the company and seek to acquire more debt to finance riskier operations, the managers tend to work harder to achieve success. As the paper discusses, this is tied to the fact that managers will build more wealth if the company grows. When management's equity is intertwined within the company, their success depends on the success of the company. Another reason that managers become more motivated to work harder is that their job depends on their performance. When a company has more debt, the managers are more likely to lose their jobs because the likelihood of default has increased alongside the amount debt.
Looking at Roundy's, it appears that management's decision to lever the company shows that they have confidence, (or possibly arrogance), in terms of their ability to generate value from their work. Assuming that Roundy's manager's can walk the talk, keeping this level of leverage will allow Roundy's to continue to expand at a reasonable pace while holding management accountable.
Rainbow Foods Sale
One decision made by Roundy's management recently was to sell 18 Rainbow Foods stores. These stores were dragging down the overall profitability of the company, and the sale to Supervalu should improve the overall operating margin for Roundy's. The decision by management to sell these stores was a significant one because this could be the beginning of a trend from Roundy's to shed less profitable venues so that their focus can be on growing more profitable stores, such as Mariano's.
Another benefit to cutting out these less profitable stores is increased free cash flow, which will allow Roundy's to continue making good on its debt payments. Increased free cash flow in the company is great because Roundy's can either hold the cash for financial stability, or release it to make acquisitions or grow. The management of Roundy's seems to understand this concept well, and will hopefully continue to make decisions such as this in the future.
Bob Mariano
Bob Mariano has been in the grocery business for almost his whole life. His work ethic, compassion and attitude are revered in the business. His ability to innovate and always see things differently come out in his specialty store, Mariano's. This is not to say that Mr. Mariano isn't without faults.
Mr. Mariano owes much of what he learned to Dominck's, part of Safeway. Needless to say, this brand is pretty much dead in the Chicagoland area, and Mariano was there to pick apart the carcus through the acquisition of the former Dominick's stores. Eerily, Dominick's started out much like Mariano's did. When Dominick's came to the market, it was a fresh offering of higher end stores that consumers loved. The store was always looking for ways to grow sales, whether it be through adding in a bakery or meat deli, (Both concepts which Mariano built there). Now, the concept has faded. This is not too long after Mariano left the company. This could indicate that Mr. Mariano's strategy is short sighted, and his history at Dominick's should be considered while looking at what he's doing now.
That being said, Bob Mariano is also highly involved with his community. He is constantly attending various fundraisers and giving back through donating money. Mr. Mariano also has ties with Chicago Mayor, Rahm Emanuel. This is seen in the Mayor's attendance at various events, like here for example. Whether these relationships will prove beneficial or destructive, time can only tell.
Conclusion
The management of Roundy's accepts the risk of levering the company, and this can be seen through the past three months in their recent purchases of stock. If the management can continue to innovate and focus their efforts on improving the more profitable areas of the company, Roundy's could be on the brink of a turnaround. That being said, there are considerable risks involved in investing in a company such as this. On a general level, the management of Roundy's looks to be capable of running the company in an innovative, efficient manner. Whether this translates to success for the company as a whole, time will only tell.
Disclosure: The author is long RNDY. The author wrote this article themselves, and it expresses their own opinions. The author is not receiving compensation for it (other than from Seeking Alpha). The author has no business relationship with any company whose stock is mentioned in this article.