After analysts and investors speculated for quite a while whether Siemens (OTCPK:SIEGY) would launch a bid for France-based Alstom (OTCPK:AOMFF), the German industrial conglomerate indeed made a proposal at the beginning of the week in order to 'save' the French energy business from the claws of General Electric (NYSE:GE).
General Electric has previously bid for the energy assets of the French industrial conglomerate and intended to purchase its Thermal Power, Renewable Power and Grid businesses for a total consideration of $17 billion.
The American takeover offer clearly caused French lawmakers to act as if the wolf knocked at the henhouse as the French parliament rushed to announce an emergency decree specifically designed to prevent buyouts of domestic companies in strategically important industries. Foreign corporations are certainly viewed with a healthy degree of skepticism in a country that wholeheartedly embraces socialist ideas and has a record of government intervention. Nothing bad about that, but it certainly lowers General Electric's chances of a successful bid.
French lawmakers, at the time, were actually quite insistent (if not pushy) in demanding a Siemens counteroffer for Alstom's energy business after General Electric's offer was deemed unsatisfactory -- and now they got what they wanted.
Siemens and Mitsubishi are bidding
Siemens announced on Monday, that it was partnering up with Mitsubishi Heavy Industries and offering Euro 7.0 billion (approximately $9.5 billion) in cash for certain Alstom energy assets.
Siemens' press release (here) actually was carefully drafted in order to highlight the advantages for Alstom as well as for France. The proposal carefully laid out the terms of the transaction, but also pointed out that 1,000 new jobs will be created and employees in Alstom's gas business (which would go to Siemens post-transaction) will benefit from a three year job guarantee.
The deal terms are such that Mitsubishi Heavy Industries will become a shareholder of Alstom and form three joint ventures: Mitsubishi Heavy Industries will acquire 40% of Alstom's Steam and Nuclear business and 20% each of Alstom's Grid and Hydro business (see valuation below). In addition, Mitsubishi intends to inject Euro 3.1 billion ($4.2 billion) in cash to prepare the company for growth.
Siemens, on the other hand, would get its grip on Alstom's gas business and would take over 100% which is valued by Siemens at Euro 3.9 billion ($5.3 billion).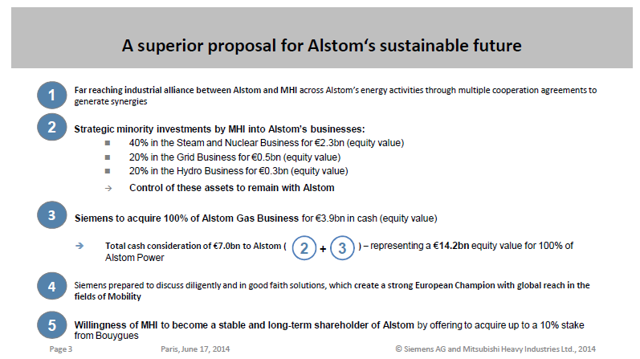 (Source: Siemens Proposed Transaction Presentation, June 17, 2014)
Mitsubishi seeks to foster a strategic alliance with Alstom which is likely to find approval of French lawmakers as the proposed transaction implies, that Alstom would remain a publicly listed company in France. Also, Mitsubishi's long-term, strategic approach to grow its global energy presence as well as its intention to inject some cash are clearly deal sweeteners for the French.
Is the French government too greedy?
Even though the Mitsubishi/Siemens $19.2 billion offer exceeds the $16.9 billion previously offered by General Electric, the French government was quick to demand higher bids. As Reuters reported on June 17, 2014:
(Reuters) - The French government raised the stakes in the battle for engineering group Alstom on Tuesday, telling rival suitors General Electric and Siemens to come up with better offers.

President Francois Hollande's government has given itself the power to veto a deal on the grounds it does not want Alstom, an innovator and big employer, to sell the bulk of its business to a foreign firm without the state having a say.
With all the assurances offered above (strategic minority stakes, job guarantees) it seems to me, that the French are really pushing it. The deal certainly will be evaluated by Alstom's board of directors which ultimately has to decide what deal is best for their shareholders. In the meantime, investors should expect France to continue to make a lot of noise in order to elicit higher bids.
Is General Electric going to counteroffer?
Very likely. As said before, the acquisition of Alstom's energy business makes good sense for General Electric which needs to reduce its reliance on the domestic market and access growth in Europe and developing countries.
According to information by the Financial Times, General Electric already appears to prepare to offer additional sweeteners to make sure it can drive the Alstom deal home.
GE chart situation
General Electric's shares are largely unimpressed by the potential bidding war. Since the beginning of February, shares of General Electric have been gradually increasing and shares are now quoting only 4% below their latest 52-week High at $28.03.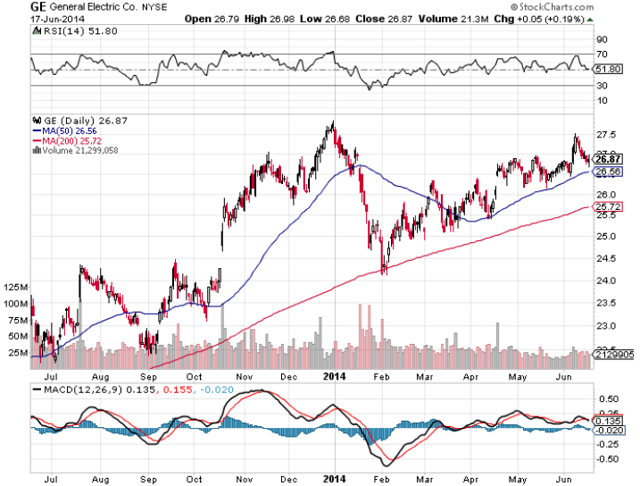 (Source: StockCharts.com)
Conclusion
At the end of May I suggested, that General Electric and Siemens will enter into a bidding war over Alstom's energy business. Though General Electric has denied its intentions to enter into a bidding war, the reality on the ground often looks differently. What else could they possibly say?
It is very likely, that General Electric will increase its bid and it actually has quite a good point to make: Its lower deal complexity. I expect General Electric to up its bid for Alstom over the course of next week. For the time being, I stay with my previous General Electric fair value estimate of $36 per share. Strong Buy with or without Alstom deal.
Disclosure: The author has no positions in any stocks mentioned, and no plans to initiate any positions within the next 72 hours. The author wrote this article themselves, and it expresses their own opinions. The author is not receiving compensation for it (other than from Seeking Alpha). The author has no business relationship with any company whose stock is mentioned in this article.
Editor's Note: This article discusses one or more securities that do not trade on a major U.S. exchange. Please be aware of the risks associated with these stocks.