Companies are holding onto cash. That is what nearly all financial observers suggest. Whether due to uncertainty about taxes, healthcare costs, legislation, or other matters, the fact is that many firms are holding large amounts of cash on their balance sheets.
Historically, whenever firms are plush with cash, they use it to buy back stock, increase dividends, invest in operations, or to make acquisitions. Indeed, we are already seeing some insurers modestly raising their dividends and buying back stock. However, we haven't yet seen any major acquisitions within the property-casualty insurance sector.
So let's look at property-casualty firms to see if there is sufficient cash on the books to either enable these firms to become more aggressive on buybacks and dividends, or to make acquisitions. Companies with high cash levels might also find themselves to be takeover targets.
It should be noted that property-casualty acquisitions have faced difficulties in the past. Many deals have proven to be failures, mostly due to reserve deficiencies, poor investment and underwriting operations, cultural differences, talent conflicts, capital shortages, etc. Because of the well-known issues of the past, insurance managements have become more astute and aware of the problems that poor acquisitions can bring, and they have thus been more wary of making deals. As such, there has generally not been large appetite to infuse capital into firms, or to assume the reserves of a competing carrier. Rather than buy an entire operation, the preferred route instead has been to acquire teams of people, or to acquire renewal rights to blocks of business.
But M&A is starting to appear in other industries and there is indeed plenty of cash on hand within insurers that is currently earning low returns. Other factors could also spur the urge to merge.
Arguably, a lack of developed managerial talent may be emerging, as many long established leaders are beginning to retire;
Organic growth in premiums is anemic reflecting a weak economy and lack of pricing power;
Reserve redundancies have in recent years replaced the reserve deficiencies, which created many of problems for dealmakers in the past;
Moreover, capital adequacy does not appear to be an issue, as the industry came through the financial crisis in relatively good shape, and there is more than sufficient capital to meet current demand.
There are many insurers presently holding high cash levels yet selling at discounts to book value. We expect to see these firms soon deploy their cash. If not major mergers and acquisitions, then certainly investors ought to expect more dividend hikes or increased buybacks. To maintain reasonable ROEs, these companies cannot afford to sit on piles of low earning cash for the long term.
The table below shows the cash levels of the property-casualty insurance firms with market capitalizations in excess of $1 billion. The figures are from Yahoo Finance (9.26.10) based on June 30, 2010 balance sheets for consolidated operations.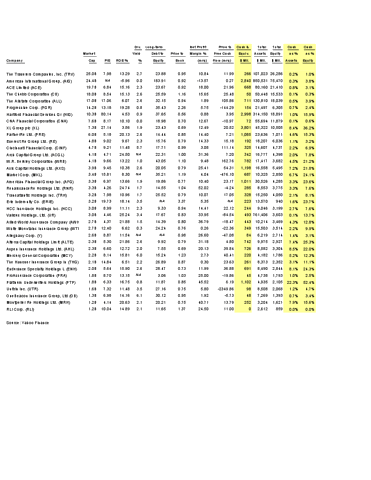 Disclosure: No positions