Consolidated Edison Inc. (NYSE:ED) announced that it will issue 6.3 million shares on October 1, 2010. Con Edison expects to invest the net proceeds from the sale of the common shares in its regulated utility subsidiary, Consolidated Edison Company of New York, Inc., to fund its construction expenditures and other general corporate purposes.

Historically, Consolidated Edison has funded a part of its capital programs through earnings dilutive stock issuances. As a result, its outstanding average common shares rose to 283.2 million at the end of the first half of 2010 from 236 million at year-end fiscal 2004. The trend is expected to continue in the future.

However, we must keep in mind that Consolidated Edison is a high dividend-yield defensive stock. As such, the stock recently witnessed mostly lateral movement over the past week rising 0.12%. Since the stock can be dubbed as a bond proxy, the momentum on the stock gathers in a falling interest rate situation.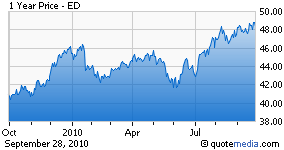 Earlier, during the second quarter of 2010 earnings call, Consolidated Edison raised its earnings per share from its ongoing guidance range for fiscal 2010 to $3.25 – $3.45 from the earlier range of $3.10 – $3.30 per share. The higher range reflects, among other things, stronger-than-forecast financial performance at Con Edison of New York through cost control efforts and stronger-than-forecast financial performance at its competitive energy businesses.

Going forward, the issuance of common stock would beat down both earnings and dividend. The stock currently yields 4.9%, which is higher than its peers like American Electric Power Company (NYSE:AEP), Edison International (NYSE:EIX) and Entergy Corporation (NYSE:ETR) with yields of 4.6%, 3.6% and 4.3%, respectively.

New York City-based Consolidated Edison is a diversified utility holding company with subsidiaries engaged in both regulated and unregulated businesses. Consolidated Edison's regulated businesses operate through two subsidiaries — Consolidated Edison Company of New York (Con Edison of New York) and Orange and Rockland Utilities (O&R).

Con Edison of New York is a regulated utility that provides electricity to roughly 3.3 million customers, natural gas to 1.1 million customers and steam services to about 1,850 customers, primarily in New York City and Westchester County. Orange and Rockland Utilities serves nearly 400,000 electric and gas customers in southeastern New York State, northern New Jersey and northeastern Pennsylvania.

Consolidated Edison's unregulated businesses operate through three subsidiaries: Consolidated Edison Development (engaged in infrastructure development), Consolidated Edison Energy (supplies energy in the wholesale market) and Consolidated Edison Solutions (provides retail energy).