CYNK Technology: Promoters Push Market Cap To $655 Million Despite $39 In Assets And No Revenue; 100% Downside
Summary
Paid promoters have helped push CYNK market cap to $655 million after a 3,650% increase in the share price on Tuesday.
CYNK had assets of just $39 (no zeros omitted) as of March 31, 2014 and a cumulative net loss of $1.5 million. The "company" has no revenue.
CYNK claims that it is "a development stage company focused on social media." However, the "company" does not even have a website and has just one employee.
With no assets, no revenue, and no product, CYNK has no value. Author expects that CYNK shares are worthless.
CYNK Technology (OTC:CYNK) shares soared 3650% on Tuesday after paid promotion companies simultaneously touted the company's prospects in what appears to be a coordinated effort. With 291.5 million shares outstanding, this gives CYNK a market capitalization of $655 million. Tuesday's rise in the share price would make an investor think that the company discovered that their headquarters is located on a gold mine or that they'd discovered the cure for cancer. At a minimum, one would expect that the company would do something or possess some assets. However, this is not the case for CYNK which has assets of $39 (no zeros omitted), no revenue (has not had any revenue since at least 2008), and $1.5 million in accumulated losses. According to CYNK's filings, the company is a development stage enterprise which is looking to create a social media business, though it has not yet created one and does not even have a website.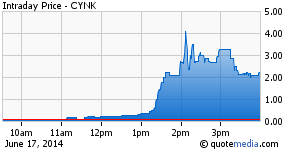 So what lead to CYNK's amazing rise on Tuesday? Like most of you, I'd never heard of this "company" but found it on Twitter yesterday as it was being promoted by no fewer than a dozen penny stock promoters: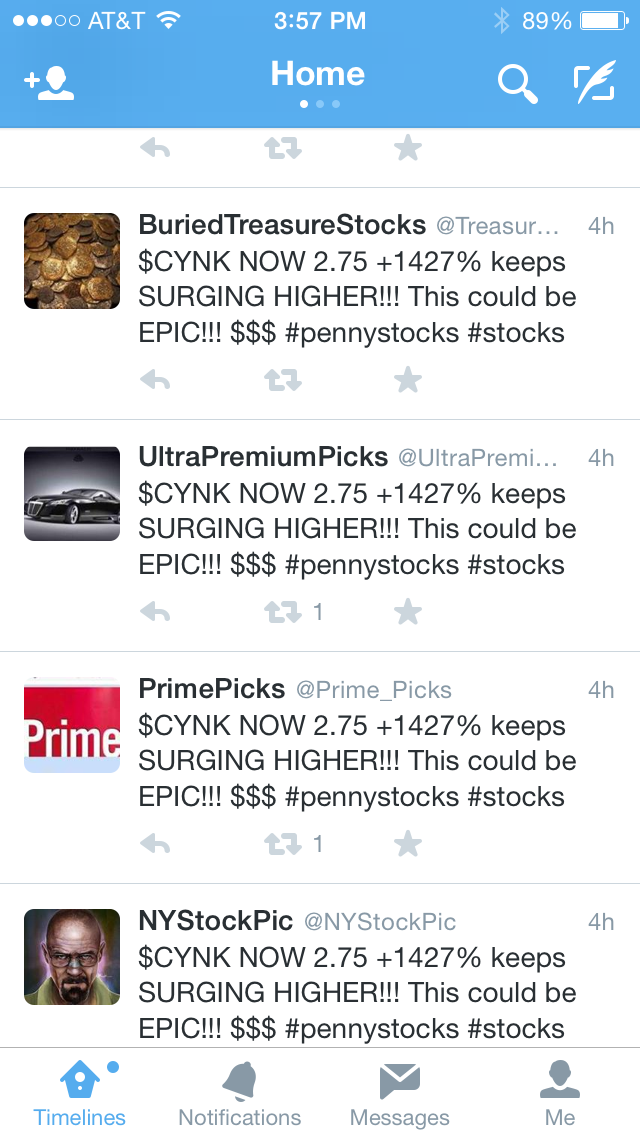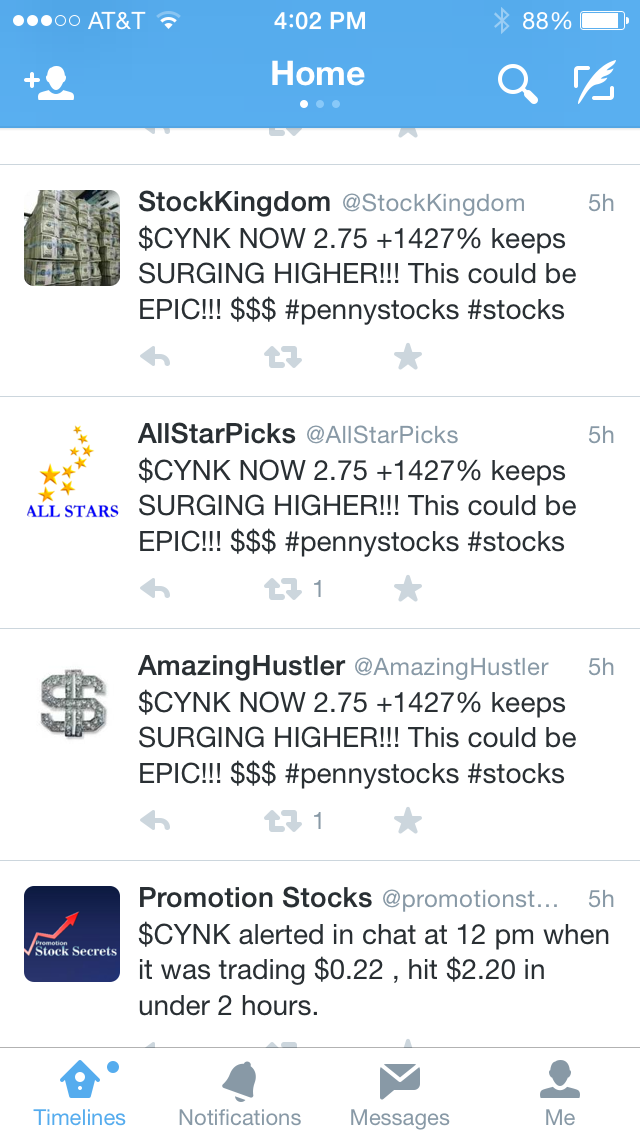 What has these promoters so excited? Well it's tough to tell. From the income statement, we can see that CYNK has spent a total of $43,000 on research and development since 2008. Will this be enough to create the next Facebook (FB) or LinkedIn (LNKD)? It is unlikely. It is also worth noting that CYNK has one employee (discussed below) and does not even have a website. Here is a look at CYNK's most recent balance sheet: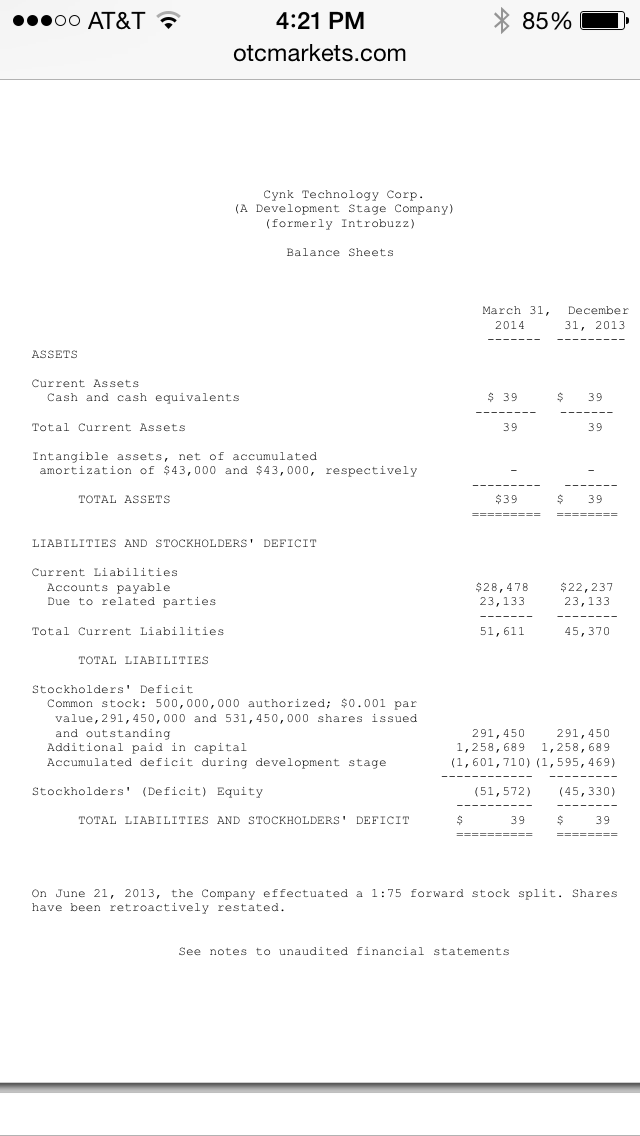 Here's a look at the income statement: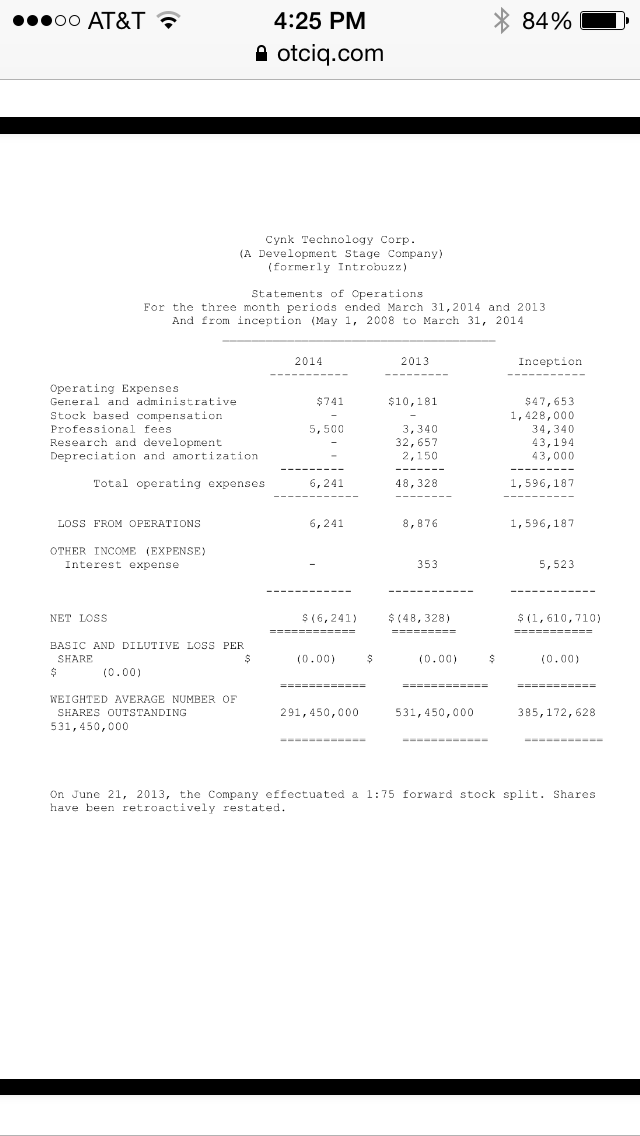 Who is behind CYNK?
72% of CYNK shares are owned by Javier Romero who is listed as president, secretary, treasurer and director since February 20, 2014. Romero purchased these shares from the former president, secretary, treasurer and director, Marlon Sanchez. I have not been able to find any background information on Mr. Romero. I attempted to contact the company at the number listed but was unable to reach anyone (strangely there was no voicemail).
In a world of heavily promoted stocks with insane valuations, CYNK stands out as being one of, if not the, most egregious example of promoters driving a worthless company into the stratosphere. When day-traders move on, CYNK shares are headed back to pennies.
Disclosure: The author is short CYNK. The author wrote this article themselves, and it expresses their own opinions. The author is not receiving compensation for it (other than from Seeking Alpha). The author has no business relationship with any company whose stock is mentioned in this article.
This article was written by
Former global buyside analyst/PM doing fundamental research for over a decade (2001-2012). Long term (5 year) time horizon when investing.